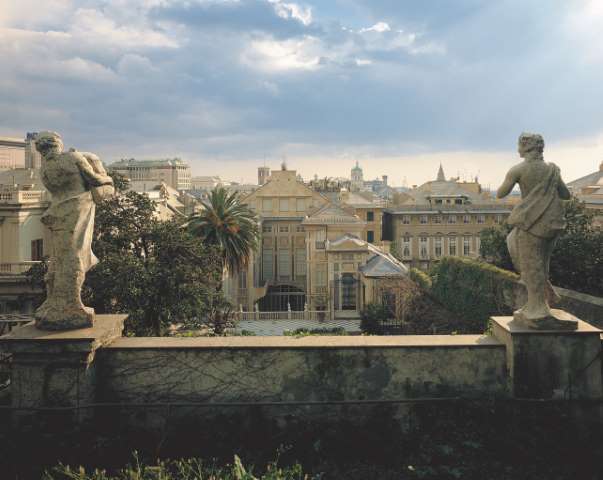 This year, spring in Genoa is lit by the splendour of the 2019 Rolli Days when the doors of the palaces of the Genoese aristocracy (Palazzi dei Rolli) reopen, revealing what Rubens called "an example of beauty and magnificence for the whole of Europe".
In 1576, the Senate of the Republic of Genoa created lists, called the 'Rolls of public housing', which included the main noble palaces of the city. Since 2006, these grand palaces have been UNESCO World Heritage Sites and twice a year Genoa organises days which many Genoese aristocratic residences open their doors to the public.
Visitors can discover the fascinating architecture, splendid frescoes, important paintings, decor of the period and be transported to the glories of the Genoese 'Century of Gold'.
From the 3rd to 5th May 2019 28 splendid Palaces located throughout the entire historic centre of Genoa will be open to the public alongside some of the magnificent 'country' villas that in today's terms lie just outside the immediate ctiy centre.
During the 'Rolli Days 2019', It will be possible to visit the Abbey "del Boschetto" located to the west of the city centre by the Val Polcevera river where a long and extensive restoration has just been completed. Many Genoese aristocratic families contributed to its re-decoration, including the Grimaldi, Spinola, Doria and Lercari. Visits to the Abbey can be booked to take place on Friday 3rd and Saturday 4th. A free shuttle service will be available departing from Piazza Fontane Marose in the centre of town and a detailed schedule will be soon available online.
On Saturday 4th and Sunday 5th May, the Certosa di San Bartolomeo di Rivarolo Carthusian monastic complex, built in 1297 and renovated in the sixteenth century, will showcase high profile works of art owned by the city's families.
To experience the Palazzi dei Rolli at their best, guided tours will be available, led by certified guides and can be booked online at www.visitgenoa.it In addition two guided tours of the city by e-bike are available. The fun and sustainable tours are free for participants and can be booked online where details will soon be available.
Over the course of the weekend, many other significant buildings will be open to visitors, including the Villa Del Principe, San Luca church and the Banca Carige Art Collections. A number of Villa's will also be open to the public inSampierdarena and Cornigliano.
For more information on 2019's Rolli Days program, events and timetables please visit www.visitgenoa.it