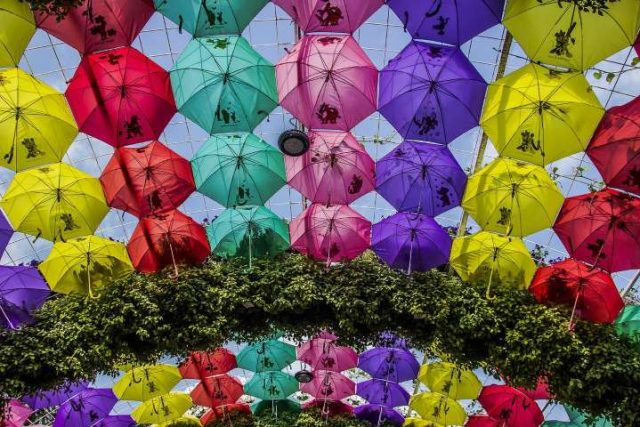 Dubai isn't just a paradise for those seeking adventure or out-of-this-world entertainment. The city also offers a soft spot especially for lovers as well! Treat yourself to breathtaking skylines and waves, tantalize your taste buds with genuine specialties, or simply explore the unusual desert in depth. There is indeed something for all, whether you want a lengthy romantic night-walk, dining beneath the stars, cruise through the blowing winds, or a desert bonfire!
Are you on the lookout for that ideal location for that romantic date? We've got you covered! Dubai is filled with wonderful places to spend good time with your loved one. Whether you're looking for that romantic dinner or a special place to visit, this article will provide you with a variety of options for the finest romantic spots in Dubai. Scroll down to find the best one for you.
Downtown- Why is the 'Before Sunrise' series recognized amid highly romantic in the world? Because this is a raw film that depicts the characters' raw feelings as they explore Paris. So fall in love with your loved one all over again by enjoying a long romantic walk on Dubai's beaches, or better yet, discover Dubai while you walk. Walking in Downtown is a personal favorite. The Downtown area is home to the world's largest hotels, including the Burj Khalifa. View Dubai in a whole new light as you stroll through the streets at night, with a dozen cafes, restaurants and bistros on every street, a gorgeous skyline, and fantastic eateries on well-planned streets. And if every thing else fails, there is always the classic romantic meal on a boat. Traditional Arabic Dhows especially in Dubai Creek are available for a couple of hours of sailing, a nice supper with unlimited soft drinks, and on-board entertainment. If you want something more, you can sail across the Dubai Marina in one of the boats or on the Marina Dhow Cruise, where you'll be astonished by the stunning architecture of buildings & the Marina Skyline. Try The Bateaux Dubai's dinner cruises for a romantic and personalized experience.
Miracle Garden- If you have grown up seeing clichéd Bollywood films where the dance number is set against the gorgeous backdrop of hundreds of flowers, Dubai Miracle Garden is the place to go. The world's largest extensive garden, with over a million wild flowers in complete bloom. Take a stroll through this garden with a loved one & a nice camera because the photos you take here will be out of this world!
Limousine- Dubai boasts one of the most impressive limousine collections, and many rental firms take use of this by allowing the general public to experience the limousine atmosphere for any great occasion like birthdays, hen nights, prom night, and so on. Allow the limo to play an important role in your date night by arriving in elegance to your location. The opulent yet comfortable, powerful yet stylish limos are available in a variety of models, including Cadillac, Ford, Mercedes, and Hummer. Impress your date via taking a limo, which is reasonably priced. With vital amenities like the accessibility of an expert chauffeur, the access to the in-car entertainment, and a range of soft drinks and snacks, you may even request customized packages from tour operators.
Spa Date- Nothing like a Spa Date when it comes to romance and elegance. As the spa takes charge, take pleasure of a couple's massage & discover the genuine meaning of relaxation. Surrender to the soothing hands of professional magicians at the top spa centers in Dubai & say goodbye to the exhaustion of the adventurous journey. For a natural and authentic experience, visit Talise Spa & Heavenly Spa, while for an exotic and opulent experience, visit The Spa and Anantara Spa!
AI Dhabi Stables- These stables provide an unusual way to celebrate romance. In the manner depicted in Runaway Bride. Al Dhabi Stables provides you and your spouse with a variety of activities varying from horseback riding to spending time with other animals such as turkeys, chickens, and ducks. But what is the source of all this romance? I believe that the opportunity to ride beyond the horizon at the time of sunset and stroll hand-in-hand with your loved one at dusk in a desert wilderness is an unorthodox form of romance in and of itself.
Balloon Adventure- While some enjoy the beauty of a starry night, others perish at the sight of a beautiful morning. If the latter is what you are on the lookout for, Balloon Adventure Emirates LLC has you covered! A desert is a highly gorgeous area especially during the golden hours, hence enjoy its beauty more truly by floating through the skies and observing the enormous expanse of sand shimmering beneath due to the sun rays. If you happen to be lucky, then you may even encounter native creatures like oryx, gazelle, and camels walking around. There is something distinct that one feels when they travel to a location unspoiled by human activity, and by hot air balloon, you may view life in the desert sans any intervention. Certain tour providers even give breakfast for couples as they are in the air admiring the scenery below!
Dubai Safari- Imagine a bonfire, a starry sky, and you & your dear one sharing a meal all in one place! Desert safaris are an immensely popular attraction among both tourists and locals. However, some safari operators may even arrange for overnight safaris for the ultimate desert experience. Traditional entertainment like tanoura dancing, belly dance, and henna painting/tattooing will keep you entertained throughout the night, while a magnificent delectable feast (mostly Arab cuisine) would be prepared for everyone to enjoy beneath the stars. If none of this piques your attention, don't worry since the desert safari remains jam-packed with adrenaline-pumping activities! Activities range from sand skiing to dune bashing, quad biking to camel riding, and anything more can be requested in advance by your tour operator. Overnight safaris typically run from 4:00 PM- 9:00 AM. So come and have a nice BBQ dinner with your special one while sitting under the stars and enjoying live entertainment!
Apart from these, the list of romantic places in Dubai also includes Dubai Water Park, roaming in beautiful beaches, dining at the Royal Mirage, enjoying at the Villa Beach, and much more.