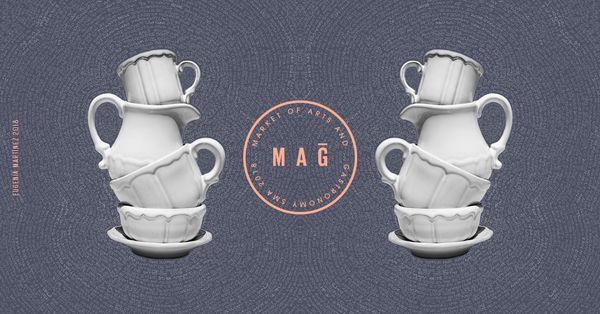 San Miguel de Allende will host the 2nd annual 'Market of Arts & Gastronomy' (MAG) July 12-15, 2018 that will bring stars and leading players from the culinary and art worlds for four days of exciting events and activities in this celebrated colonial town.
"The launch of MAG last year was a grand success, drawing a who's who of high-profile participants including leading chefs, hotels, restaurants, food and spirits companies, wineries, artists and major media," said Bruce James, director of San Miguel's Hotel Matilda, which is one of the principal sponsors and organizers of the festival along with Rosewood San Miguel. "For 2018, we're planning an even more dynamic MAG, from top-rated chefs to innovative culinary experiences."
"We are excited to lead this second edition of MAG, this new edition promises to exceed any expectations of food lovers and luxury hospitality experts. We seek to leave a great aftertaste with each experience of art and gastronomy and surprise one more time the attendees with the quality and innovation of this series of celebrations. This year, with the participation of chefs with the highest profile and creative artists, we will continue to be at the forefront, pampering the palate, the view and the emotions of the visitors "- explained Alfredo Rentería, Director of Rosewood San Miguel.
Dozens of dinners, events and activities are planned over the four days including themed feasts, tastings, art exhibits and performances, and a grand marketplace of food, spirits and art. Paul Bentley, chef of Bovine, the acclaimed metro-chic brasserie in San Miguel de Allende, will be the Host Chef of the festival.
MAG will get underway on July 12 with a Kickoff Dinner in Moxi at Hotel Matilda  themed "Beyond Borders – Mexico." The event will feature acclaimed Mexican chefs Eduardo Garcia of Maximo Bistrot, Alan Mendez of Pasillo de Humo and Francisco Ibañez of Moxi, along with exhibits by artist Eugenia Martinez and music by Los Rumberos de Massachusetts.
A series of themed dinners and lunches will celebrate the cuisine of different countries with noted chefs cooking and artists exhibiting their works. In addition to the Mexico-themed dinner at Moxi, there will be:
July 13: Dinner at Rosewood San Miguel with Reylon Augustin, chef of One-Michelin-Star Madeira at Rosewood Sand Hills, and artist Adrian Gonzalez.
July 13: Dinner at Casa Dragones with chef Norma Listman and Saquib Kebal from restaurant de Masalá in Mexico City, artist Pedro Reyes.
July 14: Brunch at Moxi with chefs Eduardo Echeverria, John Gallo and Rene Reyes from PINCH based in Miami.
July 14: Australia dinner at Bovine Brasserie with chefs Paul Bentley and Duncan Welgemoed from Africola, a restaurant in Australia
July 14: Dinner at L'Otel with Chef Justin Smillie from Upland Restaurant in NYC
July 15: Brunch at Fatima 7, Casa Blanca 7 with Chef Donnie Masterton and artists from Colectivo Hoja Santa.
A grand market of gastronomy, food, drink and art, the Marché, was a huge hit in the inaugural MAG last year and it will be back for three days, July 13-15. Held in San Miguel's beautiful Parque Juárez, it will feature some 100 booths offering tastings ‒ dishes by leading restaurants, tequila, spirits, beers, wines and cheeses, as well as an installation by artist Eugenia Martinez. In addition, colorful ribbons created by Martinez will be flying outside shops in San Miguel, indicating special places to shop during the festival.
Among the other activities will be:
A 'Mixology Experience' during dinners.
After Party on Saturday night, July 14, at Warehouse Casa Armida with an installation by artist Luis Fabian Flores.
Talks in the Park with featured exhibitors.
In addition to Hotel Matilda, among the sponsors of MAG are Bovine Brasserie, Rosewood San Miguel de Allende, Cuervo, L'Otel, Casa Dragones, Jaguar, Moet & Chandon Lineal, Casa de Aves and Casa Blanca 7, B'ui.
For more information visit www.hotelmatilda.com