A small running light can be an invaluable outdoors tool for both safety and convenience. For people who often like outdoor running, having a small and portable running lamp will make their running environment brighter and more comfortable.Even if you don't often run at night or in the early morning hours, having a little hokolite running light can make a big difference if you run out of anything at home or need to pick up food from a grocery store.
Best running lights come in many different shapes and sizes. Among them, compact headlamps and portable waist lamps are one good way to provide lighting. They also have varying levels of brightness, as well as different lighting times. But do you know how to choose a running light that suits your needs? Do you even really know what your needs are when it comes to the kind of light you're using? Hokolite's running lights will meet your different needs. Check out our running lights guide.
Factors you need to consider
Lumens
The number of lumens of light can greatly affect your lighting brightness and illumination range. A good running light will provide a better light output.
Battery life
In outdoor activities, users of running lights will pay great attention to the use duration of the lamp body. The high-end high-quality running lamps often have a long service life. In hokolite, the service life of each lamp has been strictly tested.
Additional functions
The technology used in running lamps is designed to help runners perform at their best. As a runner, you will want to find a lamp that can provide enough lighting to ensure your safety, and it is best to have additional functions that can save running time or facilitate switching
Choose the right lamp for you
Best Running Light:200 Lumens Portable Daytime Running Lights
No matter how many excellent rechargeable running lights you have seen, I believe you will discard other running lights for hokolite. This rechargeable night running light is the best choice for you to clip on clothes, pockets, shoes, or a pet's traction rope. It is the same size as your palm and weighs only 1.76 ounces. It is equipped with a soft silicone cover, your charging port will be effectively protected inside, which can protect your lamp body from dust and rain, so you can use it safely in bad weather. It has two super magnets that can be attached to any magnetic surface or clamped anywhere. It has three lighting modes, with a maximum brightness of 200 lumens. During your use, you don't need to worry about causing damage to the eyes of the people around you. It also has a red flashing mode, which can effectively remind the pedestrians and vehicles around you.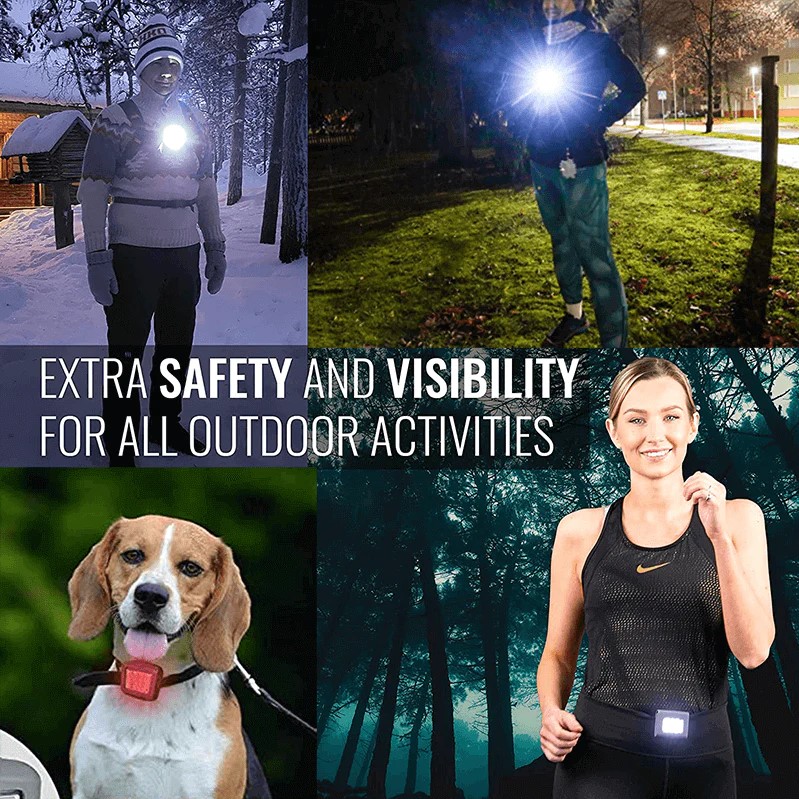 Best Clip On Running Light: Waterproof Night Running Light With Clip
If you love the clip on running lights, this running light from hokolite will be very suitable for you. This running light is also very portable and compact, so you can hardly feel the constraint when using it. The combination of LED and cob lamp beads is equipped with four lighting modes, with a brightness of 30-150 lumens and a maximum use time of up to 13 hours, which is enough to allow you to safely complete several night runs or several days of night walks. You can clip it on your hat, pocket, and running belt. It can be easily used in outdoor activities such as night running and mountain climbing. IP64 waterproof can withstand rain or wet conditions. USB charging is not only convenient but also environmentally friendly.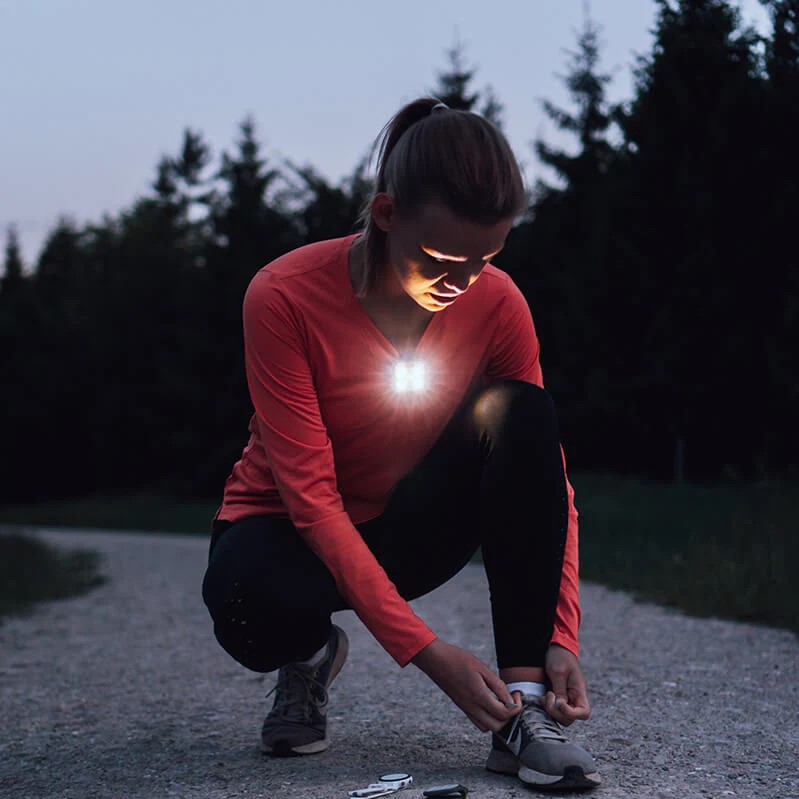 Best Waist Running Light:1000 Lumens Rechargeable Running Light
Do you always hesitate about what you need to carry before running at night? Are you worried about your family but afraid that your mobile phone will affect your running pace? Do you like to run while listening to music but do not want to carry your smartphone with your hands all the way? With hokolite's waist bag lamp, everything is not a problem.
The running light 1000 lumen running belt is designed to fit comfortably around the waist. It is ideal for running, cycling, and walking at night. The adjustable elastic band makes it suitable for almost all sizes. This waist bag lamp is light and comfortable, with complete functions: the belt perfectly wraps your waist, and the lamp body has a wide-angle beam, allowing you to see 210 degrees. The rechargeable battery lasts up to 9 hours. Five lighting modes: high light mode, low light mode, flash mode, red light mode, and red light flashing mode. The most special thing is that it is equipped with several convenient storage bags. It is composed of three storage bags on the left, middle, and right. The earphone hole at the bottom is carefully designed to store mobile phones, keys, kettles, money, and other items.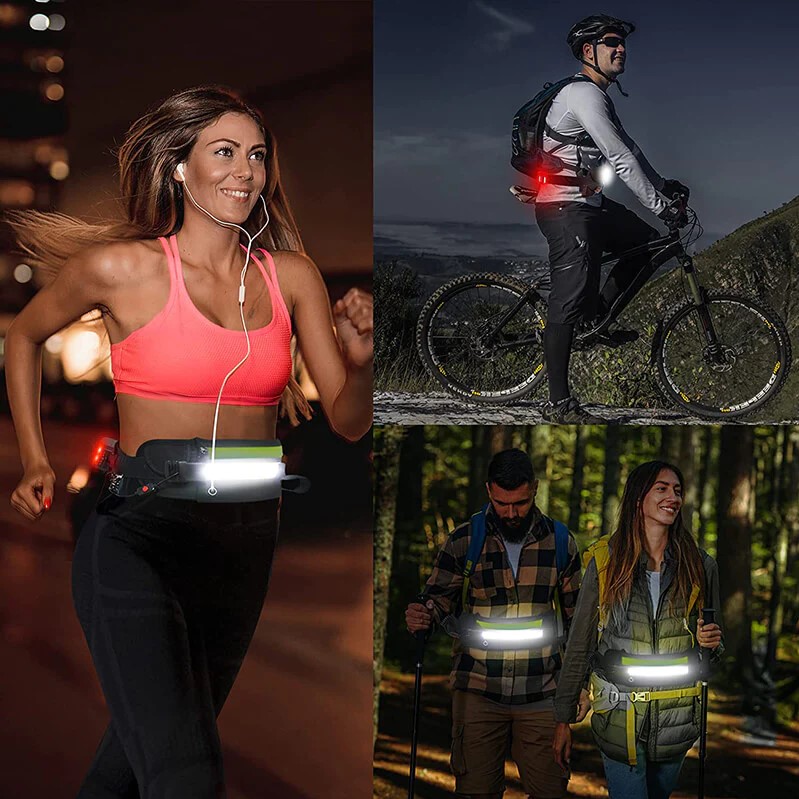 Best Belt Running Light:800 Lumens Chest Light Belt Light For Running
This vest has taken running lights to a new level. The overall design is very suitable for ergonomics. The light and adjustable shoulder running light belt are not only fit but also suitable for people with different body types. The front lamp and tail lamp are combined. The front lamp body can be adjusted 45 degrees up and down. The tail lamp has two modes of slow flash and fast flash. The flexible and adjustable light ensures the safety of your outdoor activities. The integral light band has a reflective function so that the car driver can easily find your activity tracker. This running light has a rechargeable battery that can be charged through an additional USB cable. Having it is a very cool choice.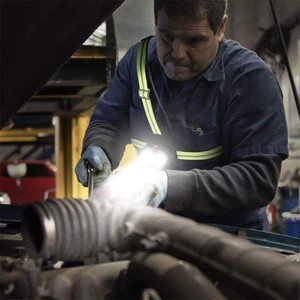 Whether it's night running, traveling or mountain climbing, having a high-quality running lamp is a great tool for outdoor activities. According to people's needs, the types of lights you need are different. If you haven't selected your favorite running lights, you can click www.hokolite.com to see more.