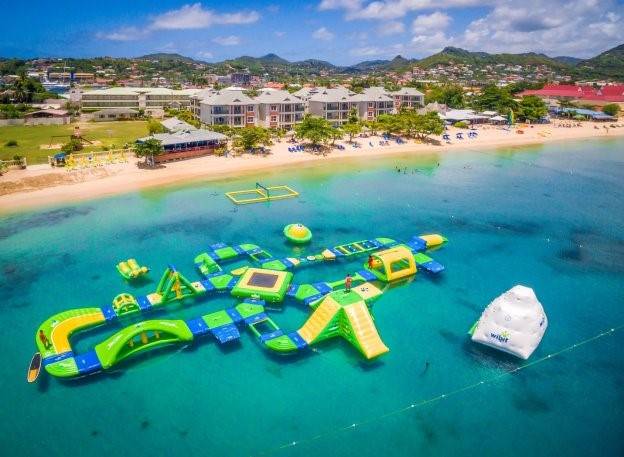 Travelers setting their sights on wellness travel for improved health and overall self-care,  can kick-start the New Year with Bay Gardens Resorts Weeks of Wellness Package, offering savings of up to 30% off luxury accommodations with daily treatments at its popular Saint Lucia spa the entire month of January 2022.
Those with Saint Lucia on their bucket lists will enjoy a variety of cutting-edge fitness and daily spa treatments at Bay Gardens Resorts, an award-winning locally owned and managed hotel chain located in Rodney Bay.
One of the more unique aspects of Bay Gardens Resorts' wellness offering is Splash Island Water Park, an inflatable water sports park with a trampoline, climbing wall, monkey bars, swing, slides, hurdles, and water volleyball. Splash Island Water Park provides a full-body workout, perfect for kids and kids at heart. 
The Bay Gardens Resorts Weeks of Wellness package includes: A welcome cocktail on arrival, daily spa treatment, yoga sessions, aqua aerobics, access to the fitness center, wellness consultation on arrival, pre-arrival culinary wellness concierge service, two kids can stay and eat free, complimentary Wi-Fi, bottled water in room on arrival, complimentary shuttle between the Bay Gardens properties, complimentary non-motorized water sports activities, and unlimited passes to Splash Island Water Park.
With the all-inclusive package, guests will also receive breakfast, lunch, and dinner daily, including premium foods and alcoholic beverages. And, through a collaboration with Ojas Spa, the number one provider of Ayurvedic medicine on the island, Bay Gardens Resorts offers its guests daily Ayurvedic treatments under the all-inclusive plan.  Plus, visitors who book five nights or more will receive a FREE rapid antigen test for two return flights!
For those seeking a more holistic approach, Bay Gardens Resorts has an exclusive partnership with Dr. Tanya Destang-Beaubrun, a certified transformational wellness coach, to help restore mind, body, and spirit. The Holistic Package focuses on the whole-body approach to healing, powered by shifting negative thoughts and behaviors. Another option for guests of Bay Gardens Resorts is the Island Aesthetic Package, in collaboration with Dr. Desmer Destang's Dermalogics Clinic.  Both packages are available at an additional cost. 
"Our Resorts were designed with health and wellness in mind to help promote a well-balanced lifestyle," remarked Sanovnik Destang, Executive Director of Bay Gardens Resorts. "We curated the Bay Gardens Weeks of Wellness package to include many value add-ons; guests will leave our resorts feeling rested, recharged, and renewed."
As part of the all-inclusive meal plan, guests can also sample the best restaurants in Rodney Bay Village, with an exclusive dine-around experience available at Bay Gardens Resorts. Choose from seven selected restaurants to dine off property when booking seven nights or more.
For more information on the 'Weeks of Wellness package, visit https://www.baygardensresorts.com/specials/weeks-of-wellness.