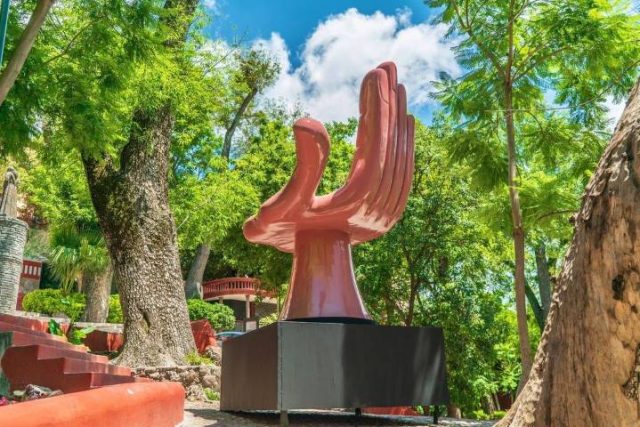 San Miguel de Allende enjoys an enduring relationship with the arts. From the city's founding as part of Mexico's Silver Route, artisans and artists alike have found inspiration here, as have a steady flow of art enthusiasts who look go beyond popular souvenirs for more tasteful works to add to their collections.
Today, the streets of San Miguel de Allende are lined with more than 100 art galleries — Canal 3, El Nuevo Mundo, La Casa del Inquisidor and Mixta, to name a few — featuring everything from modern and contemporary art to works by local artisans and indigenous peoples from around the Americas.
Located in Mexico's Bajio region, San Miguel de Allende offers spring-like weather year-round. With one of the world's most well-known Golden Hours, the city has been a longtime popular destination for American expats who came to create all types of art works at the Institute Allende, where art classes can still be taken on a weekly or extended basis.
Both local and expat artists can often be found busy at work in their studios, and new exhibits showcasing contemporary, furniture and interior design, antiques and jewelry, and linens and home accessories are always on. Some artists — such as Merry Calderoni, whose study is located at La Aurora Factory — will even invite guests to take an impromptu class with them.
In fact, any visit to San Miguel de Allende must include La Aurora Factory. (The facility has an on-site parking lot, but it's only a 15-minute walk from the Main Garden.) In this art and design center, you can watch the work of many artists.
After years of functioning as an important part of the regional textile industry — some of its historical machines and pipes are still on display — La Aurora Factory now houses art studios, jewelry and design stores, antique shops, a couple of restaurants and cafes, and some 50 galleries. There's no shortage of jewelry stores in San Miguel de Allende, partly thanks to a long history of silver mining in Guanajuato State dating back to the 1700s, but Cerro Blanco at La Aurora Factory is one of the most reliable for one-of-a-kind items. This family-run store has been around for more than 15 years, led by the fourth generation of jewelry makers.
One of the city's most recent artists in residency is surrealist artist Pedro Friedeberg, whose "The Anti-Social Networks" exhibition is currently being displayed at the Dôce 18 Concept House until January 2022. The 40-piece exhibition examines modern society and its need for social media. Friedeberg is known for his surrealist work filled with lines, colors and ancient and religious symbols. His best-known piece is the "Hand-Chair," a sculpture/chair designed for people to sit on the palm, using the fingers as back and arm rests. Dôce 18 Concept House aims to bring the avant-garde to San Miguel de Allende.