Santa Claus has traded his big red suit for something more suited to Christmas on the Great Barrier Reef – a festive spandex diving suit.
Eager to get his new threads wet, Santa boarded the Sunlover Reef Cruises catamaran to Arlington Reef pontoon, a 90-minute ride from Cairns, for a Sunlover Funlover exclusive event charter.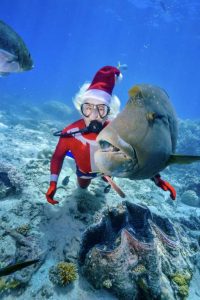 Sunlover Reef Cruises' Group Sales Manager Brian Hennessy said Santa was just one of many who would enjoy Christmas celebrations on the Great Barrier Reef this year.
"Heading into the festive season, we are thrilled to offer one of the world's most unique event spaces – the Great Barrier Reef," he said.
"Really, what's more 'tropical' than toasting the festive season on the Great Barrier Reef?
"This is the first year customisable events have been offered by Sunlover at the Arlington Reef floating activity pontoon giving groups the opportunity to take their event to the Great Barrier Reef.
"Together the Great Barrier Reef and our Arlington Reef pontoon are a brilliant setting for Christmas functions catering to private charter groups of up to 310 people.
"The Great Barrier Reef is one of the most picturesque destinations in the world. How great would  that be for your Christmas card?"
"Sunlover Funlover exclusive event charters and smaller group bookings appeal to varied groups including corporate end-of-year functions, weddings, large celebrations, as well as sports, school, community and church groups.
"Reef-goers can select from a diverse range of activities, menus, timing and theming.
"DJs and jazz bands, massages and educational sessions, snorkelling and fish feeding, comedians and photo booths are among the almost endless options."