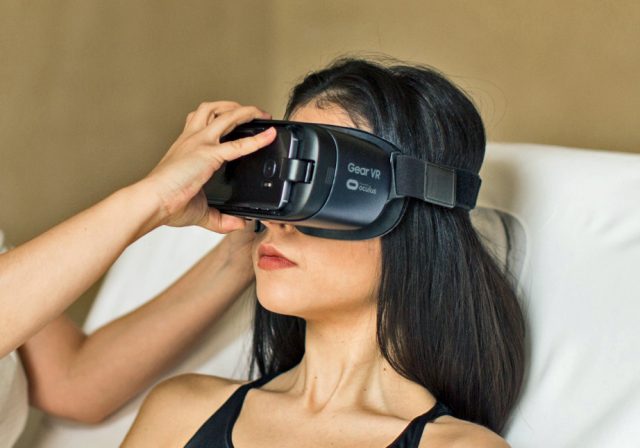 Santuario LeDomaine Wellness & Spa has taken the spa experience to new heights with the introduction of the Mindfulness Spa Experience combining virtual reality with guided meditation. The trendsetting option, which may be added to many of the treatments Santuario offers, merges high-tech with well-being to enable guests to derive maximum benefit from their therapy.
"The new Mindfulness Spa Experience is a pre-treatment ritual combining welcome body touches and an immersive virtual reality video with audio to help guests reach an unprecedented level of well-being," said Cátia Fonseca, Spa Manager of Santuario LeDomaine at exclusive Abadía Retuerta LeDomaine, the historic 12th- century-abbey hotel and award-winning winery in Spain's Duero winegrowing region.
"Guests may choose to experience the ritual ‒ which helps you connect with your senses, free your mind and enhance tranquility and energy ‒ with any Natura Bissé body or facial treatment on our menu," added Fonseca.
For example, the Mindfulness Spa Experience could be added onto Santuario LeDomaine's new, next-generation facial: the innovative and powerful 3D Collagen Shock Facial which combines three types of collagen with different molecular weights (high, medium and low) and incorporates the Active Face Contouring Technique massage that visibly redefines and sculpts facial contours.
The Mindfulness Spa Experience add-on combines welcome body touches with guided meditation. The delicate touching of the therapist's hands results in heightened sensations that stimulate the release of neurochemicals related to positive emotions in the brain and connects you to the core of your being while inhibiting cortisol levels to help reduce stress and anxiety. The gentle massage pressure awakens skin receptors to produce exceptional calmness and serenity. For the 10-minute meditation, the guest dons virtual reality glasses for a mindful video with sound that focuses your thoughts on the treatment to come and what the therapist will be doing to your body while guiding your breathing. The meditation helps you relax and fully focus on the treatment, preparing you to experience optimum results. It an integrated experience, led throughout by a skilled spa therapist, combining mindful pre-components with a spa therapy.
At Santuario LeDomaine Wellness & Spa, all treatments are fully integrative experiences featuring holistic elements inherited from other cultures – chakras, crystals and tuning forks.  Every treatment includes six elements:
Foot ritual – a soothing foot bath reminiscent of LeDomaine's own history as a monastery and the monks' ritual of washing their feet;
Crystal:  selected by the guest and kept near the body throughout the treatment
Initial-touch. Treatments commence with Tibetan singing bowls, while the therapist applies pressure all over the body.
Treatment: the central part of the experience
Final touch: Body pressure is applied again.
Tuning fork. The session ends with the sounds of Tibetan bells and a tuning fork applied to selected pressure points on the soles of the feet to transmit vibration to the whole body, achieving a sensation of peace and relaxation, and a fitting conclusion to a total spa experience.
Santuario LeDomaine Wellness & Spa is a nurturing and innovative sanctuary of holistic healing and wellness featuring 10,000-sq.-ft. of ultra-luxurious facilities, a ground-breaking "fusion wine" oenotherapy spa concept based on a blind tasting of wines, a signature treatment menu, Spain's first 'Spa Sommeliers' who guide guests on their wellness journey, and the highest level of individualization and guest service including Spa Butlers who welcome guests and assist at every step of their spa experience. The 900-year-old abbey's former stables were transformed into the spa as well as eight spacious and exquisitely appointed new guest rooms which have direct spa access.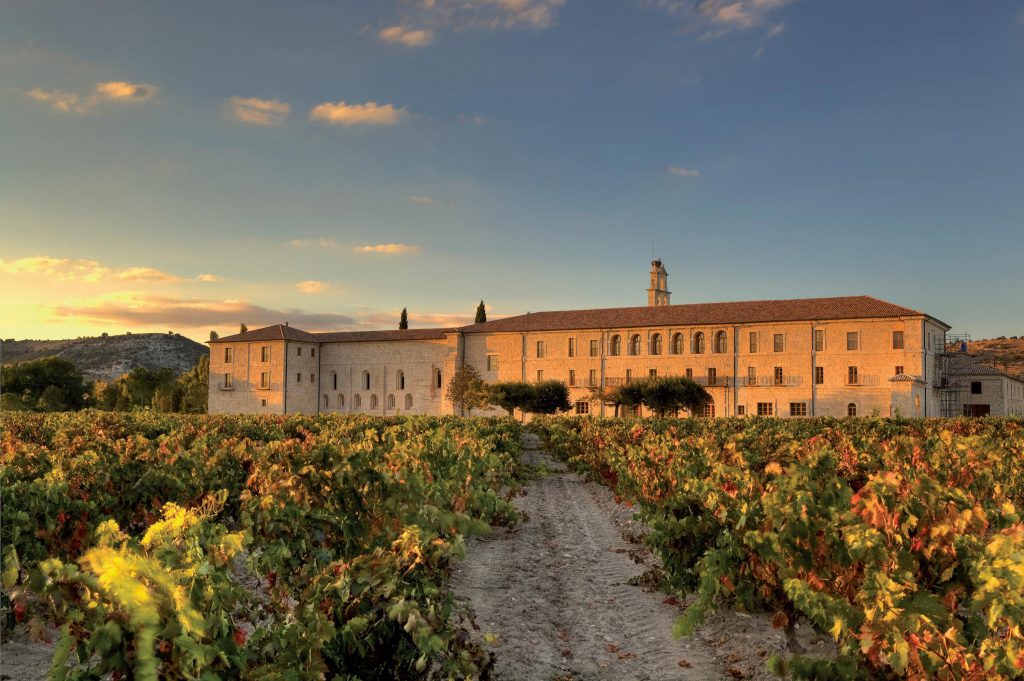 The Abadía Retuerta estate, set on 1,730 fertile acres in the heart of Spain's Duero wine region, offers a grand travel experience by combining the Abadía Retuerta LeDomaine hotel, dating from 1146 that is among the most highly rated properties in Europe, and the Abadía Retuerta Winery, acclaimed for its award-winning single terroir wines. In addition to the exceptional pedigree of its wines, Abadía Retuerta Winery is among the most advanced in Europe in combining ancient wine-making traditions with cutting-edge technology and sustainability.
Getting There
Abadía Retuerta LeDomaine is a two-hour drive or train ride from Madrid, and a 30-minute drive from Valladolid. For further information visit www.ledomaine.es.