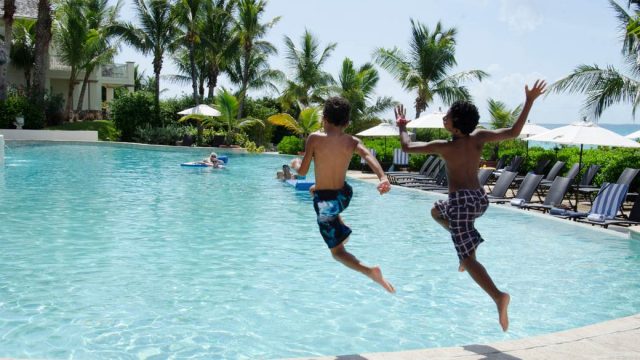 With summer soon coming to an end, families looking for one last getaway before school starts can ease into the new semester with a relaxing family vacation to Grand Isle Resort & Spa, located on Great Exuma, Bahamas.

The resort sits on a mile-long stretch of ivory beach and clear waters of Emerald Bay, offering families a stunning escape from the crowds of the main islands and Nassau. With a "home away from home" atmosphere, the resort's one to four-bedroom villas offer luxurious accommodations and homey amenities with sweeping views of this tropical paradise. The resort offers many island activities and excursions for the whole family to enjoy and creates unforgettable memories they will cherish for a lifetime.
For the family:
Grand Isle Resort offers a variety of off-site excursions such as swimming with Exuma's famed pigs, snorkeling throughout the vibrant coral reefs, feeding stingrays and fishing excursions.
The resort's main pool offers a central location where parents can relax in the sun while the kids swim the day away.
Grand Isle Resort & Spa offers a nanny service to its guests for when mom and dad need a special date night without the kids.
Have a picky eater in the family? Not to worry! Guests can also request a private chef who will cater to everyone's dietary needs.
For the kids:
The Hummingbird Hut is designed just for kids ages 5 to 12 for some fun in the sun.
The kids program offers daily complimentary activities including beach and pool treasure hunts, horseshoes, kayaking, stand-up paddle boarding, boogie boarding and more.
Hummingbird Hut team members are on hand from 10 am to 3 pm, leading the day's playful pursuits.
For the parents:
23 North Beach Club offers a lavish, adults-only infinity pool, fine dining and more, ideal for some grown up fun.
Grand Isle Resort features an 18-hole championship golf course complete with a bar located between the 9th and 10th hole.
Mom and dad can also spend a relaxing afternoon at the SeaStar Spa which incorporates the ocean's finest ingredients to create transformative skin and body treatments.
Grand Isle Resort offers activities that can cater to each family member's needs. Father and son can putt the day away on an 18-hole championship golf course while mother and daughter go shopping in one of the island's colorful towns or enjoy a day at the SeaStar Spa. Daily programming is offered for children ages 5 – 12 led by seasoned Hummingbird Hut team members, allowing each day will be filled with island adventures such as pool treasure hunts, kayaking, paddle boarding, boogie boarding and more.