What is the best way to discover some of Canada's most protected hidden pockets? Look no further than the Passing Cloud, Outer Shores Expeditions' 70-foot classic wooden schooner now celebrating 45 years on the water. This expedition vessel with its reclaimed teak deck, open skylights, and fascinating maritime history introduces guests to beautiful, rarely-visited corners of Canada's Pacific Coast. Stops include Haida Gwaii, a remote archipelago known as the "Galapagos of the North", and the Great Bear Rainforest, known for its pristine wilderness and abundant wildlife.
But Passing Cloud is more than just a vessel to explore the remote wilderness: it is a destination in and of itself with its impressive racing history, spacious wildlife-viewing deck, sophisticated amenities and so much more.
Here are five reasons why Passing Cloud is the sailing experience of a lifetime:
1. It boasts a seaworthy history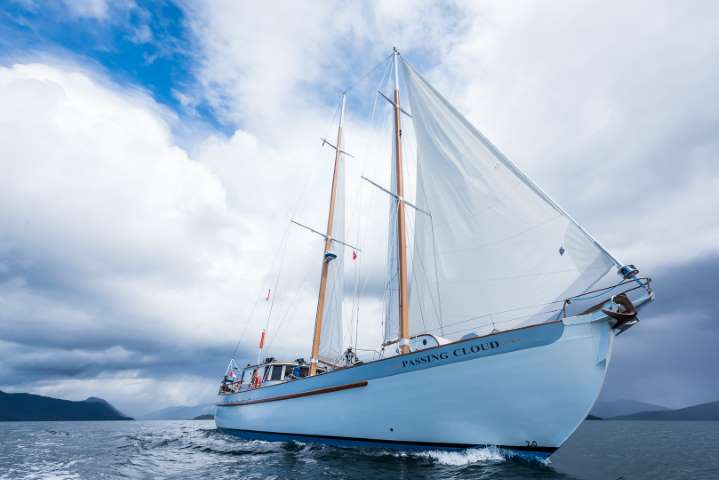 Passing Cloud's rich history includes its sisterhood with Atlantic Canada's classic fishing schooner Bluenose, currently on the face of the Canadian dime. Both ships were designed by William James Roué and went on to achieve incredible feats in Canadian and international waters: the Bluenose became known as the "Queen of the North Atlantic" for its fishing and racing victories, while the Passing Cloud, which was brought to life by naval shipwright Brian Walker, launched in Victoria, B.C. in 1974 and went on to weather tropical storms in the South Pacific, winning every major racing trophy in the Pacific Northwest in the early to mid 1980s.
2. It's a front-row seat to some spectacular wildlife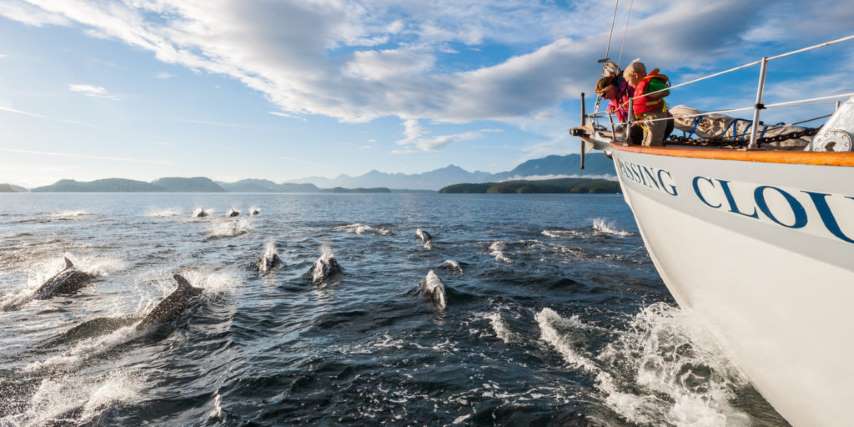 Not only is the Passing Cloud a trophy winner and smooth sailing expedition vessel, she provides the perfect platform for world-class wildlife watching from her spacious deck where guests can relax, chat, and soak up the sun, while also keeping an eye out for lunge-feeding humpback whales, breaching killer whales, large pods of Pacific white-sided dolphins, beach-foraging bears, puffins and albatrosses that may be spotted across the ocean's surface.
3. It's a floating West Coast retreat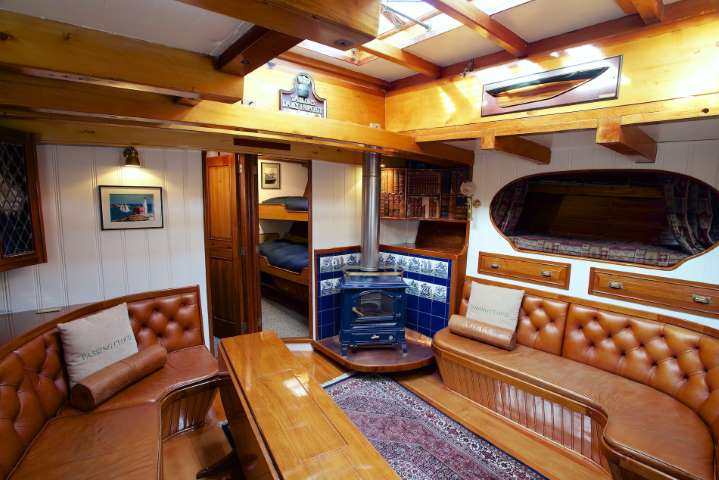 After an exciting day of exploring coastal rainforests, islands, and estuaries, retire for a pre-dinner glass of wine in Passing Cloud's main salon, where yellow-cedar deck beams support a butterfly hatch skylight that opens up to the ship's deck above. Take a seat on one of the leather settees and peruse the alluring library filled with unique hardcover classics on natural and cultural history, complementing some very specific science dissertations, from coastal archaeology to food web ecology—many researched and written by Outer Shores' on-board Expedition Specialists. Yes, not only is there history here—this also might be the coziest spot on the coast, complete with a salon stove to heat the already warm atmosphere.
4. Passing Cloud's galley turns into a world-class restaurant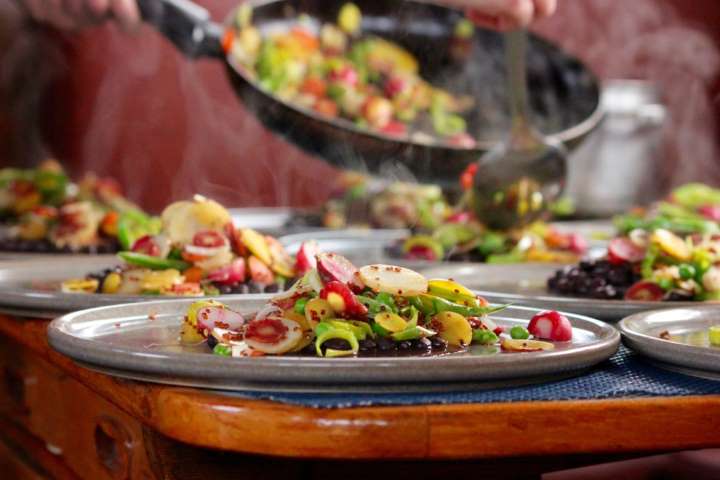 Indulge in West Coast cuisine inspired by the seasons with menu items sourced locally in the regions explored, such as sea asparagus, spot prawns, B.C. shellfish, seaweed, and world-famous Pacific salmon. Expert Expedition Chefs have experience cooking around the world, from luxury resorts to world-class restaurants, and infuse local flavours and traditions with international flair, for meal times that are as cozy and familiar as they are educational and elegant.
5. Interactive itineraries make you part of the family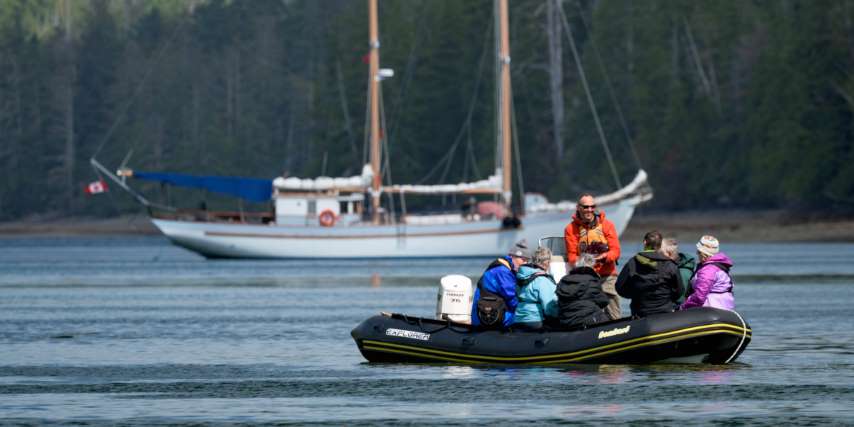 Aboard Passing Cloud, you're as much a part of the Outer Shores family as you are a guest when it comes to plotting the next days' adventures. In the evenings, gather around the fishing-style wheelhouse for the nightly chart chat with the crew to discover the many possibilities for the days ahead of sailing, cultural site visits, rainforest treks, and beach explorations. Try your hand at conning the helm, hoisting the sails, trimming the sheets, or keep an eye out for even more wildlife on shore or in the sea. With flexible itineraries, the adventure is dictated by weather, wildlife, and the passenger's own curiosities and expedition hopes.