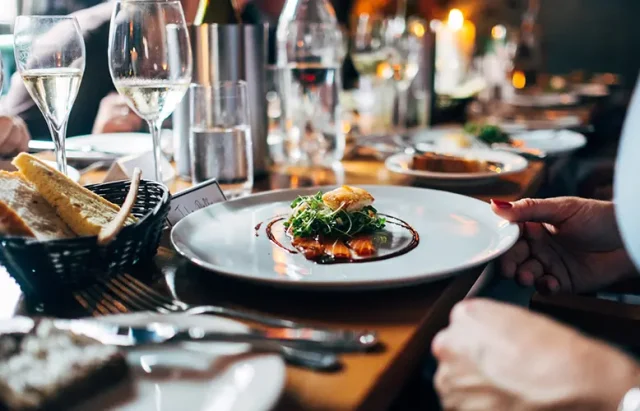 America's culinary scene is as varied and diverse as its population. From Michelin-starred establishments in bustling cities to humble street-food stalls, the country's food culture is as expansive as its borders.
Many travel to the US just to experience the food. And that's good enough reason! We would like to remind travelers that it's essential to get a visa through a simple visa application. Most foreigners require a visa to enter the country.
Let's embark on a journey through America's top cities and explore their distinctive culinary landscape–highlighting unique eateries and their star chefs.
Los Angeles: A City of Culinary Innovation
Let's start on the west coast, in sunny Los Angeles. Vespertine is a Michelin two-star restaurant in Culver City, helmed by Chef Jordan Kahn. The architectural marvel of the building mirrors the ingenuity in Kahn's dishes. His innovative "gastronomical experience" redefines the concept of a meal, where dishes like the 'Scallop, Caramelized Brassicas, Seaweed' are prepared with artistic precision.
Meanwhile, the street food scene in LA is dominated by Leo's Taco Truck–a food truck run by chef Leo that specializes in al pastor tacos. Chef Leo spins a huge trompo of marinated pork that's simply mouth-watering, a real emblem of the city's Mexican culinary influence.
San Francisco: Where Food Meets Art
Now, San Francisco, is home to a golden culinary scene. Atelier Crenn stands out as it blends food and art beautifully. Led by Chef Dominique Crenn, the first female chef in the US to receive three Michelin stars, serves poetic culinaria like 'Koshihikari Rice with Geoduck and Yuzu'–a testament to her artistry.
For a taste of the city's Asian heritage, venture to the streets of Chinatown. Here, Golden Gate Bakery makes the 'Dan Tat', or egg custard tart, to perfection. It's a taste of tradition in every bite.
New York City: A Blend of Tradition and Luxury
Moving across the country to New York, a city synonymous with food and culture, we find Le Bernardin. This three-Michelin-starred restaurant is led by the legendary Chef Eric Ripert, who's renowned for his wizardry with seafood. Try their 'Barely Cooked Scallop' for an experience that can only be described as transcendent.
Another crown jewel in the New York culinary scene is Eleven Madison Park. This restaurant, awarded three Michelin stars, is where Chef Daniel Humm presents modern, sophisticated multi-course meals with a focus on locally sourced ingredients. Known for his artistic presentation and attention to detail, Chef Humm's 'Honey and Lavender Roasted Duck' is a signature dish that perfectly encapsulates his approach.
In the realm of comfort food, NYC's pizza is unrivaled. Di Fara Pizza in Brooklyn has been serving handcrafted pizza since 1965, with Dom De Marco, the master pizzaiolo, still reigning at the oven. The 'Classic Pie' with its perfect balance of cheese, sauce, and crispy crust, is worth the trip.
Miami: A Taste of Latin Influence
In Miami, the Latin culinary influence is profound. Versailles, an iconic Cuban diner, serves the best 'Cuban Sandwich' in town. This classic sandwich with ham, roast pork, Swiss cheese, pickles, and mustard on a Cuban bread is Miami on a plate.
For high-end dining, visit Alter in Miami's Wynwood arts district. Chef Brad Kilgore creates gastronomical wonders in this Michelin-starred restaurant. His 'Soft Egg' dish with sea scallop espuma, truffle pearls, and caviar is a standout.
Orlando: A Gastronomical Adventure in the Heart of Florida
In Orlando, a city known more for theme parks, there's a burgeoning culinary scene that's hard to ignore. Victoria & Albert's in Disney's Grand Floridian Resort & Spa is a gem in the city. Helmed by Chef Scott Hunnel, this AAA Five-Diamond award-winning restaurant serves contemporary American cuisine with dishes like 'Kurobuta Pork Tenderloins' and 'Australian Kobe-Style Beef'. The impeccable service and refined menu make it a true gastronomic adventure in the heart of Florida.
Orlando's food truck scene is also exciting. Korean BBQ Taco Box, is a popular choice among locals and visitors. The fusion of Korean BBQ with the convenient form of a taco is pure genius. Try the 'Spicy Pork Taco', a delightful medley of flavor and texture that will leave you wanting more.
Washington D.C.: Culinary Diversity in the Nation's Capital
Venturing to the nation's capital, Washington D.C. has a dynamic food scene that reflects its diverse population. Minibar by José Andrés is a two-Michelin-starred restaurant where Chef Andrés, a pioneer in molecular gastronomy, transforms common ingredients into whimsical culinary creations like his 'Parmesan Egg with Migas'.
D.C.'s food trucks are a vibrant part of the city's food culture. Fava Pot, a food truck turned restaurant, offers Egyptian street food. Owner Dina Daniel ensures authentic flavors shine in dishes like the 'Tameya', Egyptian falafel made from fava beans, a perfect quick bite on the go.
Chicago: The Heart of American Culinary Innovation
Lastly, in the heart of America, Chicago is home to Alinea. A dining experience here is theatrical, emotional, and delicious in equal measures. Chef Grant Achatz, known for his culinary innovation, offers creations like 'Hot Potato, Cold Potato', a truffle soup encapsulated in a wax bowl. It's not just food, it's an adventure.
Chicago's street food must include a stop at Portillo's for their 'Chicago-Style Hot Dog'. Served in a poppy seed bun, loaded with pickles, tomatoes, onions, mustard, and a dash of celery salt, it's a classic.
America's Unending Gastronomical Adventure
From coast to coast, America's culinary offerings are as diverse as they are delicious. Whether it's the opulence of a Michelin-starred restaurant or the humble satisfaction of street food, each city has its unique flavor, making the American food scene a never-ending gastronomical adventure.