Dreaming of your destination wedding? It can still happen! Travel will open up again, weddings will occur, and dreams of a destination wedding can be a reality.  Micro weddings were a major trend in 2020 , but with some destinations taking a more relaxed stance towards restrictions, we are OPTIMISTIC, we are ENERGETIC and we are READY to enter the mesmerizing world of destination weddings all over again. 
North Carolina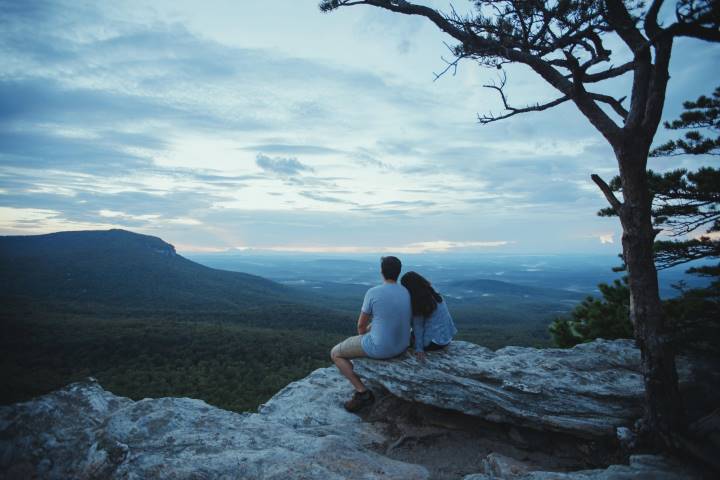 Looking for a wedding destination but don't want to venture too far out? Just an 8-hour drive from Ontario, North Carolina's regional diversity makes it easy for couples to personalize their weddings while at the same time honoring Southern tradition. From countryside farmhouses way up in the mountains of Asheville to boutique hotels on the Outer Banks of the North Carolina salty coast, to celebrating in Gatsby-like glamour at the historic Biltmore Estate, this great state has a wedding venue that's perfect for just about any couple planning a gorgeous southern wedding. From mountains to coast and cities in between, your destination wedding adventure can start and end with beautiful venues and honeymoon locations.
Bermuda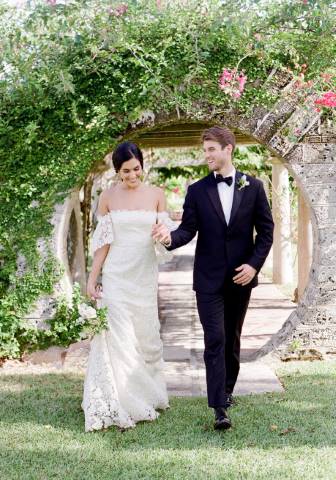 Seeking a tropical wedding? Only a 3-hour plane ride from the East coast, Bermuda destination wedding might be just what you're seeking. Bermuda is known for its pink sand beaches, equally pink architecture, and iconic shorts-and-knee socks style that you just might see represented at your wedding celebration. A luxe island retreat with high-end shopping alongside the relaxing resorts and delicious dining options. Incorporate Bermuda's island traditions, like kissing under the moongates. According to local legend, the round or horseshoe-shaped arches found in gardens all over the island will assure a long and happy life together. Bonus: One of these customs will give you a good excuse to come back on your anniversary. 
Athens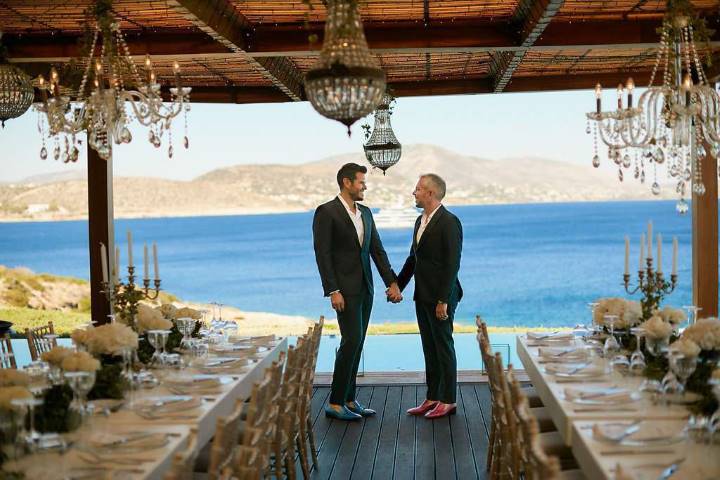 What better way to express your eternal love than while silhouetted by the sunset with the subtle taste of salty sea mist caressing your lips? Beyond the stunning backdrop, soft Aegean breeze, historic ruins and a treasure trove of wedding traditions from around Greece, there are many reasons why Athens is the ideal destination for a dream wedding. From May to mid-October, Greece has warm, sunny weather. The food in Greece is well, EXCELLENT! Local caterers can suggest a menu with Greek as well as international recipes that will appeal to you and your guests. From the most traditional to contemporary and creative Greek cuisine, the options are endless. If you enjoy sailing yourself, you can add a touch of adventure to your wedding trip and explore hidden and secluded coves and beaches, the real gems of the Greek Islands, which are often only accessible by boat.
Arizona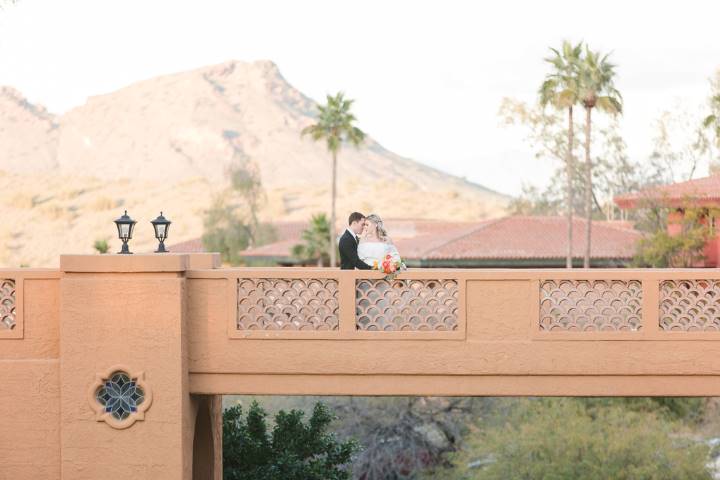 Brides love Arizona for its natural splendor, encompassing a variety of climates and unparalleled beauty. It offers a range of destination hot spots that fit any style… and let's not forget the unbelievable golf, luxurious spas, and unforgettable sunsets!

Northern Arizona is known for greenery and cooler temps, even experiencing some snow fall in the winter months! Breathtaking red rock formations of Sedona set the scene for gorgeous wedding photography, as well as beautiful hiking trails. Northern Arizona is also home to the Grand Canyon, one of the 7 Natural Wonders of the World!

Southern Arizona is known for warmer temperatures as you enter the Sonoran Desert, where bold saguaros stand tall against the desert skyline, creating a picturesque backdrop for any wedding. That Southwestern charm is seen in everything from its small boutique hotels to cactus gardens, Spanish villas to sprawling resorts. 
West Hollywood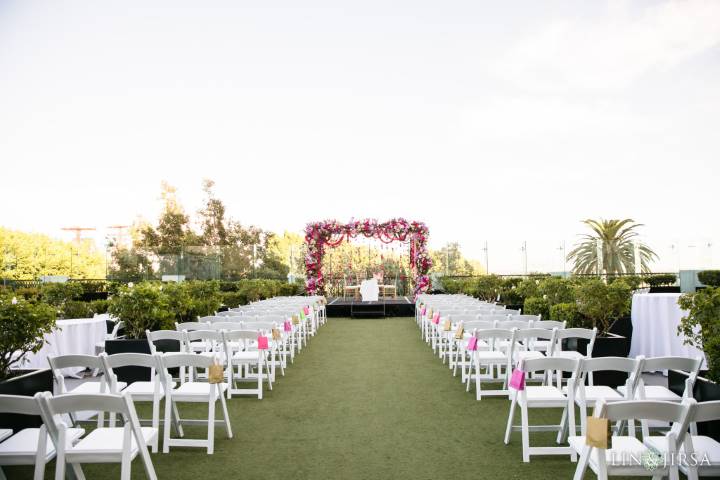 From elegant mansions with manicured tropical gardens to footprint-free white sandy beaches, West Hollywood has a plethora of spectacular wedding venues to choose from for one of the most important days of your life. Take the stress out of tying the knot and saying "I do" with a range of wedding and reception packages and services that are offered at many of the venues and let a professional wedding management team take care of all the details. 
New Hampshire
New Hampshire has all the features of a quintessential New England wedding. An easy drive from Quebec and Ontario, it has that destination-wedding feel, but with the warmth and coziness of a small town. When you choose to celebrate your wedding day in this small but mighty state, you're certain to fall in love with the pleasant variety of New Hampshire wedding venues and your guests will enjoy the local charm of your desired destination. 

With choices including a rocky sliver of Atlantic shore, mountaintops, lakes, national parks and artsy small towns, you can find the ideal spot for your New Hampshire wedding, no matter your preferences. New Hampshire also offers destination honeymoon luxury spas and inns that will pamper you with home-baked goodies, warm hospitality, and NH grand accommodations.
Maryland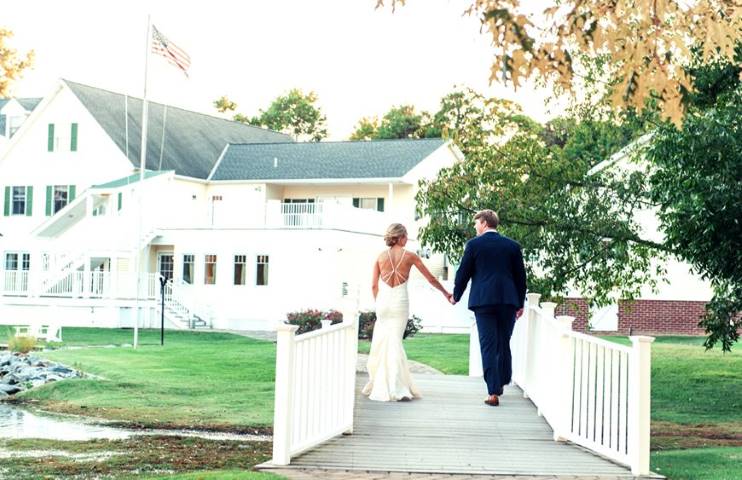 Picture the two of you amid a setting of breathtaking harbour views and romance-inspiring sunsets, with your guests feasting on Maryland crab cakes and other mouth-watering seafood specialties you just can't find anywhere else. Dreaming of a destination wedding doesn't have to require travelling long distances. A beautiful 8-hour drive from Ontario, Maryland has an option for every wedding style and budget. Whether you're looking for ocean city Maryland rentals, a wedding venue near deep creek Maryland, an industrial cotton mill in the city or massive library.

Being able to host a garden welcome party for your wedding weekend is just one of many reasons to get married in the great state of Maryland. Home to rich history, unsurpassed natural beauty and cuisine second to none are everything you need to celebrate your marriage. This is one stop on the East Coast to find the best spots to visit, stay and get married!
Las Vegas, Nevada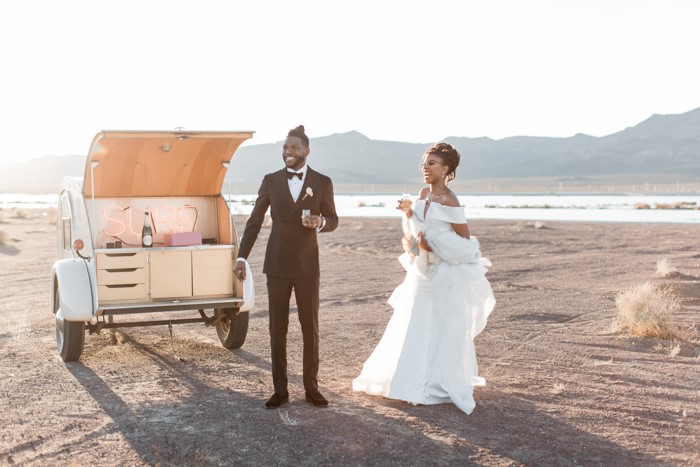 Las Vegas is famous for many things: gambling, Elvis, nightclubs and weddings. The city's lax marriage laws make it one of the easiest places to get married in the United States. Even beyond the elegant yet cheap wedding venues that await you in Vegas, Nevada offers brides a bounty of unique places to get married. Glamorous reception halls and upscale hotels abound in Sin City. Enjoy a sun-washed wedding reception on a golf club patio in Reno. Exchange vows in an outdoor wedding on the sandy beaches of Lake Tahoe. Make memories that last forever at these wedding spots!