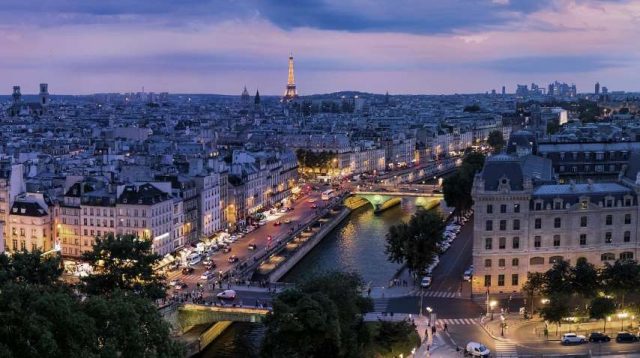 Crown Cruise Vacations President Ross Spalding and his team of travel and cruise specialists offer the perfect French river cruise vacation getaways. Whether its Paris, Normandy, Provence or somewhere in between, travel to the home the Croissant, Champagne and some of the most romantic spots in the whole world.
Join Then for a Royal Parisian Holiday, December 20-27, 2019
Join our Vice President and resident bon vivant Jeffrey Bateman aboard the Uniworld Boutique River Cruise Collection S.S. Joie de Vivre for a truly royal holiday celebration in Paris and down the Seine River with Uniworld. From biking along the Left Bank of the Seine to having champagne in Chateaus in the French countryside, this seven-night river cruise will be a holiday experience that you will never forget.
Azamara's Pursuit Sails French ports
In September 2020, Azamara Club Cruises' Pursuit is sailing to six French ports, each one as magnifique as the last. Port Vendres boasts rich maritime traditions and stunning vineyards perched on rocky cliffs above town. Marvelous Marseilles is next, with an overnight providing the chance to enjoy a multicultural atmosphere where pure Provence-style take center stage.
Next, it's time to cozy up to the Cote d'Azur in Sanary-sur-Mer, with its sunny, palm-lined harbor and museum dedicated to renowned undersea explorer Jacques Cousteau. Revel in the chic glamor of the French Riviera in St. Tropez, where famous Tahiti Beach and mighty mega-yachts are found.
From the sea, Calvi, Corsica, looks imposing, but step past its stone defenses and enjoy to winding streets full of shops selling local delicacies and sweeping sea views from the hilltop citadel. From Corsica, it's off to Monte Carlo. It's no roll of the dice here, a good time is guaranteed in port before finishing your cruise in Nice.
But with Azamara, it's not just the cruise. Thanks to their partnerships with some of the best tour operators in the world, your cruise can include an amazing land component as well. Whether it's a few extra days in Nice or an intensive foodie jaunt through Provence─or recapturing the magic of an Orient Express train journey through France to London─whatever your French fantasy is, Azamara can take care of it.