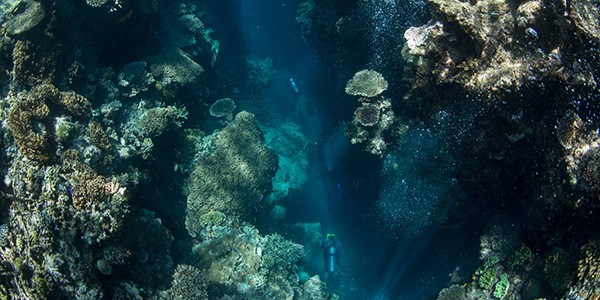 Scientists will join forces with the tourism industry to harvest and transplant millions of coral eggs and sperm during the annual coral spawn on the Great Barrier Reef next month. The innovative project will transplant spawn collected from healthy reefs to those affected by the bleaching events of 2016 and 2017, in a bid to increase coral coverage on degraded areas of the reef.
James Cook University's Centre for Tropical Water and Aquatic Ecosystem Research in Cairns has partnered with the Southern Cross University Marine Ecology Research Centre and the University of Technology Sydney for the project. JCU Senior Research Officer Katie Chartrand says the coral spawn will be collected from Moore Reef, where corals have survived the bleaching events, and taken to Vlasoff and Arlington Reefs off Cairns.
"We will place the spawn in enclosures for four or five days until it develops into larvae. Mature larvae will then be taken to a degraded reef patch to settle," she says.
It's the first time the entire process of larval development will be undertaken exclusively on the reef. The areas will be monitored for new coral growth to determine if the project is a success.
Partners in the project include the Great Barrier Reef Marine Park Authority, Indigenous Land and Sea Rangers, Aroona Boat Charters, Argo Expeditions, Queensland Parks and Wildlife, Reef Magic and Biopixel Productions. Funding has been provided by the Federal and Queensland Governments' Great Barrier Reef Coral Abundance Challenge.
The coral spawn is predicted to occur two to five nights after the November 24 full moon.