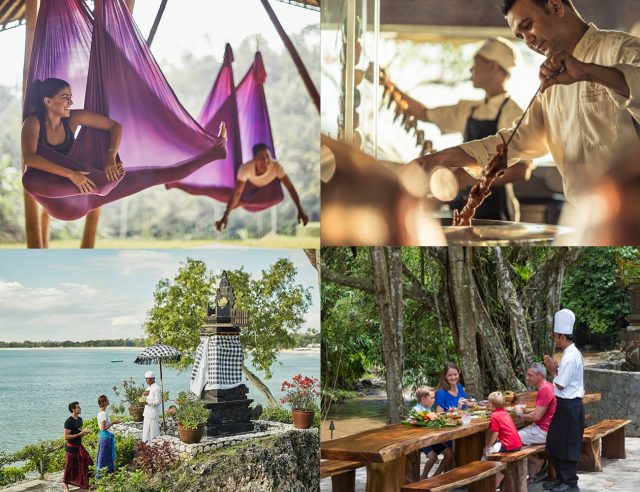 There will be no shortage of dazzling events and lavish dining, but the New Year programme at Four Seasons Resorts Bali goes beyond the glamour with psychic readings, a letter-burning ritual, chakra rebalancing and traditional blessings.
Following the example of the Balinese, for whom a New Year is a time to cleanse away negative energies, the riverside retreat of Four Seasons Sayan (just voted #1 World's Best Hotel by Travel + Leisure readers) and the beachfront Four Seasons Jimbaran Bay are offering unique experiences to encourage guests to connect with each other and refresh their spirit.
"The festive season is a time for decadent dining and fireworks, but it's also a time to make a new beginning. Our festive programmes offer the perfect balance between the two," said Uday Rao, General Manager of Four Seasons Resorts Bali. "In Jimbaran, we have the new Taman Wantilan restaurant's live action dinner concept, a vibrant Arabian Nights countdown party and the sophisticated lifestyle of Sundara beach-club, balanced against ocean-edge yoga, a blessing with our Balinese-Hindu priest, and a renowned psychic. While in Sayan, guests can enjoy traditional Balinese cuisine with our Sokasi Chef's Table dinner under the banyan tree, and exquisite French tasting menus at Riverside Café from our new Michelin-profile chef. Drawing on the healing traditions of Ubud, Sacred River Spa offers chakra rebalancing, New Year's Eve meditation and a letter burning ritual. It's not a matter of indulgence or inner peace; guests can have both."
Highlights of the Four Seasons Jimbaran Bay festive programme
25 & 31 December: Chefs take centre stage at the new Taman Wantilan, renovated and relaunched in time for the festive season. Watch them in action at the spectacular show kitchens, preparing a sumptuous selection of Western festive fare and Asian cuisine.
22 December – 10 January: An unforgettable Christmas awaits the little ones as they catch waves with Santa, sing carols with children from a local church, learn to cook with Chef Kris at Jala Cooking Academy, and play Balinese dress-ups and cultural activities. An extra special treat is a visit to the gelato and crepe station, inside the Patisserie at Taman Wantilan.
27 December – 9 January: While the festive season is joyful, it can also sharpen that sense of loss if someone is missing. Guests can connect with a loved one on the other side or find out what 2019 has in store for them, with a Sixth Sense reading by psychic Marco Della Valle, the visiting wellness practitioner.
31 December: As the sun sets for the last time in 2018, guests can join an ocean-front Yoga Suci Ritual with a blessing by a Balinese-Hindu priest to cleanse away any negative energy, before an evening of indulgence at the resort's restaurants. A red carpet entrance leads to the Arabian Nights beach party with Shamadan dancers, fortune teller, henna tattoo artist, midnight fireworks and DJ until the early hours.
Highlights of the Four Seasons Sayan festive programme
24-31 December: With over a decade of experience at Michelin-star restaurants in France and Norway, new Executive Sous Chef Jean-Philippe Guiard brings the traditions of a European Christmas to Bali, presenting exquisite French tasting menus by the river. Meanwhile, guests can observe the rituals and techniques behind famous Balinese dishes like suckling pig and roast duck at the Sokasi Chef's Table dinner, a 9-course menu served personally by Senior Sous Chef Wayan Sutariawan.
31 December: Resident wellness mentor and former Buddhist nun, Ibu Fera, leads relaxation meditation with crystal sound healing and a burning letter ritual to let go of past negativities. Then at night the sky will light up with fireworks from the Jati Bar countdown party.
Daily: The Sacred River Spa has designed seven very special Chakra Ceremonies to restore harmony to the flow of energy through our body. Each full body spa treatment has a corresponding Chakra Yoga class available for guests to join at Dharma Shanti Bale, to maximize the benefits of their chakra rebalancing therapy.