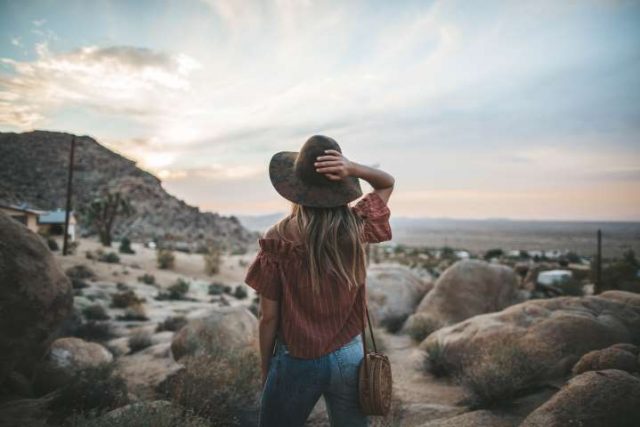 Have you ever looked at your vacation photos and realized that your outfits were simply terrible? When we go on a holiday we just want to relax, de-stress and not worry about a single thing, especially not our wardrobe. During those couple of days it is all about comfort, loosening up and taking it easy, so making an effort to look stylish and put-together just doesn't seem to be on the schedule. On the other hand, having a couple of great photos where you are posing in front of a monument or having a cocktail in a fancy bar is always a plus. If you are tired of being ashamed of your vacation pictures and you wish to avoid looking like a badly-dressed tourist, do not worry. With these useful packing tips, you will look amazing and feel great at the same time. 
Leave your heels at home
When you are on a vacation you will spend most of your time discovering new places or chilling on a beach. Either way, there is no room for fancy heels. Yes, they make your legs look longer and can elevate any outfit, but would you rather focus on achy feet or beautiful sights? Luckily, flats these days come in various styles, prints, and colors, so they go with anything. For example, fashionable Bandolino shoes are both functional and stylish, and you can combine them with all of your outfits. 
Get gel insoles just in case
If your feet tend to hurt after long-distance walks, consider packing a pair of gel insoles. They can easily fit in your bag so you can take them anywhere with you. If your feet hurt just pull these babies out and they will massage your feet as you walk.
Layering is always a good choice
If you wish to avoid feeling hot or cold, layering is the way to go. This way you can take something off when you start to overheat and put something on when you feel chilly. In addition, layered outfits always look more stylish. For example, a cute dress paired with a comfy cardigan and a lightweight scarf will look great on you and keep you cozy during your trip. 
Opt for a stylish bag
Whether you like it or not, one thing that can definitely ruin your whole outfit is a fanny pack. Since you need a place where you will you're your money, phone, keys, water, and other essentials opt for a stylish tote that also has room for your jacket and your camera.
Don't wear clothes that do not fit
We are all familiar with that neat trick where you buy a size down to motivate yourself to lose weight. Well, during those couple of days on your vacation you definitely won't stick to a strict diet and make an effort to shed those extra pounds, so avoid packing any clothes that do not fit you properly. If you are not able to fit two fingers in the waistband of your jeans, leave them at home. In addition, avoid packing any shirts that restrict arm and shoulder movement. Clothes that are too small won't look good on you and will make you far less comfortable.
Less is more
Instead of packing everything you own, opt for several classic pieces you can easily mix and match. When it comes to quality pieces of clothing, don't be afraid to spend a little more. After all, well-made, neutral-colored items like blazers, cardigans, dresses, and pants will last you years and can be easily dressed up or down with carefully chosen accessories. With these clothing pieces you will easily come up with an ideal outfit for the day without spending an hour in front of a mirror in your hotel room.
With these tips you will look great at all times without sacrificing your comfort.