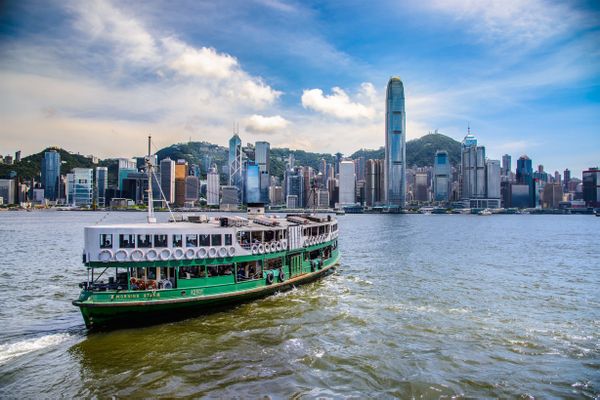 Travelers can now see more of Hong Kong for less than ever before. With 2018 delivering record-low airfare pricing between the U.S. and Asia's World City, savvy American travelers have begun zeroing in on Hong Kong – long-known as one of the world's most exciting cities; now newly-recognized for its affordability.
With this year's air capacity between the United States and Hong Kong projected to increase +9.9%, 2018 has already seen record low rates on nonstop service between the West Coast and Hong Kong. With Hong Kong Airline's newly-introduced Los Angeles / San Francisco – Hong Kong services now available, rates from the newcomer and legacy carriers such as Cathay Pacific can be found for under *$500. Now the city that has long been synonymous with luxury and opulence is attracting travelers that arrive with a focus on affordability and a demand for authentic experiences on a budget.
Hong Kong on a Budget:
Utilize Hong Kong's world-renowned public transportation system for the most cost-efficient way to get around the city. Travel between Hong Kong International Airport and Hong Kong Station in Central in 24 minutes for less than $13. Upon arriving in the city, make use of the Mass Transit Railway (MTR) stations all throughout the city. With a typical 1-3 minute wait time between trains and one-way trips for less than $2, it's no wonder that it is how the locals get around.
Explore the city and take in incredible views with a prime seat on top of a double-decker Hong Kong Tram. A ride aboard a Hong Kong Tram, or 'ding ding' as referred to by the locals, will take you on a winding loop of Hong Kong Island's northern shore. Take in iconic views of Central's skyscrapers, Victoria Park, and the famous Western Market for about a quarter.
Experience Hong Kong's culture, history, art scene, and entertainment through five free distinctly-themed Old Town Central walking tours. The self-guided walking routes make it easy for visitors to experience the vast and vibrant Central district, including its colonial monuments, temples, art galleries, antique stores, street art displays, rooftop bars, popular restaurants and local delicacies, with hidden gems at every turn. Full versions of the free walking guides can be viewed and downloaded at: http://bit.ly/2oRLBap
Cruise between Hong Kong Island and Kowloon on the city's famous Star Ferry. This celebrated cross-harbor tradition allows riders to take in panoramic views of the Hong Kong Island coastline. Insider tip: Grab an upper-deck seat on a sailing just before 8 p.m. for one of the best views in town of Hong Kong's renowned Symphony of Light show – all for about 30 cents on weekdays.
Eat your way through Hong Kong's casual food scene, where hidden gems and inexpensive street food remain one of the most cost-effective and authentic ways to taste your way through the city. A traditional Hong Kong breakfast paired with silk stocking milk tea will set diners back less than $10 at the classic Central Hong Kong-style cafe Lan Fong Yuen. For the perfect intersection of Michelin-starred and economically-savvy, head to dim sum hotspot Tim Ho Wan in Sham Shui Po to savor the cheapest Michelin-starred meal in the world.
Burn off hearty portions of dim sum by spending a day in the great outdoors, trekking along one of Hong Kong's many celebrated hikes. Take in tranquil beaches, volcanic landscapes, remote temples and jaw-dropping vistas for only the cost of transpiration to the trailhead. A trek along the Land of Legend trail takes hikers through Plover Cove Country Park, along a hauntingly beautiful stream and a waterfall network known as Bride's Pool. A hike up the 869-meter Sunset Peak, Hong Kong's third highest peak and a top spot for sunset viewing, will reveal expansive seascapes, rustic stone huts, and seas of silvergrass.
Pack a picnic and spend a relaxing day enjoying some of Asia's most beautiful beaches. Many visitors are surprised to learn that Hong Kong's long, twisting coastline has made way to a collection of golden, idyllic beaches – many of which are just a stone's throw away from the city's teeming downtown area. Spend a relaxing and budget-friendly day laying in the white sand of Sai Kung Beach, watching the local surfers at Big Wave Beach, or window-shopping throughout sun-drenched Repulse Bay.
Take in the dynamic new enhancements to A Symphony of Lights, a dazzling light show that has been recognized by Guinness World Records as the world's largest permanent light show. The re-imagined light show illuminates the sky over Hong Kong's Victoria Harbour with vibrant rays of light sent out from rhythm from 40 buildings and locations. The 10-minute light show is free of charge every night at 8 p.m. and can be best viewed from the Tsim Sha Tsui waterfront.
Negotiate like a pro at one of Hong Kong's bustling street markets for some of the world's best bargain shopping. Visit the Ladies' Market in Kowloon for deals on clothes, bags, and accessories; check out the lively Temple Street Night Market to stock up on discounted electronics, sporting goods, toys, and Hong Kong souvenirs. Head to the Jade Market for deals on jade in all shapes, sizes and forms, in addition to pearls, semi-precious stones, and other pieces of locally-made jewelry.
Enjoy free sightseeing tours with Cathay Pacific's Extended Stay program. Visitors traveling to Hong Kong aboard Cathay Pacific and staying for three or more nights are eligible to enjoy their choice of a complimentary tour, ranging from a day-long, open-top bus tour, to an extensive tour of the local life and historic sights of Kowloon, or a guided walk through Old Town Central, the city's entertainment, culture and dining district.
Book a pre-packaged Hong Kong land experience to enjoy uniquely low rates in 2018. The Vibrant Hong Kong, a four day/ three-night package includes: roundtrip airport ground transfers, three nights' hotel accommodation, full breakfast daily, a half-day Hong Kong Island tour, and a 72-hour SIM card to keep connected. The Vibrant Hong Kong package, along with other vacation offers, are available to book online at com.
*Fares are subject to currency fluctuations. Other terms and conditions apply.