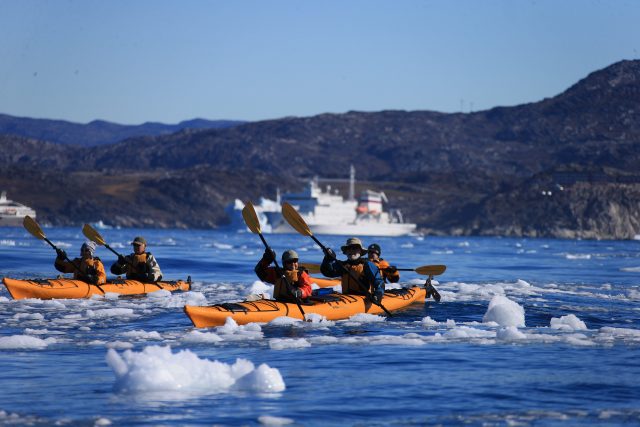 One Ocean Expeditions (OOE) is delighted to announce that passengers who travel on its expedition cruise to the icy landscapes of Greenland and Baffin Island, departing on 5th September, will be joined by Nicholas Jones, the newly-appointed Friends of the Scott Polar Research Institute's (SPRI) Arctic Artist in Residence.
Each year, Friends of SPRI and OOE generously offer a place onboard an Arctic expedition to an artist whose work not only has a deep-seated connection to the polar regions, but one who has already produced a serious body of work.  Upon careful assessment of how embarking on this voyage would advance the artistic practice of each applicant, the outcomes they envisaged and how they intended to reach and educate an audience based on their produced work, Nicholas Jones was carefully selected as the 2018 winner.
Having initially studied Fine Art at Bristol Polytechnic and received recognition during multiple solo exhibitions, it became clear that landscape, abstraction, colour and light were dominant factors in Nicholas' paintings.  During visits to Finnish Lapland, Nick found the landscape he had been searching for, inspiring him to create over 60 paintings of the Aurora Borealis and cementing his fascination with ice, rock, water and light.
Nicholas' appointment as the Friends of SPRI's Arctic Artist in Residence for 2018 will provide him with a wonderful opportunity to immerse himself in the light and landscape of the Arctic and will, no doubt, be the catalyst for a significant new body of work.
He comments:  "I am thrilled to have been selected.  To be able to travel to Greenland and Baffin Island will be a wonderful experience and the fulfilment of a long-held dream.  I cannot imagine a more perfect inspiration for a painter of light and landscape than time spent in the Arctic.  It is my firm hope that the work I produce during this visit and subsequently will succeed in evoking for other people something of the extraordinary beauty and importance of the region."
Nicholas will be joining OOE onboard the Akademik Sergey Vavilov for its West Greenland and Baffin Island Explorer voyage. This extraordinary expedition begins in Kangerlussuaq, Greenland and explores the incredible Sondre Stromfjord, one of the world's longest fjords, as well as the ice-choked Jacobshavn Iceford at Ilulissat– a natural wonder of the Arctic.
Visits to the Inuit communities of both Greenland and Canada provide a fascinating glimpse into the daily life of people who call this remote wilderness home.  Crossing the Davis Strait, passengers will witness the stunning fjords and soaring peaks of Baffin Island, prime locations for polar bears and walrus sightings.  With days spent exploring inlets and bays by zodiac, hiking onshore, sea kayaking and extraordinary wildlife viewing, this voyage provides ample opportunity for those who wish to paint, sketch or photograph the amazing surroundings.
For more information visit oneoceanexpeditions.com