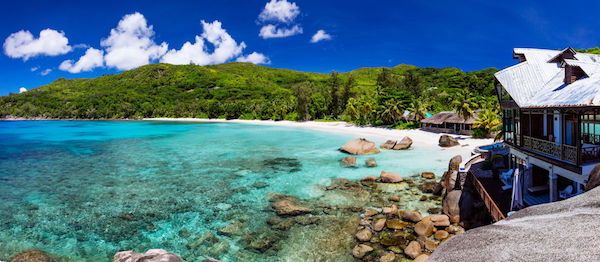 Fancy a holiday that won't cost a fortune? With new transport and accommodation options, the Seychelles is more affordable and accessible than ever. Now the whole family can enjoy 115 spotless islands, the planet's purest air, and a perfect climate year-round – without breaking the bank.
New Direct Flights from London
The Seychelles is now closer than ever, thanks to direct British Airways flights from London launching on 24 March. Once you arrive, you can easily island hop via domestic flights, fast ferry transfers, and reasonably priced traditional schooners. If that's not enough, excellent exchange rates make car-hire another attractive transport option.
Affordable Accommodation
Sporting a variety of accommodation options, Seychelles caters to almost everyone. Choose from affordable hotels, quaint Creole guesthouses, beachside bungalows, or self-catering stays – all available from low to middle price ranges. As well as being budget-friendly, these options make for an authentic Creole experience, where life is lead entirely at your own pace.
A World of Adventure
Seychelles offers a ton of low-priced activities in its sapphire ocean, within its stunning natural landscapes, and through its cultural island charm.
With its endless summer, crystal-clear ocean, uncrowded dive boats, and easy-going pace, Seychelles is the perfect place to go diving or snorkelling. Of course, you can also spend your time sailing, fly-fishing, cruising on catamarans, or simply soaking up the sun.
On dry land, you can enjoy guided walks through virtually untouched nature and see some of the rarest life forms on Earth, including giant tortoises.
Also, make sure to explore the island nation's vibrant art scene, which features renowned painters, sculptors, writers, poets, musicians, and dancers. Throughout the islands, you will also find unique and diverse artisan products, from stained glass and pottery to handmade crafts and precious jewellery.
Visit seychelles.travel for more information.