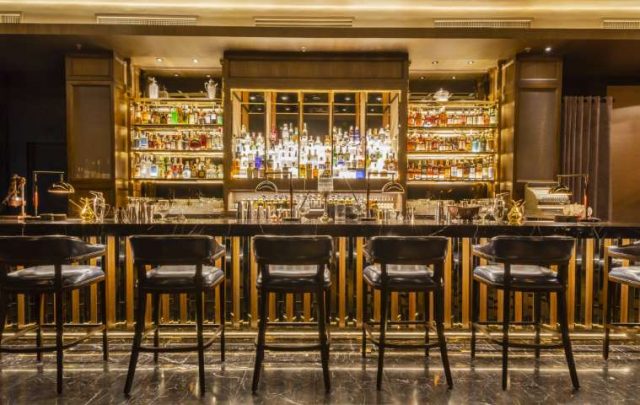 Shangri-La at the Fort, Manila unveiled The Back Room, an intimate 1920s-themed speakeasy featuring a Gin Laboratory and over 150 gin brands, of which 90 are rare. The most exclusive gin, The Bee's Knees, is distilled in house and only served in The Back Room.
Clandestinely located on 30th Street, guests enter the Back Room through glass double doors that lead to a small coat check with a shoeshine station. Through the unsuspecting foyer, guests enter into the Roaring Twenties-themed bar adorned with Art Deco furniture and details in a forest green and black color palette. The intimate room glows with golden light peering through eye-shaped light fixtures mounted on green leather paneled walls, and dark marble and rich woods complete the warm atmosphere.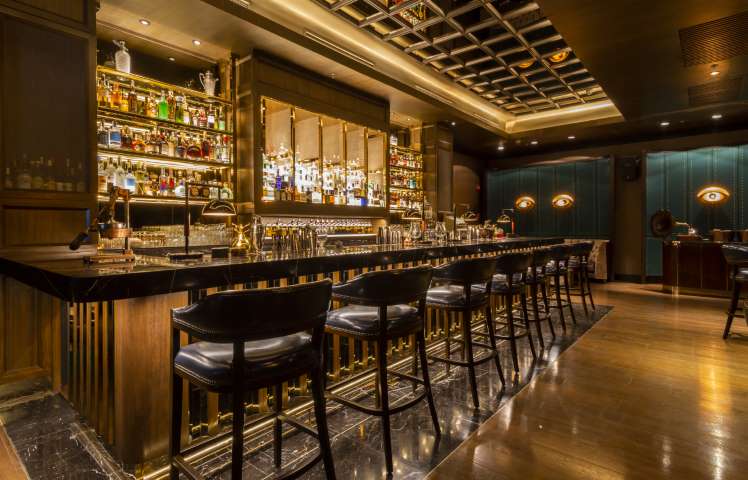 As the Resident Smuggler, Executive Mixologist Ulysse Jouanneaud leads the Big Fella and Bootleggers, the head barman and bar team. Along with his mixology skills, Jouanneaud created The Back Room's original gin, The Bee's Knees. Distilled in The Back Room's Gin Laboratory through a combination of cold compression and vapor compression distillation, the dry and floral gin features juniper and ingredients native to the Philippines including malunggay (horseradish tree), dalandan (Philippine orange), sampaguita (Philippine jasmine), manzanilla (chrysanthemum) and lay-ang dilaw (ginger). The Bee's Knees take about eight days to create, and is available at the bar and for purchase for PHP1,200 (about USD23) per bottle. For guests interested in learning more about rare gins and the gin distilling process, Jouanneaud offers Gin Masterclasses in the Gin Laboratory.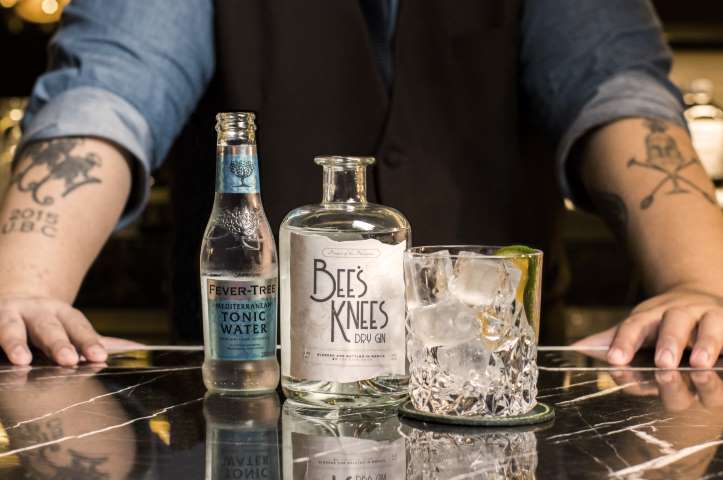 If gin does not pique a reveler's interest, 18 unique cocktails dial into different tastes with a menu shaped like a combination lock. The menu features four quadrants – Sweet, Sour, Bitter and Dry – to help guests lock into a desired cocktail. For a sweet and sour cocktail, the menu suggests the Ransom Note, a nutty and sour cocktail with tequila, pistachio agave, lemon and hazelnut. For a perfectly bitter cocktail, the menu suggests the Big Fella with bourbon, sweet vermouth, Aperol, Campari, fig and walnut. For guests who prefer sour cocktails, the It's Worth A Squeeze features sake, Calamansi citrus distillate, dalandan orange, mandarin orange and tonic water. For groups, The Back Room offers sharing cocktails, including the Bandits In Love, made for four with gin, a local citrus mix, pandan, ice wine and champagne.
In addition to the selection of over 150 famous, rare and international gins, The Back Room features a wide selection of rum, tequila, mezcal, scotch, Japanese and American whiskey, vodka, brandy, beer, wine and champagne. Guests can also create their own unique Piscine Imperial, champagne over ice with their choice of garnish – ginger and raspberry, mandarin and dalandan orange, or elderflower and lime.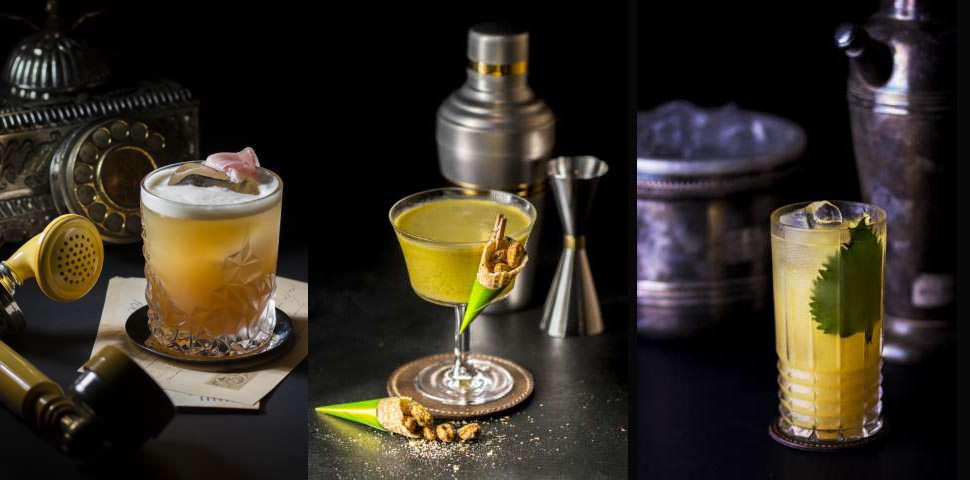 Diners can pair the unique cocktails with Filipino and Southeast Asian inspired dishes, including the Fresh Catch, a tuna poke bowl paired with crispy crackers, or Burnt Ends, available in pork or beef and served with Jack's Crack barbecue sauce and an optional shot of Jack Daniel's whiskey. Diners can end their experience on a sweet note with Chew Tang Clan, a Filipino dish of compressed fruits, cinnamon, spices and citrus ice, or the Whistleblower, a shortbread polvorón with peanut butter ice cream, chocolate pretzel and caramel sauce drizzle.
The Back Room is open from Monday to Thursday from 6 p.m. to 1 a.m., and Fridays and Saturdays from 6 p.m. to 2 a.m. No reservations accepted, walk-ins only.