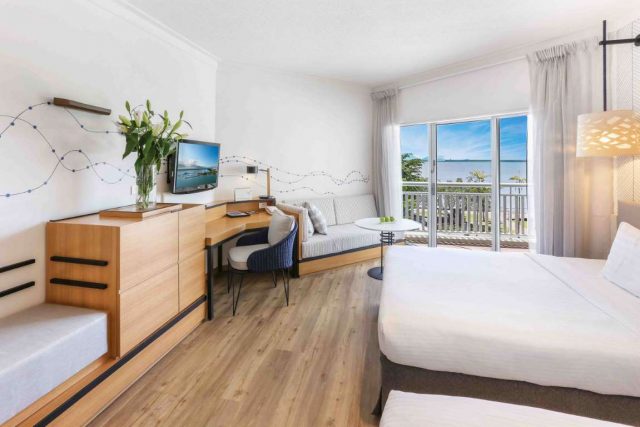 Shangri-La Hotel, The Marina, Cairns completed an AUD13 million (about USD10 million) renovation of 184 guestrooms. Beginning in March 2018, Sydney-based Stack Studios design firm led the transformation process, which took place in two phases and focused on modern simplicity with nautical accents to embrace the hotel's stunning surroundings on Marlin Marina and views of the azure sky and sea.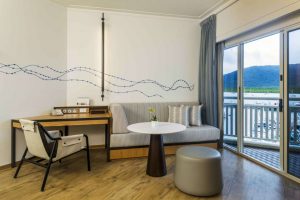 Design details in the 32.5 square meters (about 350 square feet) include contemporary lighting and fittings, as well as hand-painted artwork crafted directly on the walls to represent waves flowing out to the Trinity Bay horizon. Well-suited to the tropical climate and waterfront location, natural-toned modern flooring is featured throughout. The project extended to the bathrooms, which were upgraded to include a large modern walk in-shower, maintaining a small selection of rooms with baths.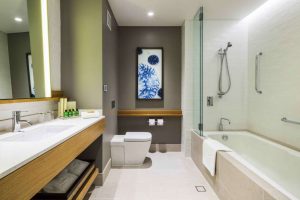 The final phase of the guestroom transformations complete the 255 spacious guestrooms and suites inventory, all with private balconies with views of the city, the hotel's tropical gardens, Trinity Bay or Marlin Marina. Guests can enjoy leisure facilities including the outdoor swimming pool with a Poolside Bar surrounded by tropical gardens, and the hotel's fully-equipped Fitness Centre. The hotel's restaurant is currently undergoing a renovation and will reopen as a waterfront restaurant bar serving creative cuisine inspired by award-winning Chef Aaron Habgood. The restaurant will feature an outdoor bar, providing locals and guests with a unique outdoor experience all year round, as well as the introduction of an Espresso Bar.
Shangri-La Hotel, The Marina, Cairns is located directly on the waterfront of the Marlin Marina. Steps away from the hotel's front doors, guests can board boats and vessels to explore the waters off of the Queensland coastline, including the Great Barrier Reef, one of the Seven Wonders of the Natural World. The hotel is also the starting point to other exciting excursions including to the Flecker Botanic Gardens, Cattana Wetlands, and Daintree Rainforest, which is the largest continuous area of tropical rainforest on the Australian continent and is the oldest living rainforest on Earth.