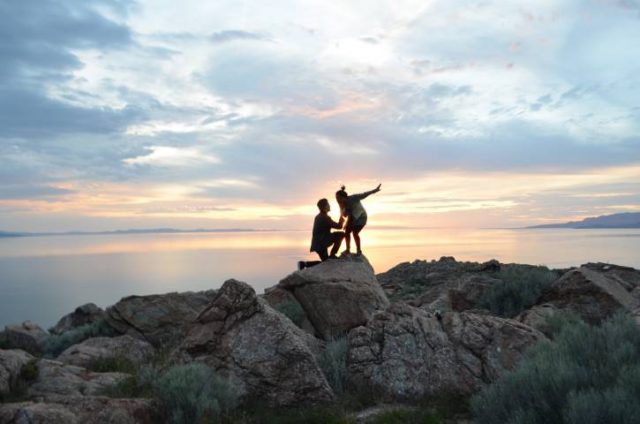 Now that you have found your soulmate, it might be time to take it to the next level. Beyonce said it best- if you like it, you should put a ring on it. While asking your better half to marry you is one of the most exciting moments of your life, planning a proposal can be stressful.
Do you want to go all out for the special occasion? We're sharing our best tips to help you pull off the perfect proposal. Let's get started.
Get the Bling
The first step is securing the engagement ring. If you don't have a clue about jewelry, it's time to contact your soon-to-be finance's bestie or someone who knows their taste. Ask them about what style of ring your partner would prefer. Once you get the ring, make sure you hide it well. We would suggest you ask a friend or family member to store it for you.
Have a Trustworthy Accomplice
Planning a proposal without making your partner suspicious is the biggest challenge of a surprise proposal. That's why it's better to have an accomplice who can cover for you if needed. Pick someone who can keep a secret.
Don't Tell Too Many People
While telling your partner's parents or close family is a nice gesture, don't go overboard by telling too many people. The more people you tell, the higher the chances of the surprise getting ruined.
Go on a Vacation
Plan a vacation to make the proposal more special and intimate.  This way, your partner won't get suspicious if you are booking any special experiences. Check out sea-facing vacation homes on the OBX for a picture-perfect beach proposal.
Don't Go By the Book
Booking a table in a fancy restaurant and asking the waiter to hide the ring in a souffle or champagne glass is a Hollywood-approved proposal idea. However, is that something that's meaningful to you and your partner?
You don't have to go for conventional ideas. Do what feels right for you. For example, you can prepare a lovely meal at home and go down on one knee in the living room. Or go on a beach picnic and pop the question there.
Public Vs. Private
Another thing that makes restaurant proposals an unideal choice is having an audience. If your partner is someone that doesn't enjoy such attention, then a public proposal might not be a good idea. Go for something more private so you both can enjoy the intimate moment without people gawking.
Don't Pick Wrong Occasions
Christmas and New Year's Eve are some of the most popular days to pop the question. But there are some occasions that are off-limits when it comes to proposing. Firstly, never ever get down on one knee at someone else's wedding or engagement party. Another tricky date is your partner's birthday. Some people dislike the idea of having a shared birthday and engagement date.
Hire a Photographer
It's an excellent idea to hire a photographer to secretly capture the much-awaited moment. Look for someone who has experience in photographing surprise proposals.
Don't Worry About Following a Script
There is no point in creating an elaborate script for the moment when you finally pop the question. When the time comes, you will know exactly what to say.
Have a Plan B
Whether you plan to fly out of the country or go up on a hike to propose, things can unexpectedly turn for the worst. But don't let that discourage you. Instead, have a back-plan in place in case things don't go as planned.
Popping the question to the love of your life is a significant moment in your life. Hopefully, the tips mentioned above will help you create memories that you both can cherish forever.