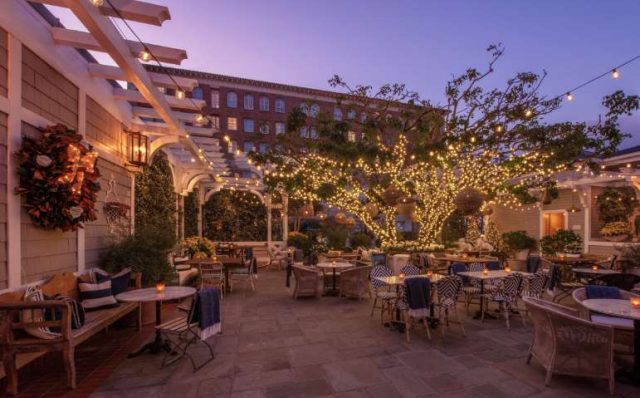 The holidays officially arrived in Santa Monica, when Shutters on the Beach unveiled its seasonal transformation featuring holiday décor and boutique by renowned interior designer and arbiter of Southern California style, Barclay Butera. Butera   reimagines the Shutters entrance and oceanfront lobby as a chic holiday wonderland, dressed in glittering décor custom-designed exclusively for the hotel. Complementing the lobby transformation is a new Barclay Butera Boutique at Shutters on the Beach for the month of December.
"We are delighted to celebrate festive season with design visionary Barclay Butera! Barclay's aesthetic perfectly complements Shutters' classic beach house style," said Christophe Baraton, General Manager of Shutters on the Beach. "We look forward to welcoming our guests and neighbors to our beachside wonderland."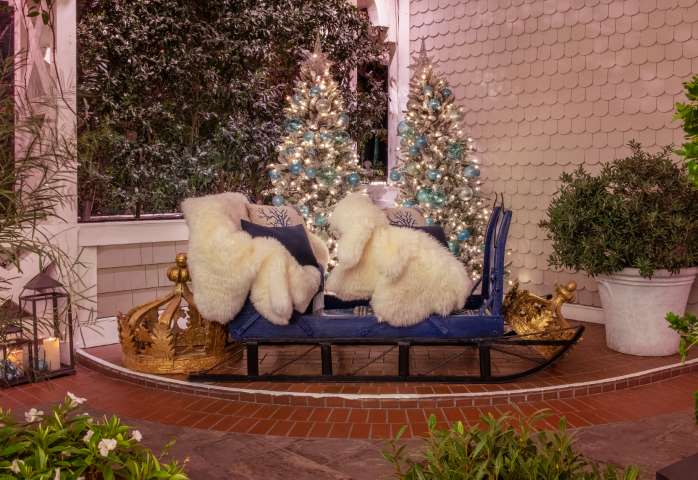 Guests will be awed upon arrival as they are greeted by an illuminated coral tree wrapped in sparkling lights. A holiday glow is cast from the lush landscaping as thousands of miniature white lights.
Photo opportunities abound at the hotel entrance as regal nutcrackers stand tall, hand- painted in Shutters' signature blue and the dazzling "Shutters Sleigh" surrounded by snow-kissed silver crowns and Christmas trees beckoning you to climb in.
Inside the lobby, a nine-foot noble fir Christmas tree sparkles with thousands of lights and hundreds of hand-blown sea inspired glass ornaments. Elegant magnolia wreaths and garland fill the lobby. Hand woven into cascading garland, the leaves are accentuated by white flowers. Pillows in rich patterns, textures and fabrics, complement all seating with ultra-soft luxurious throws for extra comfort.
Just beyond the lobby, the public is invited to shop this exquisite holiday look at the Barclay Butera Boutique, a chic jewel box of eclectic home décor, situated on the ground floor of the hotel. The boutique features furnishings from Barclay Butera's collection for Lexington Home Brands, alongside an assortment of hand poured candles, diffusers, one-of-a-kind shell and coral pieces, handblown glass in distinct shapes, blue and white ginger jars, signature picture frames, pillows and throws, bar accessories, bathroom accessories, original art, baskets, totes, and more. The Barclay Butera Boutique is open seven days a week, 10:00am to 8:00pm.
"It has been a pleasure to partner with Shutters on the Beach to curate a space where guests can celebrate the season and create lasting memories," said Barclay Butera, owner of Barclay Butera Interiors. "Bringing the spirit of the holidays to this exquisite setting excites me and is truly special. The inviting and magical energy here make Shutters the perfect venue for any holiday getaway or event."
For more information about Shutters on the Beach, visit www.shuttersonthebeach.com.