Are you going to renovate your caravan or camper, but it seems difficult or cumbersome? Don't worry. You don't have to remodel the interior of your vehicle to make it look new. In this article, we'll share some useful tips on how you can efficiently renovate and redecorate your camper or caravan.
Don't look for a new campervan or RV once you get bored with your current vehicle. There are many inexpensive and simple solutions that can make it more luxurious and cozy. Don't be guided by the size of the camper/caravan or how old and worn out it is. Those factors don't matter. Only you and your creativity can set the boundaries for restoring your vehicle.
For more helpful tips on camper life, see here.
It's up to you to decide if you want to make big or small changes. Just cozying up your van can make a huge difference. So take advantage of our helpful tips and get to work today.
A new coat of paint can work wonders
Many older caravans and motorhomes from the 1990s and early 2000s have less attractive colors for walls, cabinets, and trim, which often affect the entire interior and the impression you get when entering the living area. That's why we remind you how easy it is to repaint a vehicle during a renovation.
Remember that bright and more neutral colors create a sense of space. They are also colors that will not get boring so quickly. Before painting, it is important to properly prepare the surface with sandpaper and degrease it. In addition to walls and panels, cabinets, doors, moldings, and other usable surfaces can be painted with new paint to give them a fresh look. It's a good idea to choose furniture that can be easily disassembled and spray-painted to get the right effect.
Modernize your kitchen with tiles and worktops
New tiles can change a lot in the kitchen of your RV or caravan. Creativity in vehicle kitchen interior design is usually not the best, and most kitchens look exactly the same. Take care of the cozy decor of your RV or caravan so that it has its own unique style.
When it comes to tiles, it's a good idea to buy "peel-and-stick" tiles, which can be easily glued to old tiles for a really neat effect. Of course, they also work great for tiles on the toilet. Replacing the kitchen countertop will also make a big difference. And it doesn't have to be very expensive at all, given that countertop space is usually very limited. Buy a stylish countertop that matches the rest of the interior, and you'll get a truly spectacular result!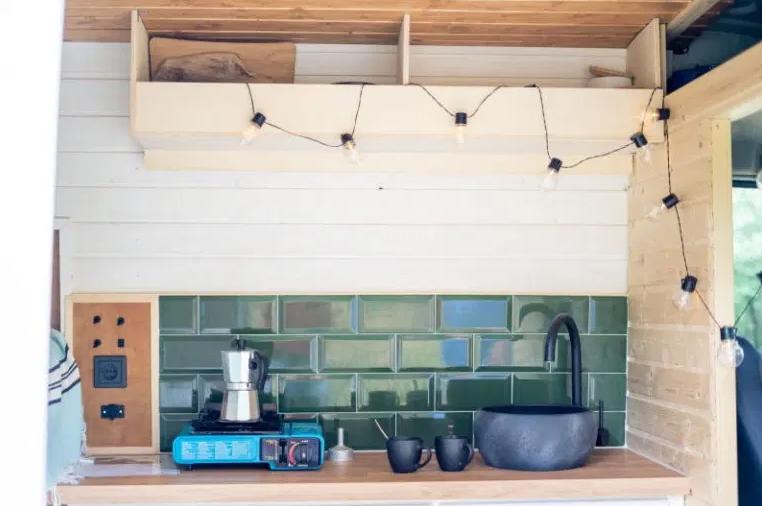 Replace the floor when renovating your vehicle
You may have been holding off on replacing the floor in your RV or caravan for some time because you think it's too complicated. In reality, however, it is not as difficult as you might think. Many vehicles have dull, monotonous carpets that do not give the vehicle a cozy feel. Tearing off the old carpet and laying a new one is both simple and inexpensive. Find one that is pleasing to the eye and warms up the room.
Refresh the vehicle's exterior, too
When renovating a caravan or RV, don't forget about the exterior. It is just as important as the interior. If the exterior is worn or looking a bit tarnished, there's no excuse to put it off.
If you have a newer trailer or camper, a good and relatively inexpensive way to freshen up its appearance is to replace or refurbish the decals, which have become increasingly faded over the years. You can easily play around with colors and shapes on your computer by first taking some pictures of the sides/back and then experimenting, such as in Photoshop.
If you want to go a step further and give your vehicle a unique look, you can apply to foil. If you choose a good quality foil, its lifespan is usually 7-10 years. The foil protects against small stone chips, and also protects the paint from the sun's rays, and can be compared to paint maintenance until the foil is removed. If you want to get the perfect result, it is worth contacting a company that deals with decorating cars. If they can't order original stickers, they can often help and produce something similar.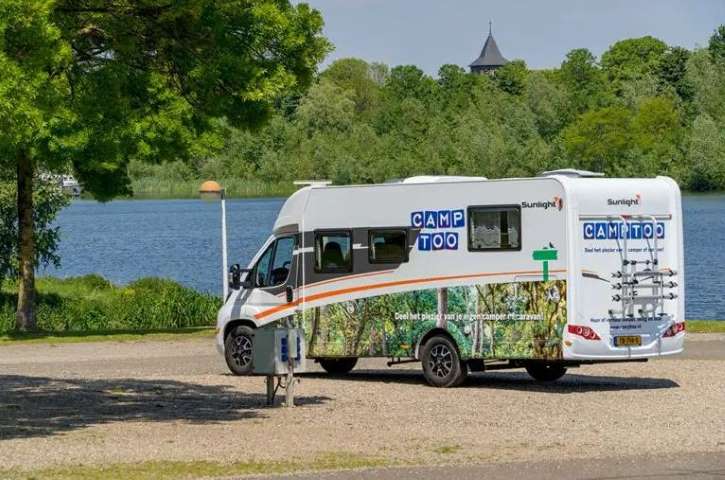 If you have an older camper or trailer, you can also paint it, getting a pretty nice finish. Always start by washing the car thoroughly. If mold is visible on the exterior, use a mold remover. What color you choose is entirely up to you. Make sure, however, that you choose a color that you think will last and that you won't get bored with it quickly. When it comes to painting the exterior of your vehicle, you can always get creative. Use a variety of colors, decorate with tasteful patterns or write the names of all family members on one side. You're in charge.
Good lighting is a must
Good lighting is very important and is worth thinking about when renovating an RV/caravan. Cozy spotlighting can be extremely helpful in creating a cozy home atmosphere. There are good solutions on the market that consume almost no energy and are battery-powered. Installing LED loops is a valuable tip.
The devil is in the details
Just like at home, furnishing your vehicle with furniture and decorations that create a pleasant space makes a big difference. Replace old furniture with new, modern furniture and decorate it with items you love! Don't forget nice pillows, bedspreads, pots, and beautiful plants. It's such elements and inconspicuous little things that make the interior of your camper/caravan take on a special, unique character.
When it comes to furnishing a caravan or RV, there is now furniture designed specifically for RVs available on the market. Stores such as IKEA also sell furniture that will work well in both vehicles and at home. Also, check out stores that sell stylish second-hand furniture. You can often find unique and inexpensive items here.
How to ensure comfort while sleeping?
After a day full of experiences, everyone wants to sleep in comfort. Depending on how many beds you need, you should optimize the space for them as best as possible. Standard beds in an RV/trailer are not always comfortable. That's why it can be a good idea to replace the original mattresses with more luxurious ones. It makes a huge difference! The importance of quality and comfort should not be underestimated, as they can make a difference.
When renovating a vehicle, it is also possible to build your own sleeping quarters. If you need fewer beds than the vehicle offers, you can remove one or more of them to make more room, and build a more luxurious double bed instead. If you're using an RV/caravan for a family vacation, you can build a bunk bed to optimize space. The possibilities are endless!
How to keep your camper/caravan tidy?
Proper storage is one of the most important things when it comes to creating a cozy caravan or RV. It's important if you want to keep things tidy in a limited space.
If you have an older model vehicle, it's worth looking at newer ones and seeing what storage solutions they offer. There may be something that can be applied to your caravan or RV as well. It is important to keep everything in its place when traveling. This not only improves safety, but also reduces the need to clean the vehicle after each trip.
Let your vehicle be remembered by travelers!
What renters remember most often after returning the RV/trailer after a trip are the small, nice touches that vehicle owners have taken care of. A bottle of wine was left in the refrigerator with wishes for a pleasant trip. Fresh flowers. Some hints and useful tips. A cozy fragrant blanket to wrap yourself in while watching the stars. A few interesting books on the shelf or current magazines. It doesn't take much to make travelers feel like they're at home and to care for this "home" with kindness. Think that by taking care of the comfort of the person renting your vehicle, you are at the same time making him/her also look at your beloved camper/trailer in a completely different way.