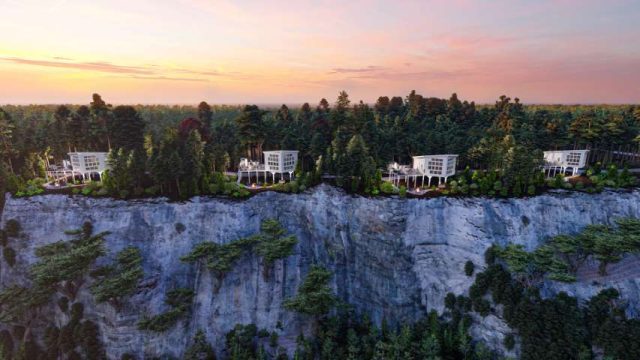 Good news arrived today for those seeking a signature Bolt Farm Treehouse romantic getaway. Reservations opened Friday among past guests and followers for four new Honeymoon Treehouses, each with a layout and aesthetic that builds on the debut experience that landed Bolt Farm in the limelight for luxury accommodations. After quickly making a name for themselves via the Netflix series World's Most Amazing Vacation Rentals and establishing their Honeymoon Treehouse as a fan favorite among celebrities, owners Seth and Tori Bolt decided it was time to share their unique, storybook experience with more of Bolt Farm's visitors.
"Inspired by our own honeymoon, our original Honeymoon Treehouse has always been our most popular accommodation. But unfortunately it's rarely available because it stays booked throughout the year," Tori Bolt says. "After acquiring another 37 mountaintop acres, our first goal included replicating that original experience, while also adding next level touches from what we've learned over the years."
In addition to the signature Bolt Farm outdoor shower, the couple's latest treehouses include exquisite hand-hammered, freestanding copper tubs for indoor bathing. Hot tubs are also provided with every unit and positioned to take advantage of Bolt Farm's top-of-the-world setting for star gazing. Each floor plan also includes a private area to serve as the perfect space for relaxing and reflecting, each with its own illusionary wallpaper to set the scene for content creators. Meanwhile, in keeping with the honeymoon theme–from showers and tubs, to pod-style chairs—every feature is designed for two, keeping couples closer than ever throughout their stay and experience.
At the same time, "Our Honeymoon Treehouses aren't just for newlyweds," Seth Bolt says. "They're for anyone who wants to go big, by investing in their relationship. Every detail is purposely designed around togetherness, providing couples with a sense of alignment. We want our visitors to leave feeling not only refreshed and renewed, but closer and more bonded than ever. That feeling is what we received from our original Honeymoon Treehouse and it brings us so much joy knowing that we can recreate that experience for more of our visitors."
Reservations opened for Bolt Farm's followers and past visitors November 11, with general booking beginning today for all of next year. More information can be found and reservations made at www.boltfarmtreehouse.com.