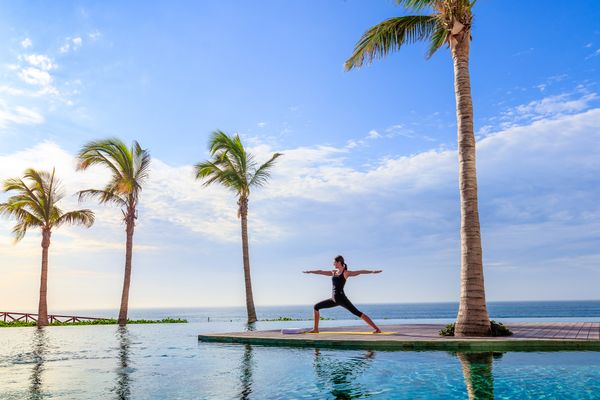 The AAA Five Diamond Grand Velas Los Cabos announces it will host its annual Wellnessing Getaway in 2020 from February 19 – 21st. Hosted by experts in health, nutrition, and wellness, the 3-day lineup of wellness-focused activities includes a number of yoga and fitness classes, healthy cooking and nutrition workshops, session on skin care, sonotherapy, ancestral dinner, traditional Mexican rituals, and much more. All Wellnessing Getaway activities are included in the nightly rate.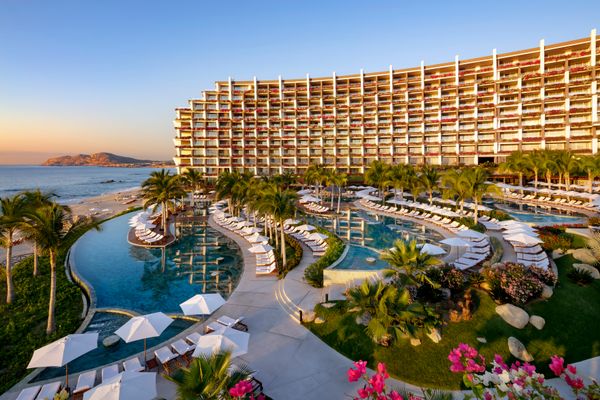 Mexican spiritual guide Tonatiuh Garcia will kick off the retreat with an opening ritual calling on the elements. Then it's high impact with a workout from wellness influencer and certified personal trainer Rachel DeVaux. DeVaux's GOOD SWEAT program combines HIIT and circuit training with strength and compound movement. Additional activities the first day include a masterclass in skin care from Adriana Azuara, CEO and founder of All4Spas; vigorous vinyasa complemented with guided yogic sleep and glowing body paint, let by international yoga teacher Danica Johnson; and an ancestral dinner on the beach. Day 2 is another day of all-encompassing wellness complete with active stretching, plant-based culinary class led by nutritionist and wellness expert Sabra Seligman, and sound therapy from pioneer Roberto Gopar. The final day of the getaway offers a mindful yoga practice with pranayama, where guests can learn about breathing practices that help calm and balance both the mind and body; an interactive healthy cooking class; and a closing ritual on life in harmony. Healthy meals throughout the getaway will be prepared by Grand Velas Los Cabos' executive chef Gabriel Kolofon.
Travelers seeking an all-encompassing wellness retreat can opt to stay in one of the resort's duplex wellness suites. Velas' Wellness Suites offer a variety of fitness and wellness amenities, including:
Personal Spa Concierge to provide counsel on a wide-variety of available spa treatments and health offerings at the resorts;
Artisan soap selection;
Healthy gluten free snacks and daily juice options;
In-suite exercise kit comprised of a yoga mat, dumbbells, resistance bands, and even an exercise bike;
Water menu with a selection from still and sparkling to Coconut and Alkaline;
Organic skin care products from the spa;
25 min of personal training per day;
Aromatherapy Kit with scents ranging from cedar and lavender to tangerine;
Nikken Kenko™ pillow and comforter; and,
LED Lamp with a clock and timer that increases gradually, simulating the dawn and dusk, which helps guests fall asleep and wake up more naturally. 
About Roberto Gopar:
Born in the city of Oaxaca, Mexico, Roberto Gopar is a pioneer in the research, spreading, and use of music therapy as a complementary treatment for various conditions. He has dedicated 26 years of his life to the research of vibration effects in multiple ancestral instruments, based on the three spheres of being: physical, mental emotional and spiritual.
About Tonatiuh García:
Being the first one to introduce temazcal as a holistic therapy in the spa world, Tonatiuh Garcia has developed projects as coach of temazcal in Los Cabos, Puerto Vallarta, and Riviera Maya. With more than 20 years of experience in different Americas' indigenous traditions, he holds spiritual events in Native Ceremonies, where he demonstrates his knowledge about teepees, fire circles, temazcal, and native weddings.
About Adriana Azuara:
Adriana Azuara is CEO and founder of All4Spas, a representative of Wellness for Cancer in Mexico and Latin America, professor at the University of Tourism, delegate of the Latin American Spa Association, and creator of the luxury cosmetic line AgaveSpa. With 15 years of experience in the wellness and Spa industry, she has been part of more than 700 spa openings in Mexico and Central America.
About Rachael DeVaux:
Rachael DeVaux is a registered dietitian and certified personal trainer sharing her tips for a healthy lifestyle. She grew up in Washington and graduated from Oregon State University with a Bachelor's degree in Dietetics. DeVaux completed her dietetic internship at the University of Northern Colorado's distance DI Spring of 2016, and soon after became a licensed nutritionist.
About Danica Johnson:
Danica Johnson is a 500-hour certified international yoga instructor having taught in Spain, Germany, Mexico, Canada, Sweden, and Morocco. Based in Seattle, Washington, she offers private, corporate, and studio yoga classes, ranging from gentle restorative yoga to heated power vinyasa. She helps her students to cultivate body love, a sense of self-acceptance, and creativity.
About Sabra Seligman:
From Miami, Sabra Seligman is a plant-based nutritionist & wellness expert. She holds a degree in Nutrition and a natural healthcare practitioner certification. Over the last 18 years, Sabra has spoken at numerous conferences, led international projects in the hospitality and spa industries, offered corporate training and developed a wide range of menu options as a plant-based chef.
Read more about Grand Velas Los Cabos.