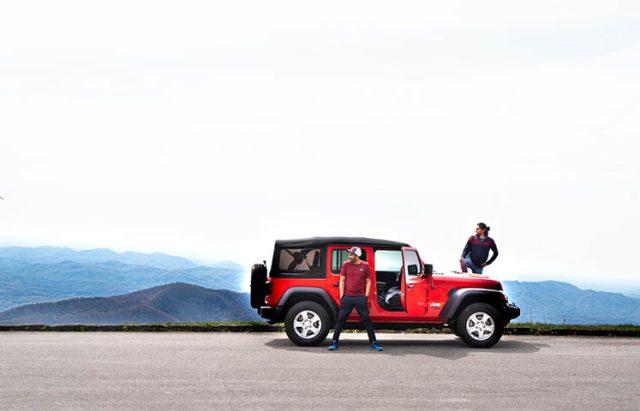 Pigeon Forge, Tennessee, is a treasure trove of outdoor activities for adventure seekers. It is located in the foothills of the Great Smoky Mountains, with rivers, streams, and trails winding through its lush scenery. The promenade of Pigeon Forge gives you a glimpse of the old-time charm that echoes through the streets of this beautiful town.
The proximity to the Great Smoky Mountains National Park allows you to explore nature and its beauty while enjoying the many enthralling attractions. All kinds of outdoor adventures await in this enchanting town of Pigeon Forge.
Whether you're looking for adrenaline-pumping thrills, heart-pounding adventures, rousing outdoor activities, or nature-inspired experiences, you'll find plenty of options to satisfy your exploration appetite. Here's a list of the six most thrilling activities to enjoy on your visit:
1. Experience the Bird's-Eye View from the Great Smoky Mountain Wheel
The Great Smoky Mountain Wheel is a 200-foot observation wheel at The Island in Pigeon Forge. A ride on this 8-minute glorified Ferris wheel offers some of the best views in town, 360-degree panoramic views of the Great Smoky Mountains, Pigeon Forge, and beyond.
Around 340 riders can fit in the Great Smoky Mountain Wheel's 42 all-glass gondolas. The wheel is also decorated with bright LED lights that add to the nighttime experience. The best part, it's affordable and fun for all ages and open year-round so that you can take in the amazing views no matter the season.
There are also local shops, restaurants, and a unique shopping experience to explore before and after your Great Smoky Mountain Wheel ride.
2. Attend Smoky Mountain Jeep Invasion
If you are a Jeep enthusiast planning a vacation in Pigeon Forge in August 2023, you can add the Smoky Mountain Jeep Invasion event to your to-do list. It is one of the most popular events organized at the LeConte Center in Pigeon Forge. It's an expo with Jeep parts and local, national, and regional Jeep accessory vendors. As a Jeep owner, you can also purchase rare and quality products to add to your vehicle.
The expo is organized annually and offers a fantastic opportunity for jeepers to come together, show off their Jeep, explore some of the most spectacular trails in the Smoky Mountains, and experience the beauty of nature in its most raw form. You'll also have a chance to chat with fellow off-road enthusiasts, join in local activities and contests, and win some prizes. You can also shop for merch, such as hats, shirts, decals, hoodies, and more.
3. Ride the Smoky Mountain Alpine Coaster
If you are looking for a thrilling, high-speed adventure on your visit to the Smoky Mountains, Alpine Coaster is an excellent way to get your adrenaline pumping.
The Alpine Coaster offers a unique experience of speed and beautiful scenery combined with fun twists, turns, drops, and bumps. You'll fly down the mountain at speeds of up to 30 miles per hour, giving you a rush of excitement as you take in the sights and sounds of the surrounding area. The track is more than a mile long and is one of the longest downhill rides in the United States.
It takes about five minutes to complete the ride, and you can choose to control your speed depending on how much of an adrenaline rush you're looking for and pressing the brake paddles inside the coaster. The Alpine Coaster is open year-round.
4. Visit the Outdoor Gravity Park
Enjoy zorbing and other gravity-defying activities at the Outdoor Gravity Park. The park is perfect for thrill seekers looking to experience some of the craziest rides around. You can ride alone or with a friend in an 11-foot inflatable ball and roll down 1,000 feet of mountain track.
There are three tracks, including fast track, extreme track, and a combination of both. So, you can pick one with the right intensity level. The curves and loops of each track give you a wild ride and an amazing view of the mountains. However, following the safety tips as instructed for zorbing is mandatory.
5. Go Chasing Rapids
There's nothing like an exhilarating rafting adventure on the Nantahala River in North Carolina. Located just a short drive from Pigeon Forge, this whitewater rapids course is the perfect spot for thrill seekers looking for an adventure. It's an eight-mile stretch of exhilarating rapids and breathtaking sights.
The Nantahala River is known for its Class III rapids, as several areas have large waves and fast currents. You'll surely get a rush as you navigate through these rapids and experience one of nature's most powerful forces. Even if you don't have much rafting experience, experienced guides offer instruction and supervision to make your trip enjoyable.
Make sure to practice the whitewater rafting safety tips before you embark on your journey, and you'll be sure to have a great time chasing rapids in the Nantahala River. 
Other popular whitewater rafting areas include Nantahala Gorge, the Ocoee River, the Little Pigeon River, and Chattooga. In these places, you can find more challenging rapids with higher classifications from Class I-V.
6. Go Zip-lining
If you want to experience zip lining like no other, head to the Great Smoky Mountains National Park. The zip-lining tours vary in length and difficulty so that you can choose the best one for your adventure.
The course ranges from 3,400 to 8,000 feet and takes you through the mountain terrain. On your way, you'll experience breathtaking views of the Smoky Mountains, filled with lush vegetation and wildlife. Plus, you can spot local birds, waterfalls, and more while zip-lining!
Most zip line tours last a few hours, and you often have to trek through the woods to get to the platforms. So wear comfortable, closed-toe shoes, and bring plenty of water. Avoid wearing jewelry that can snag on the zip line, and make sure to listen to the safety instructions given by your guide.
Conclusion:
The majestic town of Pigeon Forge offers something for every adventurer. Whether you're looking for a thrilling experience, an adrenaline rush, or something more peaceful and nature-inspired, you'll find plenty of options to please your cravings. Some activities include zip lining in the Smoky Mountains, whitewater rafting on some of the most exciting rivers in Tennessee, and zorbing in a giant 11-foot inflatable ball.
You can also attend the Smoky Mountain Jeep Invasion event and witness hundreds of Jeeps or ride on the Great Smoky Mountain Alpine Coaster or the Great Smoky Mountain Wheel and experience the beautiful views of the Smokies.