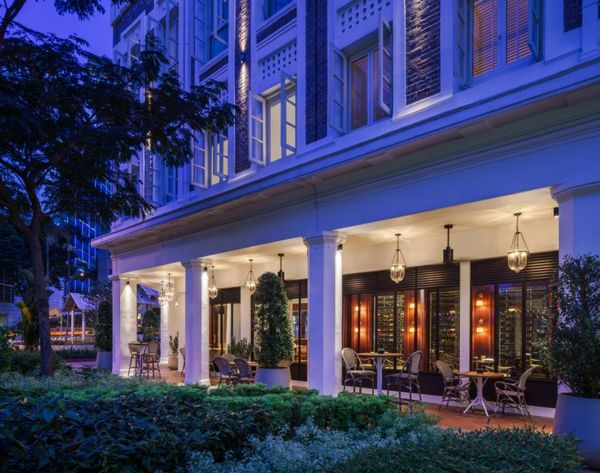 Six Senses Maxwell is now open at 2 Cook Street, in the historic Tanjong Pagar district of Singapore, completing the brand's first ever city hotel project after the opening of sister property Six Senses Duxton, with both locations together comprising Six Senses Singapore.
Situated in a prime location at the junction of Duxton, Tanjong Pagar and Maxwell Road, Six Senses Maxwell occupies a place replete with history. Originally the site of a nutmeg plantation, 14 three-story and four-story colonial-style buildings were subsequently constructed and later joined together as a single entity to create a colonial-style 19th-century heritage building that now houses the hotel.
Built in 1929, the structure features an Art Deco frontage with exposed brickwork, unique lion head rainspouts, and a flagpole hinting at a possible past as a government building. Lovingly conserved, Six Senses Maxwell showcases the refined yet flamboyant and sensual aesthetic of renowned French architect and interior designer Jacques Garcia, and stands in contrast to the Anouska Hempel-designed Six Senses Duxton.
Six Senses Maxwell accommodates 138 guest rooms and suites located across four floors of the sustainably restored building, all thoughtfully decorated with custom furnishings and original artwork; an outdoor rooftop lap pool, a gymnasium, two restaurants and three bars that are destined to add to the vibrancy of the already ebullient neighbourhood.
Six Senses Maxwell aims to pay homage to Singapore's unique position as the crossroad between East and West, with its rich Asian traditions and warm European heritage and influence that together have contributed to what this vibrant city is today.
"We are absolutely delighted to deliver the complete unparalleled Six Senses experience in Singapore with the launch of this property," says General Manager Murray Aitken. "Guests will be able to immerse themselves fully into what makes Singapore so special, while at the same time benefiting from the wellness aspects that are the hallmark of the Six Senses experience," he adds.