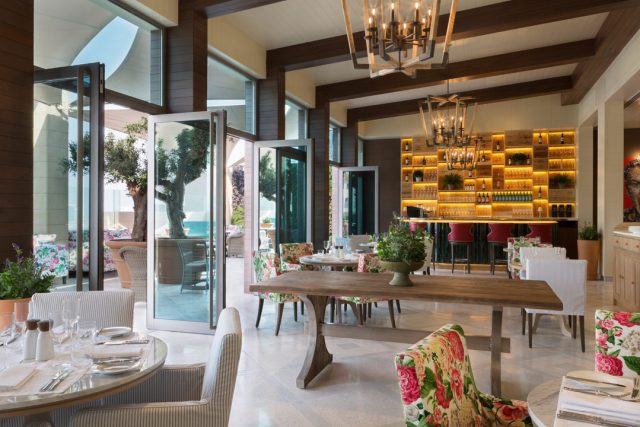 The Merchant House, Manama, Bahrain
Opens January 14, 2019
Located next to Manama's famous Bab Al-Bahrain ('Gateway to Bahrain'), guests at The Merchant House will find themselves fully immersed into local Bahraini life. Just steps away is the Manama Souk, a maze of market shops selling everything from spices to souvenirs and home decorations that brings to mind the style of commerce from days long past. The all-suite boutique hotel offers serene respite from the bustling outside world, with each room featuring open plan kitchen/dining/sitting areas designed for both business and leisure travelers. The hotel's interior design is based on a tangible sense of place relating to the location and the cultural significance of the Bab Al-Bahrain area. Artwork is a prominent feature, showcasing well-established Bahraini artists as well as new and upcoming young talent from both Bahrain and the Gulf region.
SLH Insider Tip: With sweeping views overlooking the traditional homes and the magnificent skyline of downtown Manama – the rooftop restaurant offers the ultimate dining experience indoors and on the terrace pool.
Castle Hot Springs, Arizona, United Statesw
Opening February 2019
One of the best destinations for guests seeking seclusion with world-class luxury amenities is Castle Hot Springs Resort – its rock pool thermal springs hidden along the rugged Bradshaw Mountains, bungalows equipped with its own outdoor room and hot spring tub, complimented with a diverse range of curated activities easily makes one forget about the world wide web for a while. Originally opened in 1896, the prestigious desert retreat counts the rich and famous seeking seclusion with world-class luxury amenities as its clients, from the Carnegies, Roosevelts, Rockefellers, Vanderbilts to the Wrigleys. Now restored to its original glory, guests can relax in the same historic cottage as past presidents did, while sipping on the signature Castle Hot Springs Lithium Lager made from its own spring water and taking in the same sunset views of the renowned palm-lined driveway.
SLH Insider Tip: As one of the few registered Dark Sky locations in the country, Castle Hot Springs' unique location gives you a glimpse at the galaxy few ever experience. The Sky View Cabins are equipped with a top-of-line telescope with an on-site astronomer to guide as you gaze into the magnificent star-filled skies. Outdoor tubs plumbed with mineral water directly from the springs, as well as starlight yoga, also beckon.
Vintry & Mercer, London, United Kingdom
Opens on February 4, 2019
Named after the local fine wine (Vintry) and silk trading (Mercer) guilds, Vintry & Mercer nestled among the historic livery halls and winding lanes of this ancient London district is very much immersed in the commerce and culture of the City of London. This is where past and present intersect, where the long traditions of trade and commerce come to life in the contemporary style of the rooms and suites which contain plenty of nods to the city's heritage – think bespoke fabrics inspired by merchant tailors of centuries past, and historic navigation maps and photographs on the walls- complemented with glass-paneled balconies overlooking the Southbank. And, with Cannon Street and Mansion House tube station just 2 minutes' walk away, the rest of London is at your feet.
SLH Insider Tip: Go high or low here – The Mercer Roof Terrace restaurant opens up to a sweeping view of the London skyline, while hidden away beneath the hotel is Do Not Disturb, a secret cocktail bar reminiscent of the clandestine bars of 1920s New York, with its own private entrance off the cobbles of Garlick Hill.
Ovolo The Valley, Brisbane, Australia
Opened in November, 2018, Ovolo The Valley takes guests on a journey into a whimsical contemporary oasis of color and art inspired by the eclectic culture and iconic history of Fortitude Valley, Brisbane's hip entertainment district. The hotel features spacious, open-plan rooms with a home-away-from-home vibe and full technology including Smart TVs, Google Chromecast and Amazon's Alexa. Surprising hints of quirkiness curated throughout the rooms add an element of play. The sleek rooftop pool gives a bird-eye view of Brisbane's vibrant culture whilst offering escapism and relaxation after a busy day. In addition, guests will be thrilled by Ovolo's signature inclusions for every stay – free WiFi, in-room mini bar, self-service laundry, daily happy hour drinks, breakfast and 24-hour gym.
SLH Insider Tip: Go all out and book one of the Rockstar Suites in honor of the late David Bowie. Expect a king size bed, 1970s inspired velvet lounge, a gold bar and dining area featuring a furniture and original art pieces by Daniel R. Watkins and Gerwyn Davies.
Mykonos Riviera Hotel, Mykonos, Greece
Opened August 2018
Tucked against the rocky backdrop of centuries-old Aegean cliffs, Mykonos Riviera Hotel's tiered Cycladic white buildings bedazzle guests with its island chic vibes, refreshing nautical theme and minimalistic luxury. The brand-new hotel enjoys a stunning location, directly across from the marina, with scintillating views to the Aegean and the world-famous Cycladic sunset. Each of its rooms offers panoramic ocean views from private terraces, or take in the views from the impressive heated seawater infinity pool with fiber optic lighting. A lovely short stroll through winding alleyways and the Venetian-style waterfront gets you to the scenic town of Mykonos and beautiful beach of Agios Stefanos.
SLH Insider Tip: Up the romance quotient by booking the two-storey Signature Spa Pool Suite which comes with its own 55sqm spa offering sauna, steam bath and fitness equipment, a 34sqm private pool as well as a heated outdoor Jacuzzi on the ground floor.
And in other news…
Viceroy Bali opens fine dining restaurant Aperitif – Bali, Indonesia
Set amid the lush jungle valley, Apéritif is Bali's newest and most unique fine dining destination. Belgian Executive Chef Nic Vanderbeeken personally scoured the globe to combine distinctly modern European flavors and cooking techniques with influences from the old Spice Islands. The sophisticated, eight-course degustation menu presents an unrivalled culinary journey that brings together the flavors of modern gastronomy, lesser-known Indonesian ingredients, exquisite produce sourced globally, and the property's own greenhouse harvest. Every element of the restaurant has been thoughtfully curated, including the tableware made by Gaya Ceramic, a local artisan renowned for their work with luxury brands.
TwentySeven Hotel's Restaurant Bougainville receives its first Michelin Star – Amsterdam, Netherlands
Restaurant Bougainville has received its first Michelin Star within one year of opening. Helmed by young rising star chef Tim Golsteijn and wine director Lendl Mijnhijmer (voted Best Sommelier in the Netherlands in 2018), the restaurant's menu is based on the traditional European cuisine and mostly influenced by the Latin American, Middle and Far Eastern cuisine. Combined with breath-taking view of Amsterdam's significant Dam Square, a beautiful night is guaranteed.