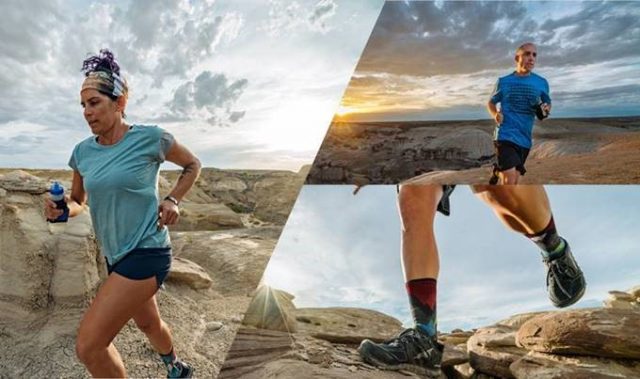 Sunshine and exercise are a winning combination, and with temperatures rising, outdoor time is more coveted than ever. As gyms and studios continue to remain closed, people are lacing up and heading out to pound the pavement despite the wealth of instructional options online. Nothing beats fresh air and an outdoor workout, so for those venturing outside, be sure to follow the local health guidelines and stay safe.
A good run does more than get your heart rate up – it can be as meditative as it is energizing. The 100,000 dedicated Canadian and American runners who ran more than 16 million kilometers for Smartwool's Strava challenge can attest to that – runner's high is a real thing!
More Mileage with Performance Socks
This season, lace up for your next outing with a style developed in collaboration with ultrarunners Rob Krar and Seth Swanson. The PhD® Pro Endurance Print Crew Socks (pictured below on the L and R) are designed for serious runners looking for the industry's best in comfort, cushioning, and stability. This SS20, Smartwool introduced an improved fit specifically for women's feet.

This purpose-built sock features Shred Shield™ technology to reduce wear from toes, activity-specific minimal and targeted sole cushioning, and a new malleolus ankle cushion designed for protection on the most rugged trails. These socks were built to go as far as you want to go, with unwavering comfort and performance.
More Natural with Merino 150 Underwear
When dressing for comfort, your first layer should be as natural as it can get. With an updated range of underwear offerings, Smartwool has different styles and fits that boast all the durable, breathable, moisture-wicking, anti-bacterial benefits of merino wool. Try it to feel the difference!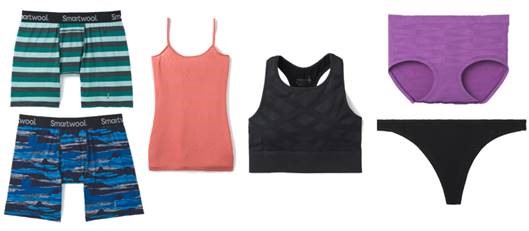 Shop smart
Social distancing and staying at home doesn't mean you can't prepare for those upcoming runs.
Canadians can search, shop and order their favourite pieces from Smartwool through the NEW Canadian website available in both English and French at
Smartwool.ca. Shipping is free for orders over $49.99 CAD.
Sustainability
Partnering with New Zealand Merino, all Smartwool products are made with 100% ZQ certified merino wool to ensure environmental, social and economic sustainability while safeguarding animal welfare.
The ethically-sourced wool is a superior material used in Smartwool products in everything from casual socks to performance wear (blended with recycled polyester).
Supportive Run Gear
The foundation of good run gear? Solid support.
Made with sustainable merino wool, Smartwool's performance socks and Merino 150 underwear boast fundamental features to help you get more out of your run: temperature regulation to help tackle the rising degrees, breathability and odour-control to keep you feeling cool and refreshed, and moisture management for longer and warmer journeys.