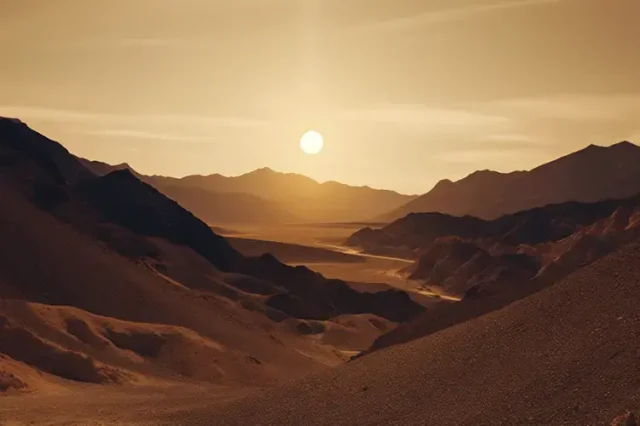 On October 14th, a rare solar eclipse will capture the sky, and Escape Adventures is offering a 5-day bikepacking tour of Death Valley National Park to view it. When it comes to observing a solar eclipse, location is crucial. Death Valley National Park, with its expansive desert landscapes and clear skies, presents an ideal vantage point. The park's remote location and low light pollution enhance the experience, allowing viewers to immerse themselves in the celestial show. Despite its rather foreboding name, Death Valley represents a stellar mountain biking destination with more than 350-miles of roads and trails, astounding wildflower blooms, and mild temperatures in fall and winter. Guests will cycle the heart of the Mojave Desert, from Death Valley National Park to Red Rock Canyon, stopping to visit historic sites accessed by 1930s-era Civilian Conservation Corps roads. Highlights include Spicer Ranch Trails, Titus Canyon, Monarch Canyon, Chloride Cliffs, Stovepipe Wells and Cottonwood Valley.
"Imagine pedaling through surreal desert landscapes and conquering rugged terrains, only to witness the cosmos align in a breathtaking solar eclipse," said Escape Adventures Director, Jared Fisher. "To top it all off, you don't worry about a single detail of planning this multi-day excursion."

Solar eclipses occur when the moon's orbit aligns in such a way that it temporarily blocks out the sun, casting a shadow on the Earth. This year's solar eclipse is particularly special because it will be a solar eclipse, where the sun is entirely obscured by the moon. This rare occurrence is a treat for skywatchers, offering an opportunity to witness the sun's corona, which is usually invisible to the naked eye. 
Guests will move seamlessly from one day to the next, camping, and enjoying delicious homemade meals. The majority of campgrounds feature indoor facilities and showers. In more remote backcountry camping scenarios, Escape Adventures will provide portable toilets and private solar showers. A range of cycling and hiking options are offered each day, and support vehicles are available.

"As the sun begins its descent, trade your mountain bike for a spot beneath the open sky and prepare to witness the dramatic dance between the moon and the sun," said Fisher. "As darkness envelopes the desert, you'll find yourself in a front-row seat to this cosmic spectacle."

Full Itinerary:
Day 1-2: Ride the new Spicer Ranch Trails, and finish with a cowboy dinner. The next day, descend epic Titus Canyon into Death Valley. Layover in beautiful Monarch Canyon.
Day 3-4: Climb to the top of Chloride Cliffs, explore ancient mining ruins, hike down Monarch Canyon to the portal view of Death Valley, visit massive sand dunes and Stovepipe Wells, and stop at the National Park Visitor Center. Next day, shuttle to Red Rock Canyon and ride to Bonnie Springs Old Nevada.
Day 5: Ride Cottonwood Valley's fabulous trail network, nestled below the cliffs of Red Rock Canyon. Shuttle back to Las Vegas.