Born in Montréal, designed by two 27-year-old entrepreneurs, Solios was a huge success from the very first moment. The day the two co-founders, Alexandre Desabrais and Samuel Leroux launched their crowdfunding campaign, they reached their $25,000 goal in just 30 minutes and then sold 350 watches in less than 30 days to responsible consumers in more than 25 countries worldwide.
Today, they are officially launching Solios all across Canada.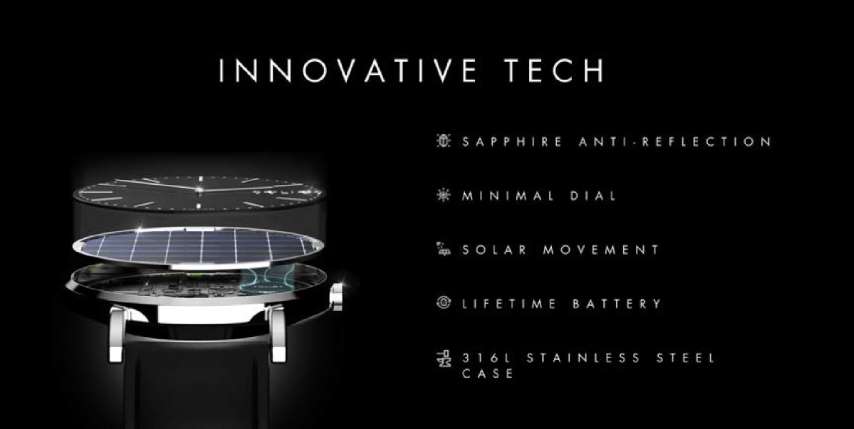 Two years of research and hard work went into producing this chic, affordable and sustainable timepiece that allows any wearer to be environmentally responsible and elegant. Alexandre Desabrais explains: "We took the time to succeed in combining a minimalist design—no extra frills and no chrono function—with a solar technology. Quite the challenge! We had to find the perfect ratio of transparency to colour so that the rays would pass through the dial but keep the photocell invisible to the naked eye." They kept their promise, as proven by the fact the watch was so successful in such a short time. "We chose a Japanese solar movement, it's presently the best in the world."
SOLAR TECHNOLOGY
All it takes is two hours of natural light or a few hours of artificial light to charge to watch for a full six months of autonomy. If every quartz watch in the world used solar technology, it would save some 300 million batteries every year.
Co-founder Samuel Leroux says: "We tend not to wear watches to tell time anymore; we have our phones for that now. To us, though, a watch is a way to express our personality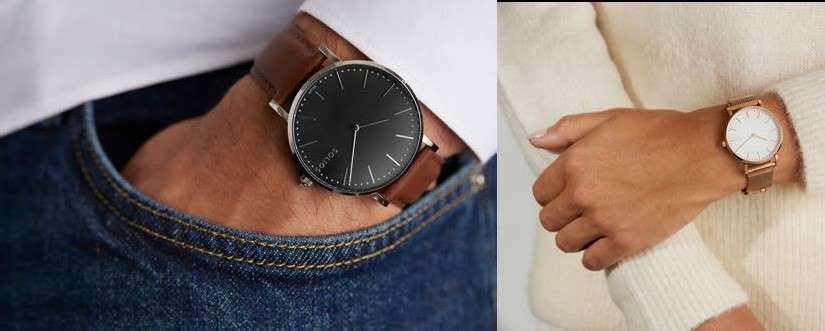 on our wrist. It's a symbol that can represent style, success, or something else." People still like to buy watches to wear them or give as gifts. "When you buy a Solios, you're buying with a good conscience," Mr. Leroux adds. "When people see it for the first time, their reaction is almost passionate! There's a big buzz around our solar technology, environmentally responsible manufacturing, and the sleek look with no compromise on design."
BATTERY FOR LIFE – WATCH FOR LIFE
The average lifetime of a watch battery is two years. Solios needs only one battery for its entire lifespan, which means a savings of 20 batteries per watch.
And with its premium-quality 316L stainless steel casing, sapphire-crystal-coated glass, and extremely durable bracelet with Swiss-quality colour plating, Solios is definitely not about planned obsolescence.
RESPONSIBLE FASHION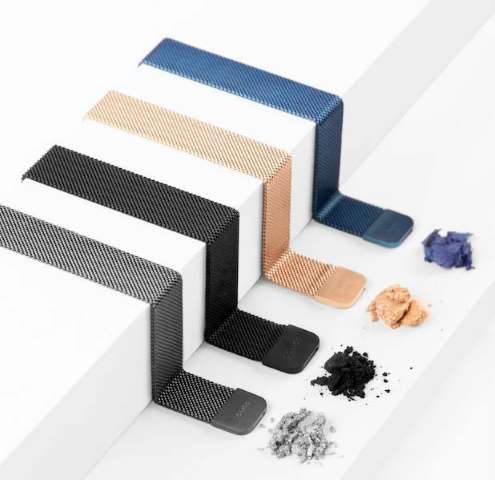 Every step in the manufacturing of Solios, from design to your wrist, is green. "We want to give people who share our values the opportunity to buy sustainable goods without sacrificing style, affordability or quality," Mr. Desabrais says. "We're proud to say Solios is designed here at home, and for the solar technology, we went with a Japanese movement because we wanted the best in the world. In the 21st century, we have to think about working methods, the ethics of the manufacturing process, and the health of the planet."
Amazingly slim and lightweight, Solios is a marvel of streamlined design. Available with a white or black face, a 36 mm or 40 mm diameter, and a bracelet in Eco Vegan Leather or stainless steel mesh that uses a magnet to fit your wrist perfectly, it's the gender- neutral fashion statement par excellence. The bracelets are available in five colours and easy to swap—no need to go see a jeweller. "When you can change bracelets to achieve multiple styles, it's better than buying multiple watches," Mr. Leroux notes.
AN INNOVATIVE AND ENVIRONMENTALLY CONSCIOUS COMPANY
Desabrais and Leroux, who both studied at the HEC Montréal business school, are members of the emerging generation who are avid developers of products and services with reduced environmental footprints.
"Fast fashion means a slow death for the planet," Mr. Desabrais explains. "Solios features innovative components in an elegant, classic design that will stand the test of time."
And there's no cruelty to animals or nature with either style of Solios bracelet. The Eco Vegan Leather models are synthetic, containing no animal skin, and no polyurethane or
PVC either. The stainless-steel bracelets are produced with the same green attention to detail. "Traditional metal colouring techniques create tonnes of liquid waste, so we decided to go with ion plating," explains Mr. Desabrais. "It costs 10 times more, but it's far more durable, and there's no waste discharged into the water." The watch packaging is 100% recycled and recyclable cardboard, and the delivery packaging is also made from 100% recycled and recyclable materials.
Buy online: solioswatches.com