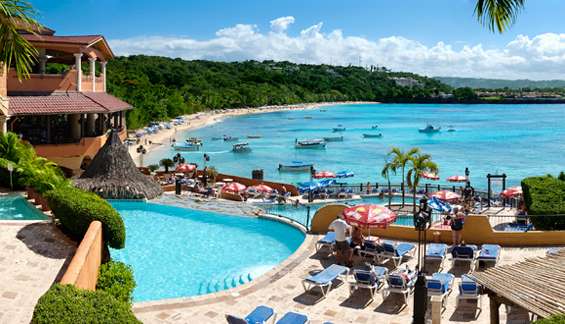 An attractive colonial hotel that directly overlooks the azure waters of Sosúa Bay. Definitely upscale with an exquisite lobby and opulent surroundings that gives newcomers a glimpse of the pampering that awaits inside. Located just 10 minutes from Puerto Plata airport and 25 minutes to the town of Puerto Plata, the Sosúa Bay Hotel is quickly gaining a positive reputation as the area's most popular resorts thanks largely to its superior world class cuisine.
The Sosúa Bay Hotel features 3 restaurants, 2 bars, 2 outdoor swimming pools, a well equipped health club, and many sporting activities. The food is world class and is known by excellent reputation, even breakfast and lunch are lavish affairs. As the sun sets, and dinner time approaches, more formal dining is offered at the various culinary venues.
Guest accommodation at the Sosúa Bay Hotel include garden view, family sized rooms and ocean view rooms. Most rooms are moderately sized, with the family rooms being markedly larger. Décor is tastefully colonial and very well appointed, with rich fabrics and dark wood furnishings. All rooms offer a tiled bathroom, a choice of bed arrangements, mini fridge, safe, hair dryer and fresh air balcony.
Sousa Bay Hotel in Puerto Plata