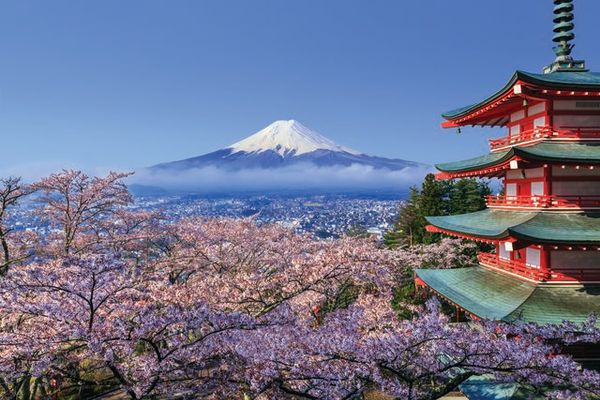 Springtime in Japan is a true feast for the senses. Millions of cherry trees erupt in bloom, carpeting the horizon in a dazzling display of candy-floss pink as far as the eye can see, sweeping the last vestiges of winter firmly away. 

Travelers can discover the cherry blossoms and other iconic sights of Japan with Luxury Gold®, on the exceptional new Majestic Japan itinerary. From dynamic cities to serene temples to stunning wilderness, this 11-day journey shows guests both the masterfully modern and alluringly traditional sides of Japan. 

Guests travel the length and breadth of the country in luxurious comfort on the legendary shinkansen bullet train, along the way meeting knowledgeable locals, tasting exotic flavors, and enjoying immersive VIP experiences that aren't available to the average traveler:
At Hirosaki Castle, learn about the care and nurturing of cherry trees from a real- life cherry blossom "doctor," who meticulously ensures that all cherry blossoms, from saplings to mature trees, are healthy and thriving.
Witness a performance by a samurai warrior in front of Aoba Castle, and afterwards meet with the samurai, who happens to be a member of one of Sendai's most influential families.
Discover why Osaka is known as "the kitchen of Japan" during a food-tasting exploration with a knowledgeable local foodie. Taste local specialties such as rounds of ground octopus wrapped in batter, called takoyaki, and savory pancakes known as okonomiyaki.
In Hiroshima, guests meet a survivor of the 1945 atomic bomb, and participate in an in-depth discussion about how it changed world history forever.
In Kyoto, a hub of ancient tradition and culture, marvel at the Zen Buddhist temple of Kinkaku-ji, and embark on a walking exploration of the vibrant Gion neighborhood, known as Kyoto's Geisha District.
In Tokyo, take part in a private sushi-making class and discover why it takes 10 years to perfect this 2,000-year-old art form.
Each Majestic Japan departure also includes dining experiences at exceptional restaurants such as Tokyo Shiba Tofuya Ukai, accommodation in fine five-star hotels like the Imperial Hotel Osaka, and personalized service from our passionate, dedicated Traveling Concierges. 
For more information about Luxury Gold Journeys visit www.luxurygoldvacations.com