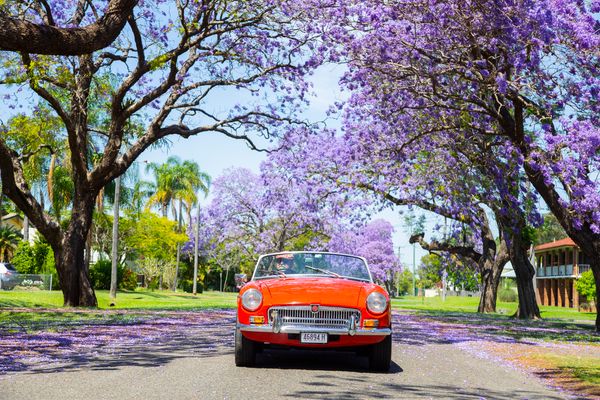 Step into a kaleidoscope of color as New South Wales bursts into bloom every spring. Whether you love vibrant purple jacarandas, a wonderland of native wildflowers or lovingly tended gardens, dazzling floral displays can be admired across the state. Here's where to uncover some of the best.
Experience the joy of jacaranda season
Be awed by an explosion of purple as the jacaranda trees of New South Wales flower from mid-October and through November. Historic Grafton, which sits on the Clarence River on the NSW North Coast, hosts the annual week-long Grafton Jacaranda Festival during this magical time. Join locals in celebrating the town's 2,000 jacaranda trees — including the state's oldest — with street parades and themed floats, markets, live performances, fireworks and even the crowning of a jacaranda queen.
Elevate a picnic on Sydney's leafy North Shore by timing your alfresco feast to coincide with jacaranda season. Suburbs such as Kirribilli, Lavender Bay, Greenwich, Waverton, Hunters Hill, Woolwich, Longueville and Wollstonecraft are all memorable spots to enjoy a long, lazy lunch under a dreamy canopy of lilac blooms.
Or revel in the purple haze in Sydney's Eastern Suburbs, where Oxford Street, Glenmore Road and Five Ways in Paddington all put on a reliable jacaranda show. The nearby neighborhoods of Woollahra and Double Bay also announce spring with a riot of colour.
See the heart of Sydney in a fresh light when jacarandas hidden between skyscrapers and historic buildings brighten the cityscape with bursts of purple. Take in the age-old beauties at your own pace, starting at The Royal Botanic Garden Sydney, then wander west through Circular Quay and The Rocks, admiring vistas of the purple trees backdropped by the Sydney Harbour Bridge, Sydney Opera House and Sydney Harbour.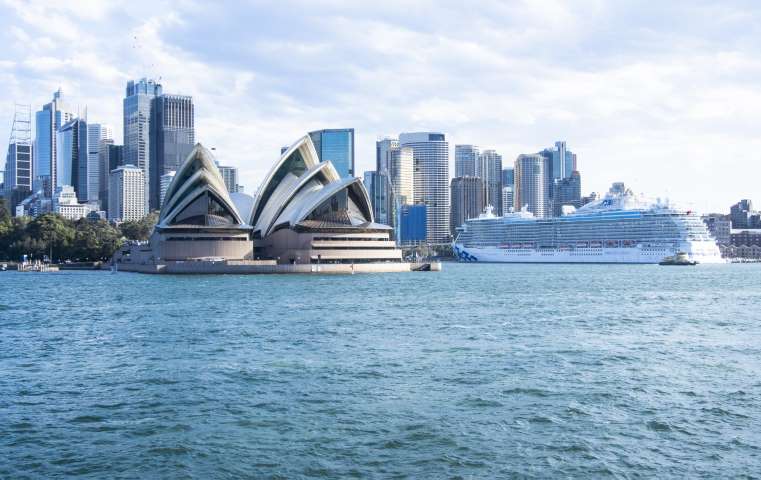 Wander among wondrous wildflowers
Experience the raw, natural beauty of being surrounded by flannel flowers, so named for their soft wool-like texture, on the Flannel Flower Walking Track in Bouddi National Park on the NSW Central Coast, 40km north of Sydney. These delicate white flowers line the 2.9km trail in spring, although bushwalkers are bound to enjoy this scenic track at any time of the year.
Live out your wildest wildflower fantasies in Werakata National Park, 150km north of Sydney in the Lower Hunter region, which morphs into a wildflower wonderland every spring. Pick a hiking trail and keep watch for purple happy wanderers, yellow hairpin banksias, red mountain devils, ground orchids and more.
Refresh with a dip at one of Port Macquarie's renowned beaches, a 7.5-hour drive north of Sydney, before soaking up natural delights of a different kind in coastal Kattang Nature Reserve. When you're not scanning the sea for migrating whales in spring, look down to be delighted by magnificent wildflower displays including boronia, flannel flowers, everlasting daisies and wedding bush.
Be amazed by the transformation of the NSW Snowy Mountains in spring, when the high-altitude Kosciuszko National Park comes to life with purple eyebrights, yellow billy buttons and everlasting daisies. Soak up the floral splendor with all your senses on a stroll along one of the national park's many trails.
Be wowed by gorgeous garden displays
Immerse yourself in native blooms at The Australian Botanic Garden Mount Annan, a one-hour drive west of central Sydney. The Australian native plant garden and sister organization to The Royal Botanic Garden Sydney showcases flowering plants throughout the year, with springtime visitors treated to the mesmerizing sight of the largest paper daisy display in eastern Australia.
Seize the opportunity to visit one of the world's only botanic gardens within a UNESCO World Heritage Area at the Botanic Garden Mount Tomah in the Blue Mountains, also near Sydney. It's a special place to visit at any time, but particularly in spring, when 50,000 daffodils blanket the landscape in a joyous shade of yellow and waratahs — the floral emblem of NSW – reveal their ruby-red magnificence.
Take in another horticultural oasis in Oberon, 170km west from Sydney, where you'll find one of the world's largest privately owned cool-climate gardens. Mayfield Garden is inspired by grand English country estates, its immaculately groomed grounds including themed groves, water features and a paddock-to-plate cafe. Enjoy the exclusivity of accessing areas normally closed to the public during the annual Spring Festival, typically held in September and/or October.
Imagine you're in Japan as you wander among fragrant cherry blossoms and vivid azaleas in the serene Cowra Japanese Garden and Cultural Centre in the country NSW town of Cowra, a two-hour drive west from Oberon. Birdwatchers will also love this garden designed to resemble the Japanese landscape; its numerous water features also attract myriad feathered visitors.