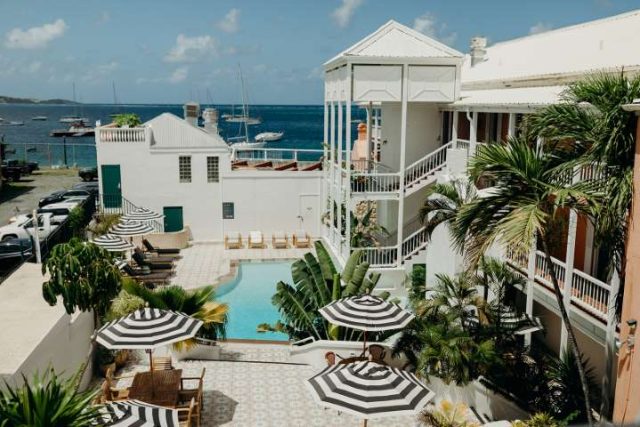 US travelers do not need a passport to visit St. Croix and the island's historic downtown, Christiansted, remains relatively off the radar. Designed by the property's owner —  Chris Pardo Design, the King Christian Hotel was renovated in summer 2022 and offers 46 fully remodeled rooms featuring custom designed terra cotta flooring, bespoke furniture and floor to ceiling marble clad bathrooms.
Photos by: Meredith Zimmerman Photography
Christiansted is the largest town on St. Croix and a former capital city of the Dutch West Indies — it is one of few Afro-Danish towns in the world. The King Christian Hotel has been a waterfront fixture in downtown Christiansted (overlooking historic Fort Christiansvaern) for almost 300 years. The property is a draw in St. Croix's downtown due in large part to its many F&B venues including a tiki bar — called Breakers Roar. The property is also home to a tropical oceanfront restaurant called Caroline's overlooking the Christiansted harbor. Lastly, Indulge at Cream & Co serves homemade ice cream made with local seasonal ingredients. And for morning coffee breaks, Virgin Islands Coffee Roasters has become a popular local gathering spot on St. Croix.