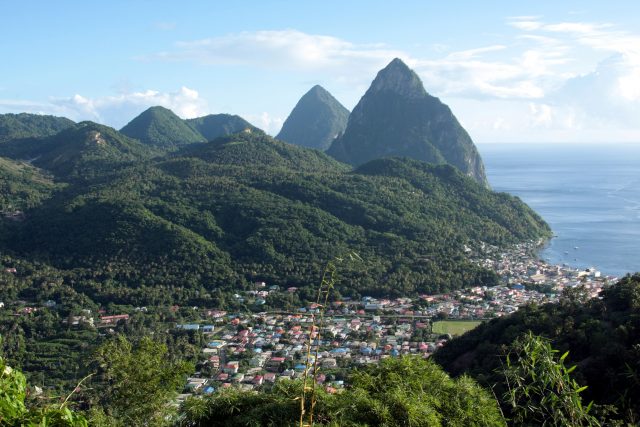 Jade Mountain and Anse Chastanet, two stunning sister resorts on Saint Lucia's south-west coastline, have recently added paddleboard yoga to their lengthy roster of activities. This class is just one example of how the resorts reflect a new mission of the Caribbean Tourism Organization (CTO), which has declared 2018 the Year of Wellness and Rejuvenation for the region.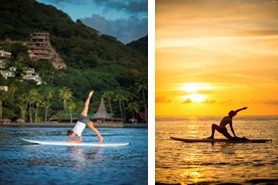 Paddleboard yoga is led in the sea by experienced instructor Laura Kai Timmusk, who studied with direct disciples of legendary teachers Pattabhi Jois and B.K.S. Iyengar. Students move through traditional asanas (poses) while balancing on their boards. Timmusk, who is also a physical therapist, describes her class as Vinyasa-style, with a focus on alignment, breath work and mental clarity. The added challenge of staying out of the water forces the stabilizing muscles to engage even more deeply, which helps build core strength, stamina and endurance. "This is the most serene setting you can imagine for yoga," says Timmusk, adding, "Moving on the water adds a whole new dimension to the practice, because you have no choice but to be present and focused. Your mind has no desire to wander off and worry about the past or future, and you can let go of your expectations and judgments." Of course, if you do lose your balance, splashing into the gorgeous Caribbean sea certainly beats the hardwood floor of your local yoga studio.
45-minute group classes (offered on Wednesday mornings at 11 a.m.) cost $35 person; private classes are available by appointment and cost $100 per person or $140 per couple. Those who want to learn more about stand-up paddleboarding (often called SUP) can also attend a free weekly demonstration, which is held every Tuesday at 12:15 p.m.
In addition to paddle board yoga guests are able to partake in complimentary land based yoga classes for beginners and advanced practitioners at sunrise and sunset and also, book private yoga classes with the resorts' two resident yoga instructors. The resorts' two spas offer both classic and ayurvedic spa treatments. Specialty week long seminars are planned later this year.