With stocks of desperately-needed hand sanitizer depleted throughout St. Vincent and the Grenadines due to the novel Coronavirus, St. Vincent Distillers Ltd is coming to the rescue with its own disinfectant solution: Mt. Bentick's Hand Sanitizer. SVDL is the producer of popular local rum products including Captain Bligh Rum and Sunset Very Strong Rum, which is 84.5% alcohol in volume.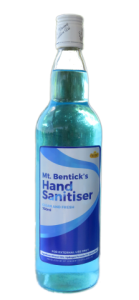 SVDL's production capabilities have enabled the distillery to quickly develop a formulation that meets the stringent recommendations of the World Health Organisation (WHO) Guidelines on Hand Hygiene in Health Care. Indeed, the first batch of the solution – a donation of 13 cases – has been delivered to the nation's first responders: police and health care workers.
SVDL's Brand Manager Somorie Marksman said, "We are happy and proud to support the efforts against COVID-19 in St. Vincent, our homeland, during this emergency. As a distillery, we are especially suited to provide this essential product – which is currently in critically short supply – to the individuals who are helping to keep our nation healthy, safe and secure.
To date, the recipients of Mt. Bentick's Hand Sanitizer include
The Georgetown Police Station
The Georgetown Hospital and Diagnostic Clinics
Byrea, Colonarie, Park Hill, South Rivers & Biabou Clinics; Fancy, Owia, Sandy Bay & Overland Clinics
Milton Cato Memorial Hospital.
The Mt. Bentick's Hand Sanitizer contains 76% ethanol as a disinfectant; 3% hydrogen peroxide, which prevents contamination; and 98% glycerol (commonly known as glycerin), which is an emollient to help moisturize and protect the skin. It will be available in 750 ml bottles and is for external use only.
According to WHO, hand rubbing with alcohol-based solutions is better tolerated than hand-washing with soap and water.