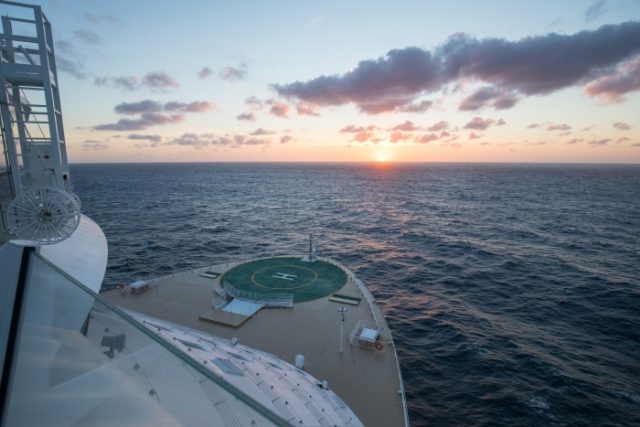 Just as Royal Caribbean International's Symphony of the Seas, the world's largest cruise ship, is redefining cruise travel with revolutionary new adventures for guests, so will its shops offer an exciting array of premier brands and innovative experiences where guests will "Shop Royally" in a retail environment like no other.
The ship's thrilling approach to retail is designed and curated by Starboard Cruise Services, an LVMH Moët Hennessy Louis Vuitton company and premier cruise retailer, which has been the driving force behind the transformation of cruise shopping. Starboard has added a new level of innovation on Symphony of the Seas, which will launch its first Caribbean cruise November 17, 2018, from Royal Caribbean's new cruise terminal at PortMiami. The Caribbean season follows the ship's summer inaugural sailings in the Mediterranean.
Starboard has custom-designed the onboard Royal Shops to delight and surprise cruise guests with the most iconic brands in jewelry, watches, beauty, spirits and fashion accessories, in almost 8,000 square feet of stylish shopping rising three decks high. Aligning with Royal Caribbean's adventurous approach to discovering and exploring the world, the Royal Shops invite guests to "Shop Royally" and to:
"Rock Your Look" with brilliant jewelry
"Be Bold" with timepieces
"Be Daring" with beauty
"Stand Out" with accessories, and
"Mix It Up" with fine spirits
The Royal Shops are located on decks 5, 6 and 8 onboard Symphony of the Seas. They include stand-alone boutiques for luxury timepieces from BVLGARI and Hublot, as well as a Cartier Espace. In addition, these shops offer the finest in brands of all categories and always with unmatched tax and duty-free savings:
Regalia: Fine jewelry and timepieces
Solera: Beauty and fragrances
Port Merchants: Spirits
The Shop: Exclusive Royal Caribbean gear
Surf Shack: Surf-inspired apparel and sunglasses
Beyond shopping for treasures, "Shop Royally" is a call to fully experience the Royal Shops and to join unique, interactive experiences including makeovers, trunk shows, jewelry making, spirits tastings and pop-up promotions including:
Rising Tide Watch Event: A select group of guests passionate about Swiss timepieces are invited to the Rising Tide Bar, where they can learn more and socialize with equally ardent guests.
Rock Your Look: Guests learn about diamonds and other hot rocks while jamming to the latest music hits.
Lead the Way in Le Vian Jewelry Fashion Show: Guests get to try on the Le Vian jewels that rule the red carpet, and get their own photo snapped.
Truth or Dare Beauty Challenge: Guests learn essential truths about cosmetics and fragrance and dare to try something new.
Find Your Fragrance: Discover the signature scent that works best for you.
"Symphony of the Seas inspires boundless adventure, and it was our mission to capture that same spirit in retail," said Beth Neumann, Starboard Cruise Services President and CEO. "The shops on Symphony of the Seas are designed to offer merchandise and experiences attractive to the ship's family audience and to be on par with other ship attractions. By shifting the retail approach from conducting transactions to creating memories, we have created a more engaging environment for fun opportunities for guests to interact with each other and enjoy exceptional hospitality."
Starboard is a proud long-standing retail partner to Royal Caribbean, operating on nearly every ship across the fleet. Starboard will launch a new lineup of shops on the cruise line's highly anticipated megaship Spectrum of the Seas, scheduled to sail in 2019.
Starboard operates retail on over 90+ cruise ships and represents more than 750 brands making them the largest global cruise industry retailer. Starboard will operate over 360,000 sq. ft of retail space by 2020.