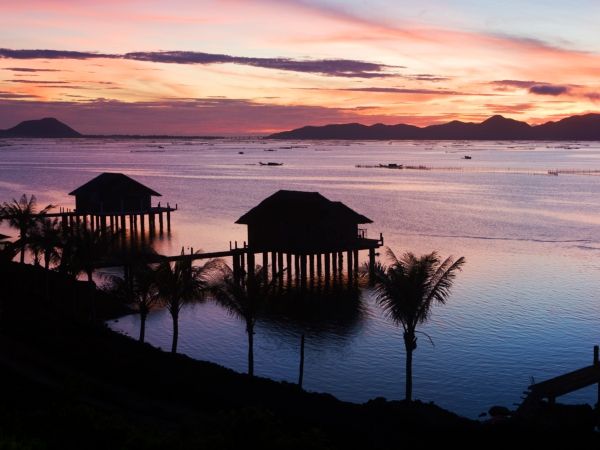 As the countdown to 2019 commences, many holidaymakers are looking to the New Year as they jam-pack their travel diaries with thrilling adventures and unmissable experiences. From taking a jeep safari across the dunes in Brazil to climbing Rainbow Mountain in Peru, the Meaningful Travel experts at Rickshaw Travel share their top seven must do travel experiences for 2019…
Find inner-peace in the hills of Vietnam
Where: Phu Loc, North Central Coast
Why: Surrounded by lush forest and banked on the shores of a vast lagoon, Phu Loc is the perfect place to enjoy a world of tranquillity – a far cry from Vietnam's notorious buzzing cities.
How: Rickshaw Travel has a brand new three day bite-sized trip: Lazing by the Lagoon. Staying in a spacious hill-side bungalow, with panoramic views of Phu Loc Lagoon, this trip is all about relaxation. Travellers can also enjoy a complimentary daily Tai Chi or yoga session – the perfect way to soothe the mind, body and soul.
Take a jeep safari across giant dunes in Brazil
Where: Lençóis Maranhenses, Brazil's North Atlantic Coast
Why: Perched on Brazil's undeveloped northern Atlantic coast, lies the spectacular Lençóis Maranhenses- one of South America's lesser-known natural wonders. With miles of pristine dunes, pockmarked in wet season by warm freshwater lagoons, it's a striking sight.
How: Rickshaw Travel has a brand new six day itinerary: Dunes of the Northern Coast – Lençóis Maranhenses. Travellers will take a jeep safari deep into the park where they will be greeted by an otherworldly landscape before swimming in the warm lagoons and climbing the giant sandy slopes. This area is beautiful year-round, but the lagoons can start to disappear in the dry season (October-March), so it's best to go during wet season if you want the full effect.
Trek and camp under the stars in unspoilt Bhutan
Where: Sakteng Wildlife Sanctuary, far eastern Bhutan
Why: Perfect for the eco-conscious holiday-maker, Bhutan banned plastic bags nationwide in 1999 making it no surprise that the destination appeals to those in search of unspoilt nature.
How: Rickshaw Travel has a brand new seven day itinerary: Footsteps Through Forests and Mountains. Trekking enthusiasts will explore all 750km2 of the unspoilt Sakteng Wildlife Sanctuary, learning all about how it was established to protect the legendary yeti as they go. The route starts with a gradual climb through the meadows of Chaling, climbs to the heights of Merak and finishes in the weaving village of Radhi.
Travel by ox cart in Northern India
Where: Barli, Rajasthan, India
Why: Escape India's bustling cities and find a haven of peace in the small village of Barli.
How: Rickshaw Travel offers a two day bite-sized trip: Ox Carts and a Majestic Fort. Travellers will explore the historical, tranquil village by ox cart (a novel and traditional way to travel), passing by craftsmen at work and visiting local temples. When evening arrives, a stay at the converted Fort Bali awaits.
Kayak with orcas off Vancouver Island, Canada
Where: Orca Base Camp, Port McNeill, Canada
Why: 2018 saw the world gripped by the heart-breaking plight of a grieving orca mother who carried her dead calf's body for over two weeks. The act encouraged empathy from the world over, and also prompted a greater appreciation for this threatened species.
How: Rickshaw Travel has a brand new five day itinerary: Kayaking with Orcas. Explore the lesser-explored area of Vancouver Island where wildlife lovers will get the chance to kayak through the fjords and inlets in search of orca pods, because, after all, there's no better place to see orcas than in the wild.
Climb Rainbow Mountain in Peru
Where: Vinicunca, Peru
Why: As spectacular as it is secluded, Vinicunca (Rainbow Mountain) is a lesser-known area with otherworldly landscapes which seem like they could be from another planet.
How: Rickshaw Travel offers a three day bite-sized trip: Rainbow Mountain Ramble. A challenging four hour trek awaits those who head to Rainbow Mountain, but it's certainly rewarding. Pass through green wilderness dotted with alpacas, and walk against a backdrop of the snow-capped Andes, before reaching the spectacularly colourful heights of Rainbow Mountain.
Sail to lesser-visited elephant jungles in Sri Lanka
Where: Gal Oya National Park, Sri Lanka
Why: It's no coincidence that Sri Lanka was just named the top country for travel in 2019 by Lonely Planet. But that's not to say that all of this beautiful country has been discovered. While most travellers head to Yala National Park to get their elephant fix in Sri Lanka, Gal Oya is the perfect spot for those savvy travellers looking to escape the crows. What's more, this is the only place in Sri Lanka where visitors can witness elephants swimming in the wild on a boat safari. Need we say more!
How: Rickshaw Travel has a brand new three day bite-sized trip: Wild Elephants & Emerald Lakes. Gal Oya is a natural park with untouched jungles and vast lakes. As you explore the untouched jungle, keep your eyes open for a glimpse of elephants swimming in the wild.
For more information on Rickshaw Travel, please visit: rickshawtravel.co.uk