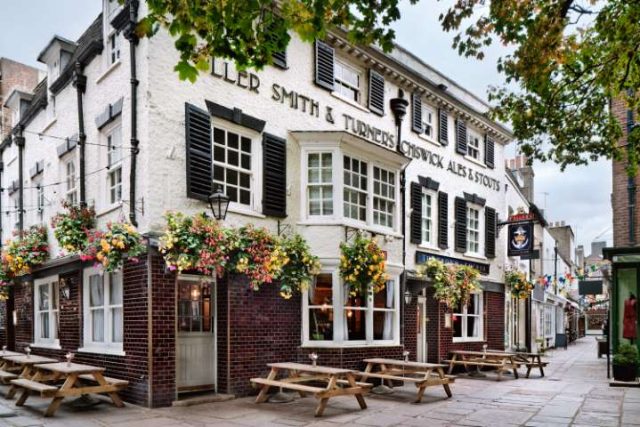 Ted Lasso's endearing charm, glimmering positivity and endless inspirational quotes have captured hearts and minds around the world. To celebrate the show's triumphant return to the small screen on March 15, Mae, the lovable pub owner and passionate AFC Richmond superfan played by Annette Badland, is hosting three stays at The Crown & Anchor pub, which is The Prince's Head in real-life, and is taking a much-deserved night off.
Situated in Richmond, London, and right around the corner from Ted's apartment, the traditional English pub is a gathering place for football fans and locals alike, and the unofficial meeting place of AFC Richmond players and coaches on the show.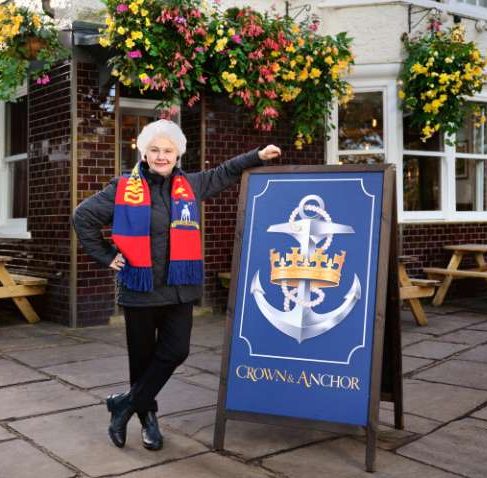 "The Crown & Anchor is an essential fixture for AFC Richmond – it's where friends, colleagues and teammates come together to celebrate our triumphs or cope with the agony of relegation. That's why I'm pleased to host guests (and take the night off!). Time to give others the opportunity to experience the same camaraderie and sense of community that Coach Lasso inspires. After all, we're Richmond 'til we die!"
– Annette Badland, actress and Host
Guests will experience what it's like to stay overnight at the historic, neighborhood pub for the first time, while putting themselves in the shoes of AFC Richmond coaches, players and pesky bar flies alike.
About the stay
While it may not be a locker room, the pub still smells like potential – for up to four guests who will have the opportunity to stay overnight on October 23, 24 and 25, 2023. For only £112 a night – a nod to the number of players on the pitch – guests will be able to request to book three individual one-night stays1, during which they'll get to channel their inner coach (or pub owner), including:
Enjoying pub fare while discussing their favorite moments from the show.
Cheering on the beloved local Richmond sports teams, decked out in AFC Richmond gear, of course.
Taking part in a competitive round of darts – whether left- or right-handed – or aiming for the highest score on the pinball machine.
Taking a seat at Ted's favorite table in the pub and challenging their fellow guests to a round of chess.
Showing off their karaoke skills with a rendition of their favorite song.
Trying those biscuits and enjoying them over some English tea (or as Ted calls it "garbage water").
How to book
Ted Lasso fans can request to book this stay beginning Tuesday, March 21 at 1:00 PM EST at airbnb.com/tedlasso. Guests are responsible for their own travel to and from Richmond. Season three of Ted Lasso premieres Wednesday, March 15.
Those hoping to stay in the pub should note that this stay's rules require following applicable local rules and guidelines as well as Airbnb's COVID-19 Safety Practices, which will include wearing a mask and practicing social distancing when required by local laws or guidelines. On-site staff will also comply with local rules and guidelines while on-site, and will abide by our five-step enhanced cleaning process2.
*These three, one-night stays for up to four guests are not a contest. The pub is independently owned and operated by Fuller Smith and Turner*.
1Plus taxes and fees
2Airbnb is closely monitoring Richmond COVID-19 infection rates and government policies and will offer booking guests a refund of the booking fee (£11) and £1,000 Airbnb travel credit if Airbnb determines it is necessary to cancel the stay.