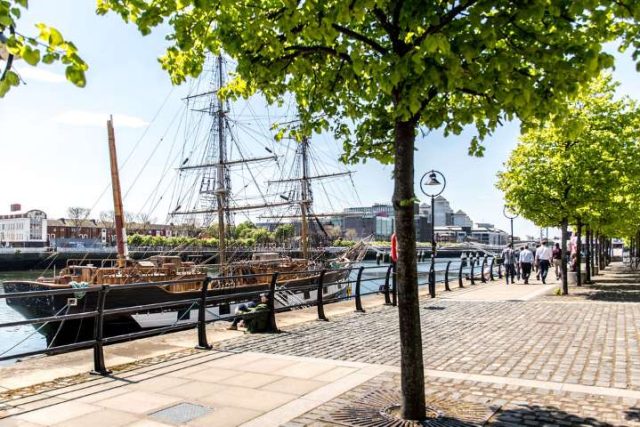 A long-distance walking trail like no other, the National Famine Way is not only a journey through some of Ireland's prettiest countryside but also a poignant reminder of the suffering of many during the island's Great Famine.
The waymarked trail, which opened in 2020, begins in County Roscommon at Strokestown Park Estate, home of the National Famine Museum.
The museum tells the story of what the Irish call 'the Great Hunger', with tales of eviction, migration and despair.
From Strokestown, the trail follows the route taken by 1,490 Strokestown tenants – men, women and children – who, after they failed to pay their rent, were marched from Roscommon to Dublin in 1847 to board the emigrant ships.
Following rural roads and meandering alongside the tranquil Royal Canal, the Famine Way traverses counties Roscommon, Longford, Westmeath, Meath and Kildare and finishes in Dublin at the evocative Famine Memorial on Custom House Quay.
Along the way are some 30 bronze sculptures of children's shoes, a reminder of the young boys and girls who walked the route.
A free app is available that gives walkers an immersive experience, helping them to understand the history of the Famine and giving interesting facts about the places through which the trail passes. The app also tells the story of 12-year-old Daniel Tighe, one of the children from the 1,490. At each of the bronze shoes markers an instalment can be listened to.
Walkers can also purchase the official National Famine Way pack and passport, which allows them to record their progress along the route with stage stamps. The pack also contains a personalised ticket, naming one of the family groups who walked the trail in 1847. At the end of the trail, a completion certificate is awarded to walkers at EPIC The Irish Emigration Museum. 
This multi-award-winning museum was the world's first fully digital one. Telling 1,500 years of Irish history, it is an interactive and entertaining experience of how, where and why the Irish emigrated and their influence on the world.
Near to EPIC, the Jeannie Johnson Famine Ship is moored on the River Liffey. It offers the chance to see first-hand the conditions that the emigrants endured during the long Atlantic crossings in what became known as 'coffin ships'.