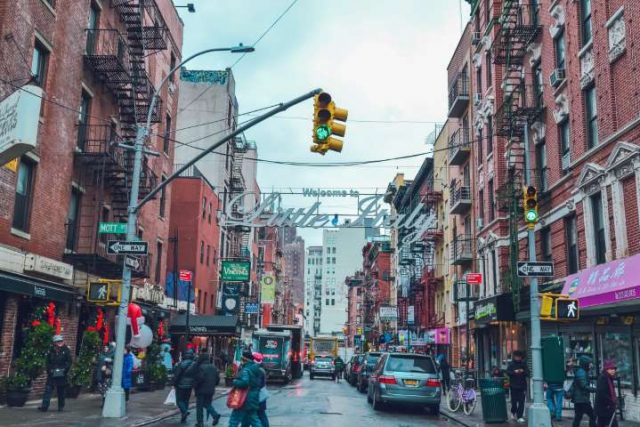 Wandering off the beaten path when visiting any country can be such a great thing to do. You'll experience a whole new side of a country that you never even knew existed, and it will provide you with so many unique opportunities that you otherwise wouldn't experience.
Here are a few more reasons to stray off the beaten path to learn more about a country.
Learn from the Locals
When you stray off the beaten path, it's so much easier to get to know the locals much better. Remaining in densely populated touristy areas means that you're only seeing one side of a place.
Take New York for example; while the likes of Times Square, Central Park and Brooklyn Bridge are all wonderful and beautiful features of the city, they're always so overcrowded and don't give you a true feel of what it's like to be a local there.
Heading off the beaten path, however, you'll soon stumble across a quintessentially Photo by Alex Haney where you'll get to experience first-hand what it's actually like to be a local in the concrete jungle.
Immerse Yourself in the Culture of a Country
Similarly to getting to know the locals better by straying off the beaten path, you'll also get the chance to immerse yourself in the culture of a country much better.
The beaten path is often full of westernised, tourist hotspots and never really has an authentic feel about a place. The Camino de Santiago, for example, takes you through wonderful places in Spain and Portugal and you're much more likely to sample the quintessential and authentic cuisine; something that's much less common if you remain in the tourist hubs of a country.
Explore More of the Countryside
Straying off the beaten path also provides you with the ability to explore more of the countryside and get a first-hand experience of the spectacular nature that a country offers.
Many places along the Camino de Santiago in Spain and Portugal are teeming with beautiful and natural spots for you to enjoy. The countryside that you'll experience is also much less likely to be spoiled and ruined by pollution and commercialism, so it's definitely worth wandering off the beaten path slightly in order to experience it for yourself.
Get the Chance to See the Unique Hidden Gems of a Place
Another incredible reason to stray off the beaten path when visiting a new country is that you'll get the chance to see the unique hidden gems of a place.
As previously mentioned, top tourist hotspots are usually bustling with people for a very good reason, but that doesn't mean that those places are the only beauty within a country.
Countless hidden gems of a country can be discovered if you only make the effort to look for them. Photo-sharing apps such as Instagram allow you to find the most spectacular places within a country, but there are numerous places that won't have made it to the 'gram; make it your mission to find the hidden gems of a country so that you can keep a special and unique aspect of a country all to yourself.
Learn to Trust Your Instincts More
On a personal note, with regards to wandering off the beaten path when travelling to a new country, you'll likely learn many new things about yourself; in particular, how to trust your instincts more.
People are so used to getting their phones out and using Google Maps to find the next place on their checklist, but why not leave your navigation skills up to chance and trust your instincts instead?
Of course, it's imperative that you always have your wits about you and it can be essential to know where you're going in times of need, but it can also be incredibly liberating and rewarding to just head off somewhere without a clear sense of purpose or direction.
Trusting your instincts and navigating your own way around a country will also mean that you'll be more likely to stumble across hidden gems that you wouldn't find by using the likes of Google Maps or TripAdvisor.
Conclusion – Stray Off the Beaten Path to Learn More About a Country
If you want to learn more about a country in your own unique way, then the best way to go about doing so is to stray off the beaten path.
By doing this, you're offering yourself up to the possibility of seeing a more authentic and unique side of a country, especially when hiking the likes of the Camino de Santiago in Spain and Portugal where you'll stumble across picturesque countryside, perfect for unique photo opportunities, as well as get the chance to get to know the locals and their culture much better.
Rebecca is a translator by day, and a traveler mostly at night. She is an expert on living with jet lag – and packing in tiny suitcases. You can read more of her exploits at RoughDraft