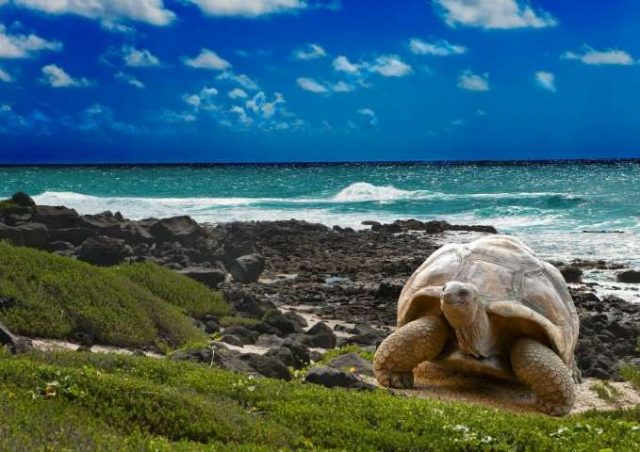 Traveling to the Galapagos Islands and Machu Picchu has become quite trendy and for good reason. Not only are these locations highlights of Latin America, but they are also on every discerning traveler's worldwide bucket list. Surtrek has created a 19-day journey exploring Ecuador and Peru that goes beyond the ordinary. The trip includes visits to Quito, the Galapagos Islands, Arequipa, Colca Canyon, Machu Picchu, Lima, Cusco, Lake Titicaca and the Sacred Valley.  For more info or to see the full itinerary, visit https://www.surtrek.com/more-destinations-tours/south-american-dream-destinations-tour.html.

The tour begins in the Andean city of Quito, Ecuador, dramatically situated at over 9,350 feet above sea level and hemmed in by volcanoes and mountain peaks that are even higher. Declared the planet's first "World Heritage Site" by UNESCO, this character-rich colonial city is packed with architectural treasures, picturesque plazas and the vibrant pulse, sounds and sights of everyday indigenous life.

After two days of sampling the colorful culture of Quito, guests will fly to the alluring Galapagos Islands, the catalyst for Charles Darwin's spectacular breakthrough in human understanding of biology. During these four+ days, they will swim and snorkel amidst some of the richest marine life on Earth, become transfixed by the wealth of bird life that populates stunning forests, and come face-to-face with the 150-year-old Giant Galapagos tortoises that symbolize this living laboratory of evolutionary change – an experience that will undoubtedly inspire you to think differently about our world.

The next leg of the journey is to the mystical nation of Peru, where the principal goal will be to experience the glorious Inca citadel of Machu Picchu. Along the way, guests will visit a number of astonishing and authentic sites in this "land of the Inca." From Lima, the tour will proceed to Arequipa, a 500-year-old city that was also declared a UNESCO "World Heritage Site" for its rich mix of the indigenous and Spanish colonial cultures. Guests will also visit the nearby Colca Canyon, one of the deepest canyons in the world and home to the largest flying land bird in the world: the majestic condor.

No well-rounded tour of Peru is incomplete without an extended trip across Lake Titicaca, the highest navigable lake in the world, with a surface altitude of 12,507 feet above sea level. Other highlights include the city of Cusco, fused with the finest colonial and religious splendors of Spanish conquest, and the Sacred Valley, where the Andean countryside is dotted with indigenous villages, high-altitude hamlets and ancient ruins.
INCLUDED IN THE PRICE:
18 nights' hotel accommodations double + all breakfasts
All transfers in private vehicles
All tours and excursions with local English-speaking guides
All meals, as per the itinerary
Train transportation
Bus transportation
All entrance fees (except Galapagos National Park)
Galapagos Immigration Card
Snorkeling gear
Seafaring excursions in the Galapagos
Public speedboat transport between Galapagos islands