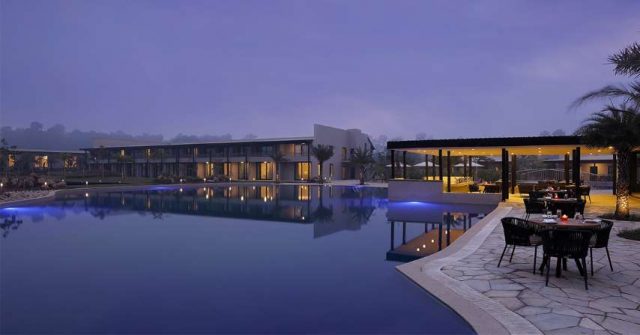 Nepal's Tiger Palace Resort is surrounded by inspiring landscape of the Himalayan foothills, and the resort's vision is to transform the region's gaming and entertainment. Tiger Palace Resort had an impressive start, in 2018. The resort reaches new levels, which were unmatched within South Asia. Bill Healey, a reporter from a casino magazine was able to chat with Mr. Brett Model, General Manager at Tiger Palace Resort.
About Tiger Palace Resort
The resort's vision was to revolutionise South Asian gaming and to be able to establish a new benchmark for casino destinations. Mr. Brett Model said that he and his team were able to create a brand that achieved the reputation and the core values of Silver Heritage Group who aim to transform the region into a premier entertainment zone.
Tiger Palace Resort combines the international standards with local understanding. It's the first casino brand that caters the needs of South Asian market. After the international facilities at the local airport is complete, the resort will be directly accessed by major Indian cities. In addition, the airport will also become crucial to China, Thailand and other cities that will have direct flights.
The resort is located in a country with a limited number of casinos, and the management and higher-level staff must come from abroad. Mr. Brett Model said that they carefully assembled a world class management team from Australia, Europe and the USA who share their vision of creating a new Las Vegas or Macau for the South Asian region.
Tiger Palace Resort has 819 of employees that are local, while the Silver Heritage Group has over 1000 Nepali citizens that remain committed to internal training and skills transfer. They are able to offer unique long-term opportunities for personal and career development.
The Casino
The resort also has a casino that is over 2.500 sqm and features three distinct gaming zones. The casino currently features 48 gaming tables, over 200 electronic gaming machines and there is still enough space for an expansion. In addition, there is a performance stage and a stylish bar. The Private Gaming and VIP area adds at least 6 more gaming tables and more are expected to open in the future. The casino's portfolio in table games are all of the regular favorites: Blackjack, Baccarat, Roulette, Dragon Tiger, Poker, Three Card Poker and Stud Poker. In addition unique Indian games such as Flush, Teen Patti and Andar Bahar are also available.
Tiger Palace Resort is located in Bhairahawa, which is very well connected with major metropolitan areas from Nepal and India. One of the major connections is a 6-lane highway that is running alongside the resort's entrance. Strategically, the resort is located just 10 km from Nepal's airport, Gautam Buddha Airport. Guests can choose to fly to Gorakhpur from New Delhi. Also, major cities in Uttar Pradesh, India, such as Kanpur and Lucknow have a drivable distance from the resort.
Social Media Play
There has been a tremendous rise in the usage rate of social media, especially in India, which is considered a world-leader in Information Technology. As an example, India is the biggest user in the world for WhatsApp. It has 160 million active users, and monthly India has hit a 200 million of users that are active on WhatsApp.
The social media platform has become an important channel for marketing and brand awareness, with interactions being in real time with the actual and potential visitors. The social media offers information about the latest events at the resort. It also helps to gather a quick feedback from the guests.
Last Words
Tiger Palace Resort is an international company that is listed in Australia, in other words they take their Responsible Gaming very seriously. In other words, the company itself is not allowed to have an online casino through their website. However, the facility also has non-gaming options. If travelers want to play some games, they can connect to an online casino anytime, such as Gametwist Online Casino.
The non-gaming options at Tiger Palace Resort is based mostly on providing a holistic experience for their guests. Along with the casino, the resort features 100 tastefully designed and well-appointed guest rooms, two VIP villas, four separate food and beverage options, a spa & salon, fitness centre with steam and sauna facilities, largest outdoor swimming pool in Nepal along with other recreational facilities.
The resort is also located 25 km from Lumbini and UNESCO World Heritage Site. And for a couple of drive hours to the East of Tiger Palace Resorts sits the beautiful Chitwan National Park, where visitors can see the wildlife, including Bengal tigers, one-horned rhinos and elephants.