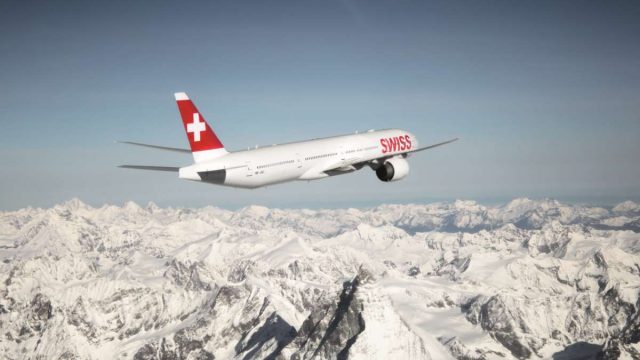 Swiss International Air Lines (SWISS) continues to bolster its services by resuming flights to key international gateways around the world. Now, travelers from Montreal can once again enjoy a direct connection to Zurich and beyond.
Today, July 15, marks the resumption of SWISS flights from Montreal's Pierre Elliot Trudeau International Airport to and from Zurich. Initially, the service will begin with three weekly flights. The newly resumed flights are a result of a growing demand in international travel. The Zurich-Montreal route is just one of the many Canadian routes opened by various passenger airlines of the Lufthansa Group as a result of international travel restrictions being eased.
Initially, the Zurich-Montreal flight will operate on Wednesdays, Fridays and Sundays with an Airbus A340-300 aircraft with a three-class configuration that includes First, Business and Economy. Beginning September 1 through October 2, the route will increase to four weekly flights on Tuesdays, Thursdays, Fridays, and Saturdays.
"SWISS is committed to offering the widest possible range of services during this ramp-up phase. As the world gradually begins to open up, the desire to travel has increased and there is an ever-growing necessity for our customers that are able to enter Switzerland and the European Union to see family and friends, as well as conduct important business trips. With Montreal being a key gateway for the entire Lufthansa Group, it made sense to add the Zurich service in order to provide more international options to Canadians," said Hans DeHaan, Senior Director Canada, Lufthansa Group.
More than 2,000 weekly flights to over 130 destinations worldwide will be operated by the Lufthansa Group carriers in the remaining months of the summer season. By the end of October, over 70 percent of the originally planned long-haul routes will be operated by the Group carriers. Additionally, 90 percent of all originally planned short- and medium-haul destinations will be served again. For SWISS, specifically, in addition to Montreal (Canada), the air carrier is also reinstating its services to São Paulo (Brazil), Shanghai (China) and Tel Aviv (Israel) from July onwards. The SWISS Zurich long-haul network will thus comprise 13 destinations in July, which is set to rise to 18 by October. As well as resuming service to more network destinations, the airline will be intensifying its frequencies on routes already restored in both its short-haul and its long-haul networks.
Flexible rebooking option
Anyone booking a flight in the next few weeks can do so without any worries. Passengers who wish to change their travel date can make a one-time, toll-free rebooking for the same route and the same class of travel. This rule applies to tickets booked up to and including 31 August 2020 and with a confirmed travel date up to and including 30 April 2021. The rebooking must be made before the originally planned start of travel.
Aircraft Built for Clean Air
All Lufthansa Group aircraft are equipped with the highest quality specialized air filters, which guarantee air quality akin to a clinical operating room. The recirculated air – which reflects approximately 40 percent of in-cabin air – is filtered, removing 99% of contaminants such as dust, bacteria and viruses. The rest is added as fresh air from outside the aircraft. Airflow within the aircraft is also expertly designed to mirror the laminar airflow of an operating room, moving at the same speed and in the same direction with no or minimal crossover of air streams.
Hygiene and Safety Protocols
For SWISS aircraft, safety and travel has always gone hand-in-hand, with the utmost importance placed on the safety and security of passengers and crew.
The Swiss authorities have now made the wearing of facemasks compulsory on all public transport. In view of this, and although Swiss aircraft are not explicitly mentioned in the new rules, SWISS has decided to make it compulsory to wear facemasks aboard its aircraft with immediate effect and until further notice. Specifically, passengers are required to wear a facemask during boarding, while in the air and until fully disembarked. SWISS recommends the use of general fabric masks or medical-grade protective masks. Children under 6 years of age are not required to wear a mask, nor are persons who cannot wear a mask on medical grounds. Passengers are requested to bring their own masks: a small number of masks are available on board for emergencies.