Local and international audiences will be able to experience Sydney Opera House like never before with the launch of a new range of tour experiences, announced today.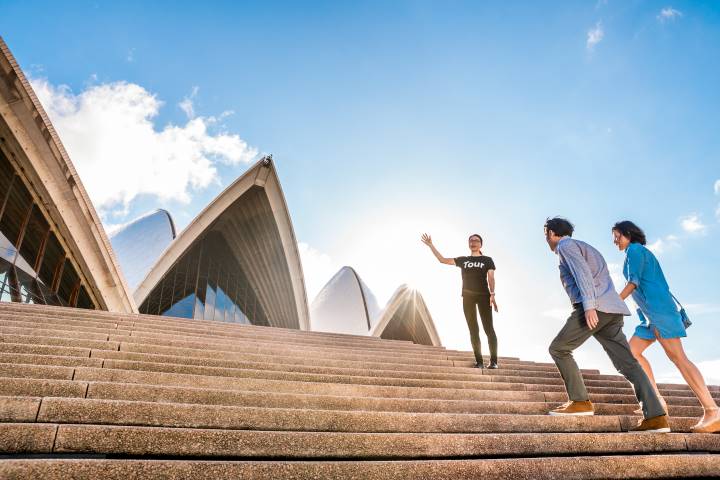 A new Guided Digital Tour will give would-be travellers from around the world the chance to explore Australia's most famous building from their living room. Hosted by one of the Opera House's expert guides, the live online tour takes guests behind-the-scenes to discover one of the world's busiest performing arts centres between the acts, waking up, in rehearsal and at rest.
For Sydneysiders and interstate travellers eager to discover their own backyard, the Opera House has launched its first ever Architectural Tour, revealing the story behind the creation of Utzon's masterpiece. A new Beyond the Stage Tour also kicks off at the Opera House this month, giving visitors a rare opportunity to go behind-the scenes and into the domain of artists and staff, before relaxing by the harbour in true Sydneysider style, enjoying Australian-inspired cuisine at Opera Kitchen.
Each onsite Opera House tour features a new immersive experience, which takes place inside a purpose-built venue, fitted out with state-of-the-art technology, 270-degree visuals and surround sound, as well as heritage-inspired interiors. In this newly opened space, guests can watch unforgettable moments from past Concert Hall performances and learn about the renewal of the world-famous venue.
Sydney Opera House Director of Visitor Experience Jade McKellar said: "As we reopen the doors of the Opera House, it's exciting to be able to offer new and refreshed tour experiences for both local and international audiences.
"For Sydneysiders, now is the perfect time to rediscover your city and to learn more about its most famous landmark. For our international visitors, we've tapped into new possibilities offered by digital technology to create an online experience like never before.
"Whether you are planning a visit to the Opera House in person or online, we can't wait to welcome everyone back to be immersed in the history, architecture and artistic wonders of this magical place once again."