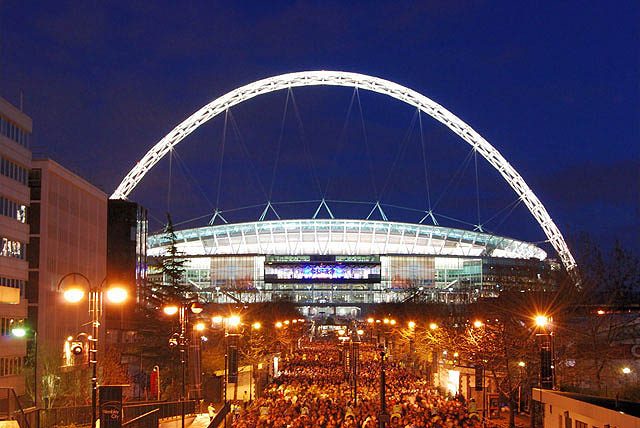 We don't typically focus on sport, but with the club football season getting underway all over Europe, now seems the time to do so. It may not be the most common incentive for trekking around the continent, but at the same time there are a lot of you out there who might have sports-related bucket lists. And given the fact that pretty much all of the major European leagues are in close proximity to each other in the western part of the continent, a football tour can actually make for a fun and manageable vacation!
So without further ado, here are some of the cities and stadiums you may want to include on a tour some time during the club season (which stretches from now into the spring of 2018).
Paris
We may as well start with Paris, given that it's one of the most popular cities on the planet and should also be one of the most thrilling football destinations this season. That's because local club Paris Saint-Germain, typically the class of Ligue 1, recently acquired Brazilian star Neymar for an astronomical sum. Neymar scored in his debut for PSG, and should electrify the club's stadium, Parc des Princes, for the next several months.
Plus, naturally, you get to explore Paris. The city is every bit as charming and romantic as its reputation indicates, and though it's also larger than some tourists expect, it's also a place you can get a feel for even if you're just there for a couple of days. The major sights (The Eiffel Tower, L'Arc de Triomphe, and Notre-Dame) are easy enough to catch, and if you spend the rest of your time there walking the streets and trying local food and wine, you'll be quite happy with your trip.
Marseille
If you're making a stop in France, Olympique de Marseille is the other club to visit. The club's stadium, Stade Vélodrome, is about as intimate and unique as a 65,000-plus capacity venue can be, and the team is usually fairly strong.
Marseille also happens to be one of the most incredible destinations in France. Located on the southern coast against the Mediterranean Sea, it's renowned for its natural beauty, museums and cathedrals, and seaside cafés.
London
This is always one of the top destinations for football, with top clubs Arsenal and Chelsea both calling the capital home. But this season there's an added wrinkle, as additional London club Tottenham Hotspur will be calling Wembley Stadium (the national team venue) home for a year. Bringing Premier League action into Wembley should be a treat, particularly given that Tottenham star Harry Kane is favored to retain his top scorer title. Matches in London should be wonderful across the board this year.
And as with Paris, you'll get a chance to visit a major capital where you can see a great deal in limited time. In a single day, you can see Big Ben and the Houses of Parliament, tour Westminster Abbey, and walk through Trafalgar Square. And if you feel like it, you can cap it all off by visiting a few famous pubs and taking a nighttime ride in the London Eye – a "touristy" activity without a doubt, but one of Europe's best evening attractions.
Newcastle
There are plenty of other options around England, and if you want to make the trip particularly football-centric you can try to hop from town to town catching matches. But if I had to point to one more English destination outside of London, I'd opt for Newcastle. It's a picturesque city thanks in large part to its unique walking bridges; the Sage is a legendary concert hall you can enjoy; and St. James Park, where Newcastle United plays, might just be the coolest stadium in the Premier League. The team is expected to be mediocre this season, but the supporters in Newcastle tend to be passionate.
Munich
Allianz Arena in Munich was already one of Europe's most stunning football venues before an expensive upgrade this summer. It's beautiful on the outside, pulsing with activity on the inside, and home to one of Europe's most consistent juggernauts in Bayern Munich.
Munich is a very enjoyable city to explore as well. It's known for its markets and authentic beer gardens (be sure to stop by Biergarten am Chinesischen), and some of the churches in town are worth your time as well.
Madrid
We'll close out the list with Madrid, which is home to the defending Champions League title holder, Real Madrid. This club is almost always among the best in Europe, and particularly with star player Cristiano Ronaldo still performing as well as anyone in the world, it's perhaps the best place to catch guaranteed world class football.
Visiting Madrid is a treat as well. It's a big, busy city in the heart of Spain, where you can explore parks, plazas, and museums to no end. The local food is exciting for a lot of tourists, and a night out watching flamenco dancers is about as unique a cultural experience as you'll find in Spain.
That's it for this list, though of course there are plenty of other cities and clubs worth visiting if you want to expand on the idea! Some of the Serie A club cities in Italy should probably be next up, along with places like Barcelona and Manchester.