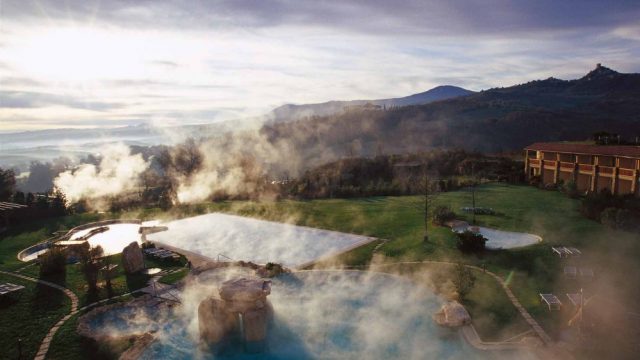 For parents planning a family vacation who don't want yet another amusement park or monument crawl, the ADLER Spa Resorts offer an unusually refreshing concept: Come home more relaxed than when you left. With this goal in mind, both ADLER Thermae Spa & Relax Resort in Tuscany, which welcomes children ages four and up, and ADLER Dolomiti & Sport Resort in the Dolomites, which allows children of all ages, offer vibrant, all-day kids' clubs.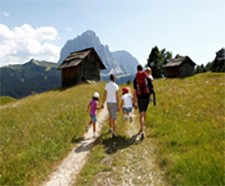 The ADLER properties' many activities make them ideal for multigenerational family groups who might be looking for a mix of different things to do. Mom can unwind during yoga (or wine tasting!), dad can hit the gym, grandparents might try a cooking class, and teenage cousins can sign up for a biking or skiing excursion—but everyone can still reconnect back at the hotel during a relaxing swim or fabulous Italian meal.
Adults who need their own "time out" will be happy to know that both spas set the standard for excellence, offering personalized sessions using the company's new ADLER SPA cosmetics line. Each spa has more than 100 treatments on its menu, and along with signature ADLER offerings there are many other approaches represented. There is no "one-size-fits-all" approach at the ADLER spas; rather, staff members strive to create solutions that are as unique as the guests themselves. The resorts also have sprawling water and relaxation areas with saunas, steam rooms and hot and cold pools. At ADLER Thermae, some pools are also fed by the warm, magnesium-rich thermal waters of the local hot spring.
Luckily, while moms and dads are away (at the spa or taking part in guided excursions), the kids will play, and get their own introduction to resort life. Understanding that parents are most relaxed when their children are happy, both resorts have an AKI Kids Club, open daily until at least 10 p.m., for travelers ages 4 to 12. Managed by teams of experienced early childhood teachers, the programs feature a daily roster of activities for a range of ages: Arts and crafts, cooking, yoga and movement, treasure hunts, movie screenings and even a PlayStation corner for those craving a little downtime.
For kids who want to explore the surrounding areas, there are plenty of excursions: Options include countryside walks, picnics, farm visits and, in the Dolomites, ski lessons with transportation. Coaches are available to offer private lessons in activities such as skiing and horseback riding. On any given day, there will be a mix of children from both Italy and other countries, but they all have one language in common: Fun!
Just like at the hotel restaurants, the cuisine at the AKI clubs focuses on organic, local ingredients, and fresh juice is served throughout the day. One popular activity includes a guided countryside walk to harvest herbs and other produce, followed by a lunchtime cooking class. Should the adults want to enjoy a quiet dinner alone, the AKI clubs host popular nightly kids' parties where dinner is served.
Kids and teens who want to sample a treatment at the spa can try a 20-minute massage  The "Aki Massage" offers a choice of either chocolate oil or milk and honey, while the "Massage with Mum or Dad" is a shared experience with chocolate-scented products.