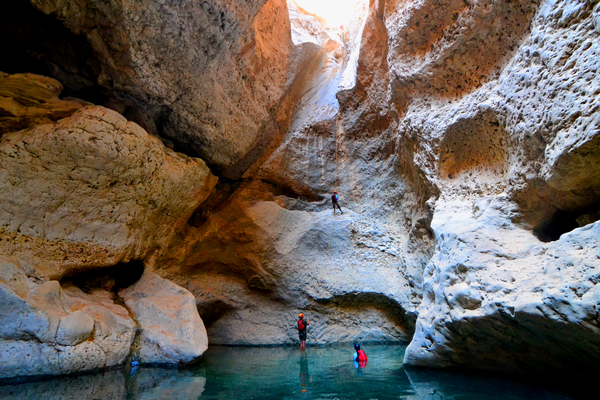 Intrepid travellers with a sense of adventure need look no further than Oman to satisfy the next adrenalin rush.  No other Gulf region offers such a diverse range of great outdoor adventures across a striking terrain that travels back 500 million years of geological time.
Mona Tannous Country Manager for Sultanate of Oman Tourism Australia and New Zealand said "In some international markets Oman is known as a mid to high end coastal destination with spectacular beaches and desert experiences but as a part of our current campaign we want to show Australian travellers the awesome outdoor adventure options Oman has to offer.
"With dramatic canyons and caves, soaring mountain peaks, cool wadis and coastline, cascading waterfalls and endless miles of rocky wilderness there is enough to satisfy everyone from outdoor enthusiasts to extreme adventurers." continued Ms Tannous.
Adventure World in conjunction with Oman Tourism are giving two lucky people the chance to win an Oman Adventure as part of the current 'Secrets of Oman" campaign. To whet your appetite, here are 6 ways to bring out your adventurous side in Oman;
Desert Dune Bashing 
Huge rolling dunes as far as the eye can see makes for a white knuckle ride dune bashing in 4WD's at Shaqiya Sands- less than 3 hours from Muscat. Take a quad bike or camel over the dunes and watch the world turn pink and orange with a spectacular desert sun set.  Accommodation here varies from luxury tented camp to more basic options but either way you will relish the time under a thousand stars of the desert night sky.
Caves and Canyons
For those who like their adventure on the extreme side, the thrill of rock-climbing and abseiling awaits. Climbers from around the globe are drawn to the high peaks of the Hajar mountains, and to the beautiful sea cliffs along the Omani coast. 
 First-time climbers can attempt one of several Via Ferrata ('by wire') routes which keep them permanently attached to a cable via a harness for maximum safety at Snake Canyon, Jabel Shams and Jabal Akhdar.
For the extreme adventurer, abseil 178 metres down one of the largest cave chambers in the world!  Hidden in the foothills of the Hajar Mountains Majils al Jinn Cave is roughly the size of seven aircraft hangars and isn't for the faint hearted.  If you are after a tamer version Al Hoota Caves are located at the foot of the Green Mountains also known as Jabal Akhdar.
Take a Hike
The challenging terrain of Oman's 'Sun Mountain', Jabal Shams – standing 3009 metres above sea level as the country's highest mountain peak – is a perfect place to start an adventure tour.  Sprinkled with juniper and olive trees, the mountains offer plenty of gruelling treks and picturesque vistas along with paths that traverse the ancient Bedouin and Shihuh trails – some of which are located on the very edge of the cliffs and are used by remote communities today.
The track known as Balcony Walk leads to a plateau next to the abandoned village of Al Hayl and an oases known as Bir'r Dakhilyah, which shelters a hidden cave. The trail also takes in numerous promontories, aged falaj systems and terraced farmlands as well as a distant view of Oman's interior known as the Grand Canyon of Oman – the second deepest canyon in the world, which boasts a sheer drop of over 1000 metres.
Wadi Bash
 Go off-road and experience one of Oman's fastest growing adventure sports. Throughout the Sultanate there are many opportunities for travellers to hit the dirt, water and sand dunes in a 4 x 4 wheel drive. And never is off-road driving more popular than when the wadis are awash with lush vegetation and rushing waters after the rain.
Snorkel and Scuba
Oman's magnificent marine environment draws in adventurous travellers with the opportunity to snorkel, scuba dive and kayak in sparkling turquoise waters that support vibrant coral reefs. In stark contrast to its arid interior, Oman's waters are teeming with life – turtles, dolphins and whale sharks are all regularly sighted by visitors.
Oman is currently considered one of the top ten dive spots in the world according to PADI Dive and one of the most prized locations is the Daymaniyat Islands, an archipelago of nine islands famed for their clear waters, extensive coral reefs and abundant marine life.
Camp overnight to include a night dive, but be warned that access is limited as this is a protected nature reserve so you will need a permit or to book with a registered tour operator.
Get Airborne
Kitesurfing is one of the fastest growing and extreme water sports to be enjoyed in the Gulf's warm waters and Masirah Island has the only kitesurfing academy in the Gulf where you can camp out on the island in Bedouin style tents.
Undisturbed by human influence, this island is a sanctuary for flamingos in their natural habitat and is the world's second-largest breeding ground for sea turtles.